So I went looking at houses today. I may be moving to a new home soon, and not only do I dedicate more than 20 cubic feet to a single sub in an LLT in-car, but I am brain storming my next LLT to use 4x8 sheets as panels. Roughly using 4 4x8 sheets as 4 sides, and cut 1 in 1/2 for the top and bottom. Obviousely heavy bracing will be used. I don't know right off hand if I want to a: tune to 15Hz because I think it is a good balanced point b: 10Hz because I think it is the lowest tune still taking balance into consideration c: 8Hz to include the bottom of organ music or d: use 18" sonotube as my port and make it as long as I can keeping it under 190Hz for the 1st port resonance, and wherever that happens to be, it will be. I doubt that will lead anywhere, and I'll know in a few minutes after I plot a quickie using an 18" port in 110 cubes...but it gives you insight to my train of though.
I know I am working this backwards. I know I am going to hear a lot about "what about room modes and nulls. Why aren't you designing the sub around your room...etc...etc..." and that is OK. I am not conventional, I am not an avid HT guy, and I am not a SQ guy either. I had many many debates on designing my LLT in-car, and I am so very glad I took everyones opinions with a grain of salt. I was very very pleased with it, and, I even raised tuning numerous times only to prove to myself that I did in deed understand everyones arguments, that despite the changes the re-tunings made, they were as I expected and not what I wanted.
So I am going to play. Space is NOT a factor. NO, this will probobly not be a permenant HT build..it is for play. Fun. Learning.
I will most likely run a single 21" Exodus Audio Maelstrom-X in it and have way more power on tap than I will ever need... EP2500. That way later, when I design a well-fitting HT system the "right" way, I will be able to do so without having to purchase another amp. Otherwise, with 100-128 cubic feet available for just 1 driver, I could get a really cheap 200-500 watt plate amp and still have more power than I'd ever need.
So let the opinions, criticisms, ideas, excitement flow. Keep in mind it is fun, no matter how ridiculous. Please!
EDIT:
so first objective, see where 18" diameter sonotube port will be over 190Hz 1st port resonance in 110 cubic feet. Appears to be 12Hz tune resulting in a 30" length with 1st res at 226Hz.
plot 1 gray is default vented, 20 cubes @16.5Hz
plot 2 red 110 cubes 8Hz tune 84" vent 80Hz 1st resonance. if it wasn't for LLT requirement being no LPF, I could cross at 40Hz with good mains, no? Anarchy's!
plot 3 yellow 10Hz 49" 138Hz
plot 4 green 15Hz 14.5" 469Hz
plot 5 blue 12Hz 30" 226Hz
so just brain storming, 12Hz with an 18" sonotube in 110 cubic feet (lots of bracing to fill 128 cubes LOL, combined with port displacement... 18"x30" is 4.4 cubic feet!) 30" length reaches Xmech 40mm at 9Hz with 500 watts. Port velocity peaks at 11 m/s @ 12Hz... will that do?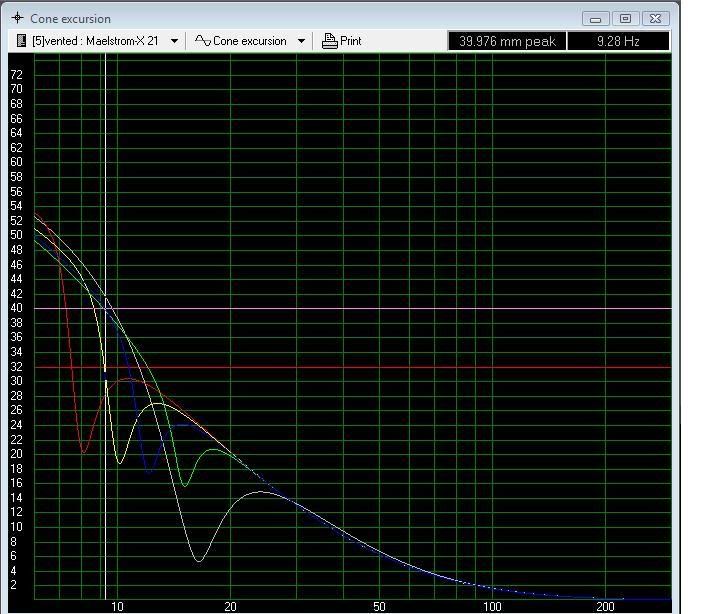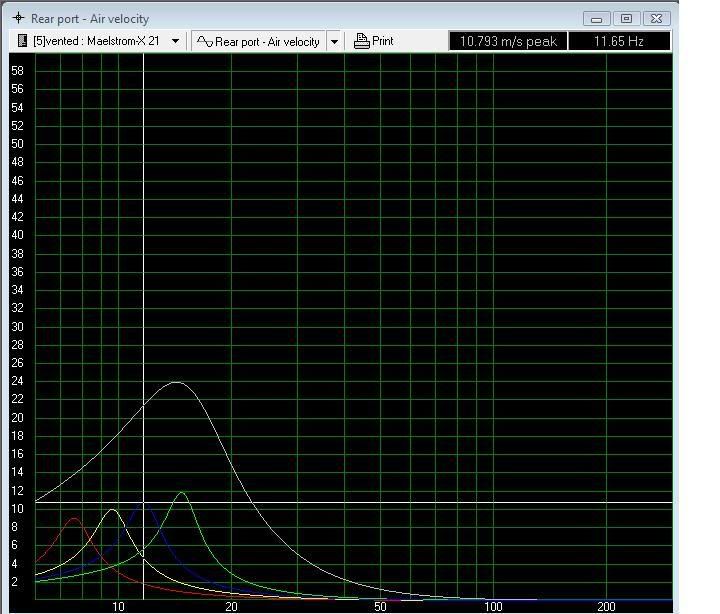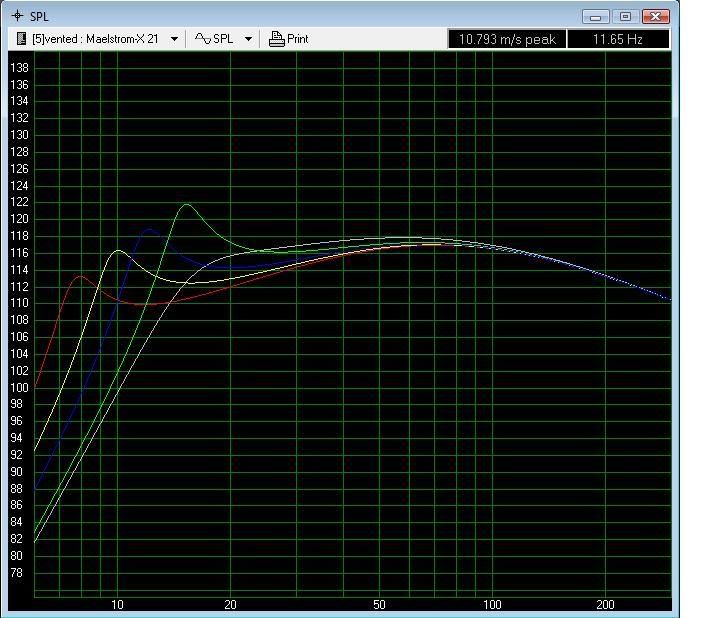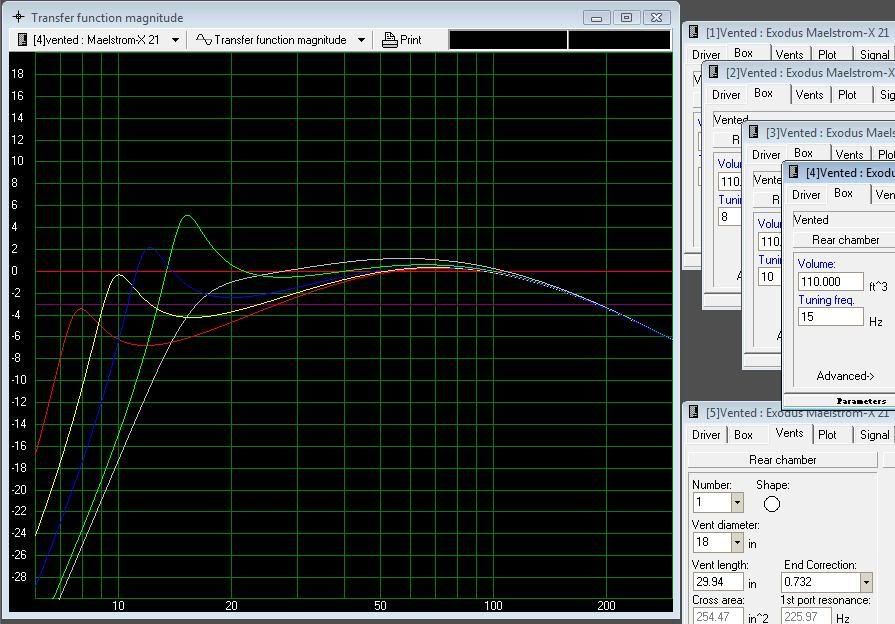 EDIT2:
more playing around, 10" and 12" port are too small resulting in less than driver's peak to peak excursion in length. Such as leaving the default 16.4Hz tune but raising to 110 cubic feet, 10" port is -.2" and 12" port is 1.48" long. I think the driver, having much more Sd than the port area, moving 4.6" peak to peak ( Sicko-X Xmech 60mm) the port may no longer function, as the air slug excursion would exceed port length.
So trying 14", 110 cubic feet tuned to 16.4Hz makes for a 3.72" port length. If the driver moves more than that and has a greater area than that, I think there could still be some issues...but I'll stick with a 14" port for now.
plot 1 grey defaut 20 cubes @ 16.4Hz 14" port 67" long 101Hz resonance
plot 2 red 110 cubic feet 16.4Hz 14" port 3.72" length 1,820Hz
plot 3 yellow 110 cubes 8Hz 14" port 49" long 140Hz res
plot 4 green 110 cubes 10Hz 14" port 27" long 247Hz
so using a 14" port rather than 18" makes 10Hz obtainable keeping 1st res freq over 190Hz. All are under 21 m/s with 500 watts, it's looking like a 14" port may be better suited. Also, I have NO problem building TWO of these boxes, one for each corner up front, and I could easily run them both off an EP2500 or EP4000 and still have plenty of headroom.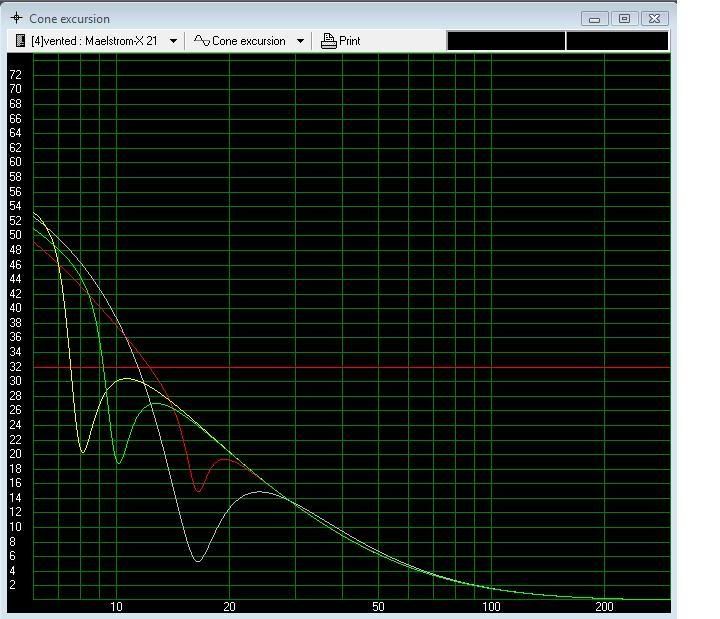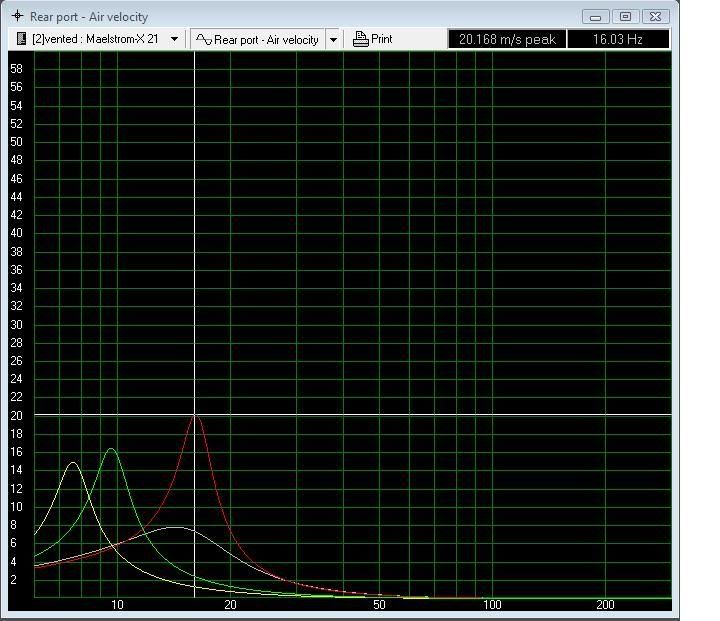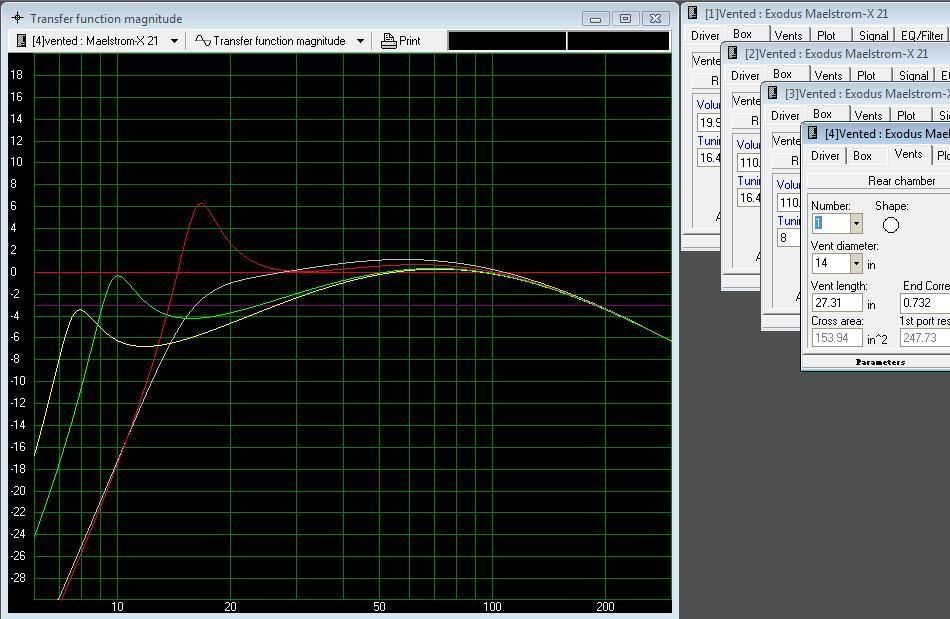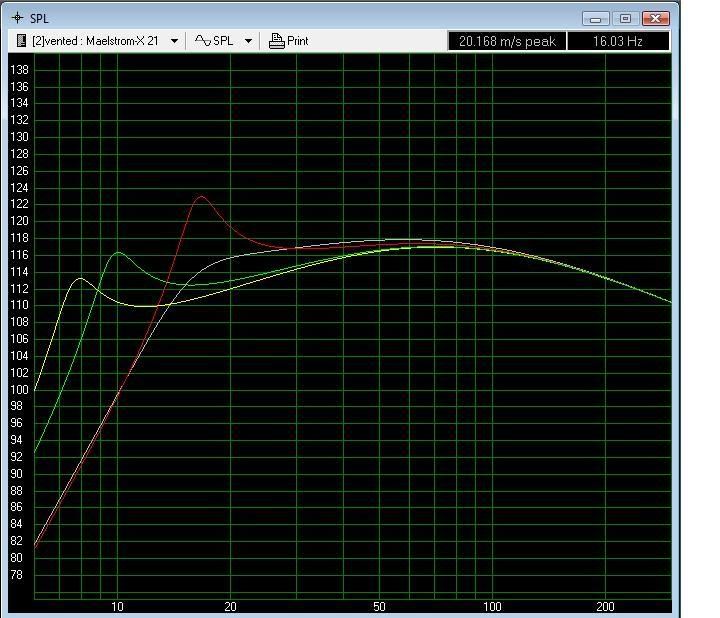 Edit 3:
Dual 21's stereo off EP4000 2 x 1400 so I'll try 14" and 16" ports 10Hz at 1400 watts
14" port peaks at 28 m/s at 10Hz, but it'll never see that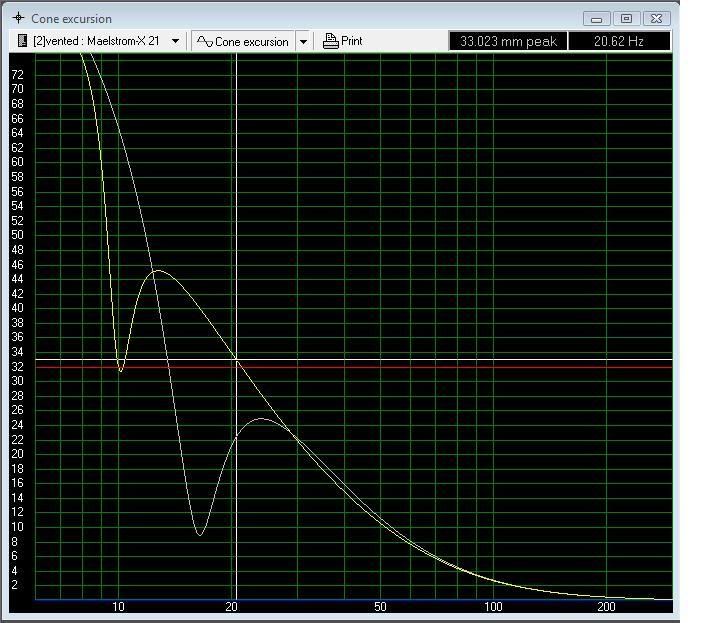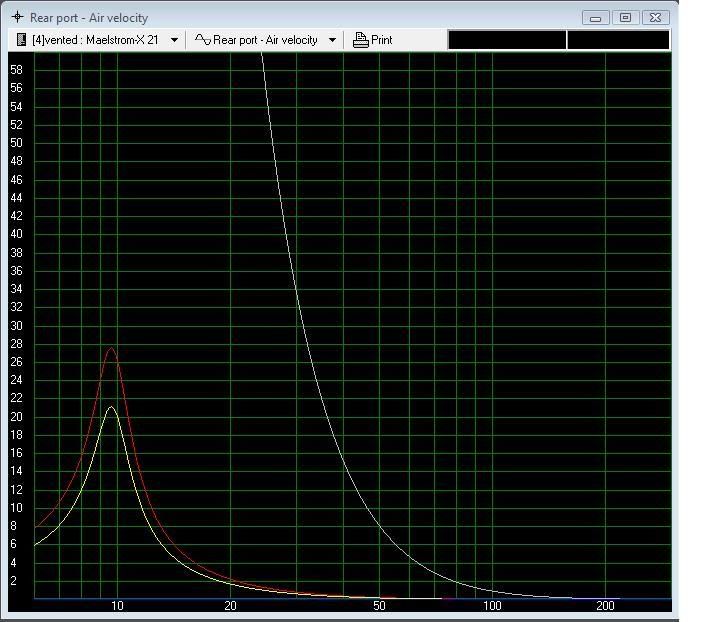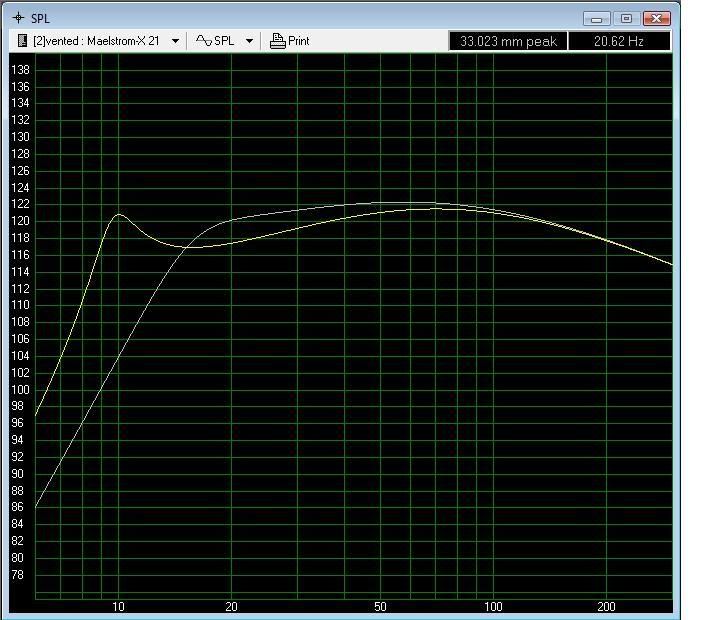 now plotting without exceeding Xmax and using HPF/SSF
gray default
[email protected]
1400 watts
red 110cf 10Hz 14" port
[email protected]
1400 watts
yellow 110cf 10hz 16"
[email protected]
1400rms
red and yellow just kiss 39mm 13-14Hz with 1400 watts, and 14" port v velocity is only 19 m/s at 10Hz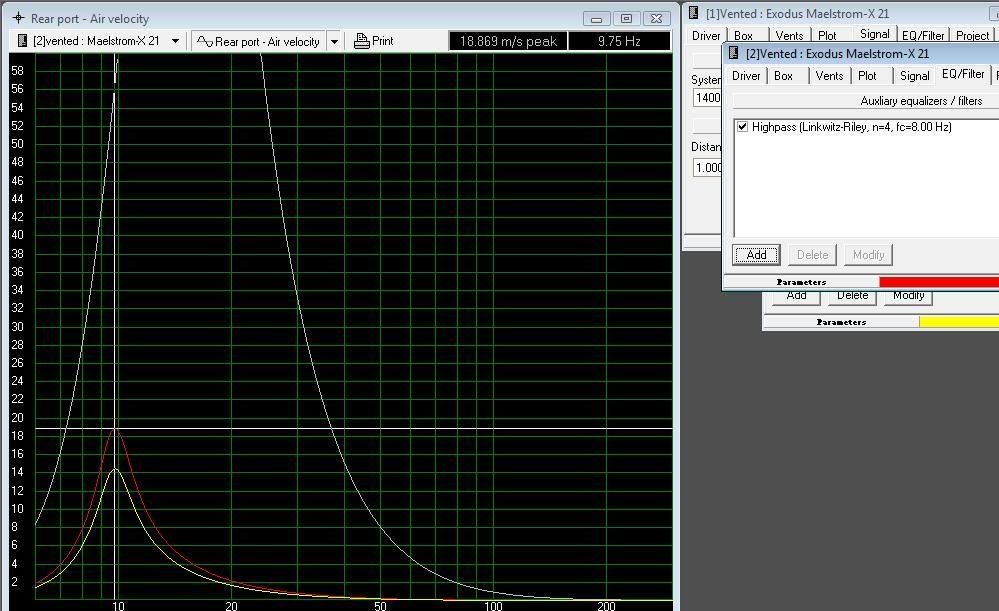 so 14" or 16" port 1400 watts 10Hz looks to be my current goal for the day...for now. Talk me out of it!