Preamble
I have been dreaming and planning my Home Theater now for over a year, along they way I have had to make many changes. Thanks to Home Theater Shack and many of its excellent members I'm finally getting close to having a completed, OK 80% completed HT room. There is still another 20% I will be adding or changing even after I call it 'complete', we will call it 'future expansion' ;c).
Reading the forums I have flipped between going with a Black Widow screen (Which I ruled out because I needed an AT screen), a DIY screen, to purchase a DIY screen that somebody else has done, and finally to purchase a HT screen. I really wanted to do a DIY screen as #1 the cost was right and #2 the cool factor. Every time you watched a movie you would be looking at your screen thinking I did that
, or conversely every time your looking at your screen you would be thinking I did that :blink:.
Because this is such a cheap hobby
, I have had to purchase things a little at a time, wait for the big sales etc. My test screen I have been using for the last two months or so was a beige bed sheet (Thanks Honey) and that just would no longer do. I now work away from home 5 or 6 days a week so that pretty well ruled out my DIY inspirations so now I needed to find a reasonably priced AT screen. I have been dealing with The Home Projector people for a while and purchased a Epson Movie Mate 85D, outside blow up screen and a Projector table a while back so I figured I would contact them and one other online company to get some details and suggestions. I really was not happy with the response time of The Projector People (Sent email directly to the salesperson I was dealing with previously) or the other online source (They never answered me even after two attempts) but their prices were both right. The Projector People have online support so I gave it one more try and found and excellent sales person, I asked a few questions got some great help and answers, long story short, the response time of the other sales person was extremely slow so I asked to be moved to the new person twice and have not had any issues since, he as been great and extremely helpful.
I let him know I wanted a screen that was AT, gave him the distance I was sitting from the screen and dimensions of the room and he came back with two screen suggestions. It was the AccuScreen model and the largest screen came in under $235.00 dollars or so. My heart started to sing, but my mind said there must be something wrong with this screen its so cheap! I have been looking at screen anywhere form 3X to 10X this price, and programed myself to think this is what I needed to spend. I asked him a few more questions and was concerned of the screen cheap price, and if he was a dubious sales man could of easily convinced me to spent more money, but I was instead assured the screen was good quality and very popular and would meet my needs. The one suggestion he was that if I could go back a few more feet that the 52X92 screen would be good, or else I may want to go with the smaller screen. I did though get the larger screen even though I was a bit closer, I just asked if I would see the cloth weave and he said I should not. Enough of this, this is not a review on Online vendors, but on the AccuScreen 52" x 92.5" AT Screen
Packaging
The screen box is extremely sturdy, it was light enough to be moved by one person, but to keep wall bruises down to a minimum you may want to use two people if you have to move it around a few corners. The exterior box was reinforced by some very strong and stiff cardboard corners which made it very rigid. Somebody would almost have to purposely bend the box in half or use it as scaffolding to paint the ceiling, or cause it to bend or cause damage to the frames inside.
The one end was wrapped with tape, at this point I did not have those scissors as I remembered back to my days of owning a paper route and could remove the straps. Had to call the wife to bring me a pair of scissors, (as I was so busy tearing into my new toy) to cut the tape wrapped off the end of the box.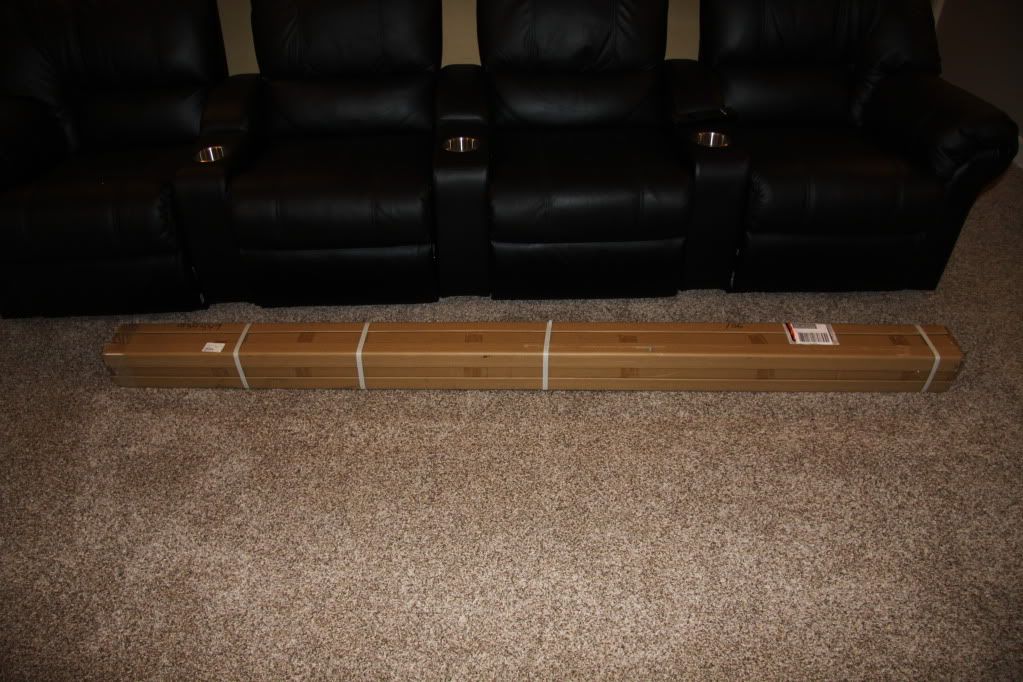 Once the corner cardboard reinforcements were cut away the box was just taped up in several places to keep it closed.
This was my first look at the frame, it was well packed in a type of Styrofoam (the type that does not make a mess and much stronger) each piece was kept separate from the other, to prevent any rubbing or marring in transport. Each frame member was also plastic wrapped, I really appreciated the care that the packaging team at the plant, or from the online vendor took to make sure that my package arrived to me safe and without any issues.
Unpacked
It was a bit scary to see the screen like this, thoughts of would there be any wrinkles etc, but then I remembered that this screen can be washed in a washing machine (if you have little kids over and you step out of the room and they wander about and want to get really close to Sarah or Petri on the movie screen when you not there) so it must be OK to be wrapped up like this. The screen is made of a woven material and is quite light weight but well made. This is an
Acoustically Transparent
material and is just what I needed, so I hoped it would all be OK once assembled, One thing I may of liked to see would of this being wrapped up in a bag or something as this is the main part that is being utilized, but that extra packaging may be unnecessary.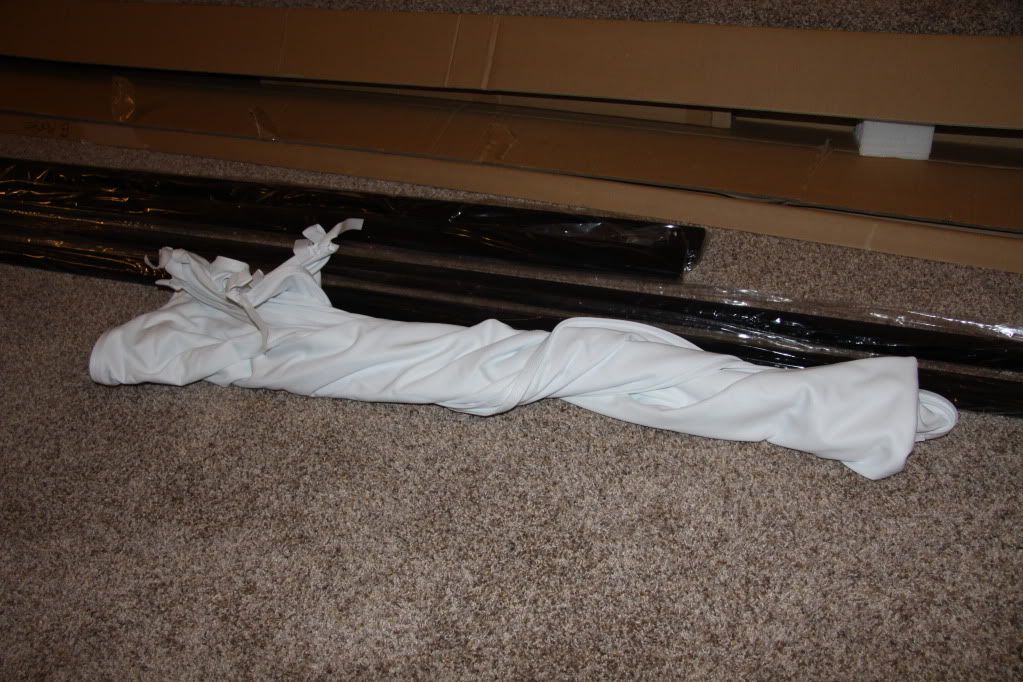 Framing Material
The HT screen is made of Extruded Aluminum which is covered in a black velvet. The gage of the screen if quite thick and rigid and appears to be of good quality. There was one very small imperfection on the velvet, but that was on the back of the frame and can not be seen from the front, other then that I was quite impressed with the quality of the framing materials and workmanship. The frame is designed to slide together and lock into place by some cool and well designed corner clips.
The clip is mechanically attached on the one corner, and the other corner has a thumb screw that you just screw out a bit and slide together. It went together easily once I turned back the thumbscrews and slid into place.
Frame Assembly
Once the frame is together with no gaps just screw the corners hand tights. Make sure that you are working on a clean surface, I though of putting down a bed sheet or something on the floor before hand but did not, The frame is covered in black velvet and I would assume if your working surface is dirty or not clean the frame would pick up all those particles on the frame and you would need to spend a lot of time removing it from the velvet.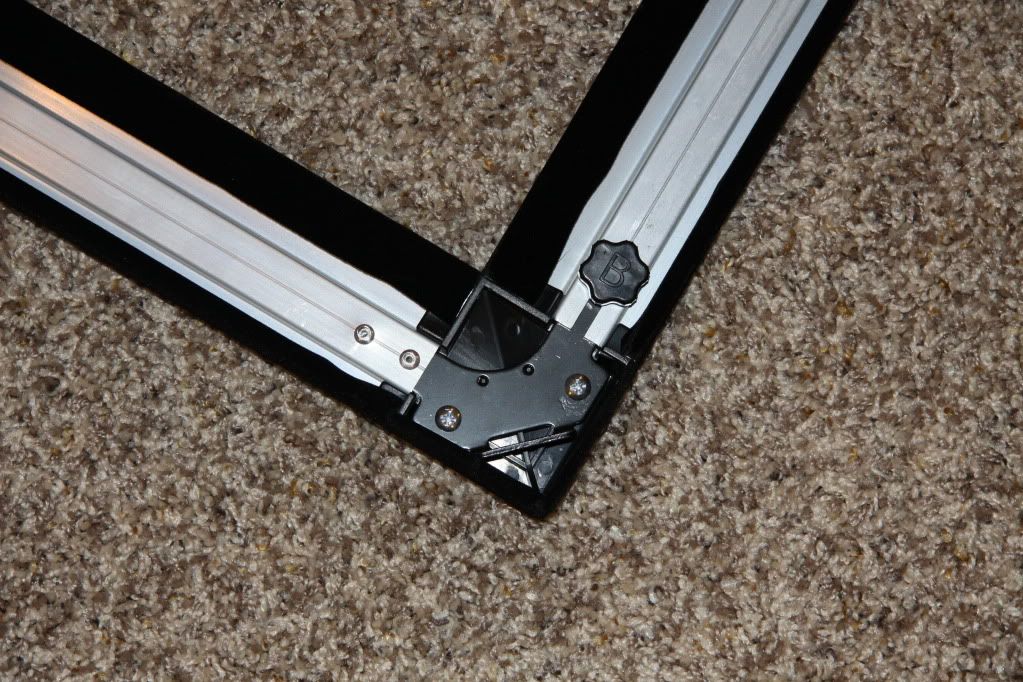 Your starting to see what the HT screen will look like at this point, It looks so large sitting on the floor. Make sure to have enough working room as you don't want to step on or trip on the frame and cause damage. I was working in a tight area and had to move a few things around. There are two metal clips attached to the frame on each side on the left and right sides, I am not quite sure what these are for, but I believe they are for optional stand attachments.
Installing Cloth Screen
Here is a close up of the screen material, it is a weave fabric and you can see how the sound would travel through it. The edge of the screen has a thing plastic strip sewn in around the perimeter of the screen. The Thread used to attach the plastic strip appears to be of sufficient weight and quality. You take this plastic strip and attach it under a lip on the frame which I will explain later.
The attached instructions for the screen were not great, but were written in many Languages, not unlike many other included instructions you receive with purchases now adays.... the purchaser is left to guess at what they actually mean or not use them at all. Like a man, I was OK with the last option, I can usually come up with a better way to put something together, it must be a hold back from the days of Lego and Mechano!!
I was not exactly sure what to do at this point, the screen has four Velcro straps one in each corner. I tried to stretch the screen and attach all four corners at first but that was more or less a failure. I was able as you can see get one side attached loosely and just re-adjusted it later. There are a couple tags as you can see attached to the screen, and this helped me figure out the front from the back, this it self must of been a hold back from the years of putting on underwear (the tag always goes in the back :joke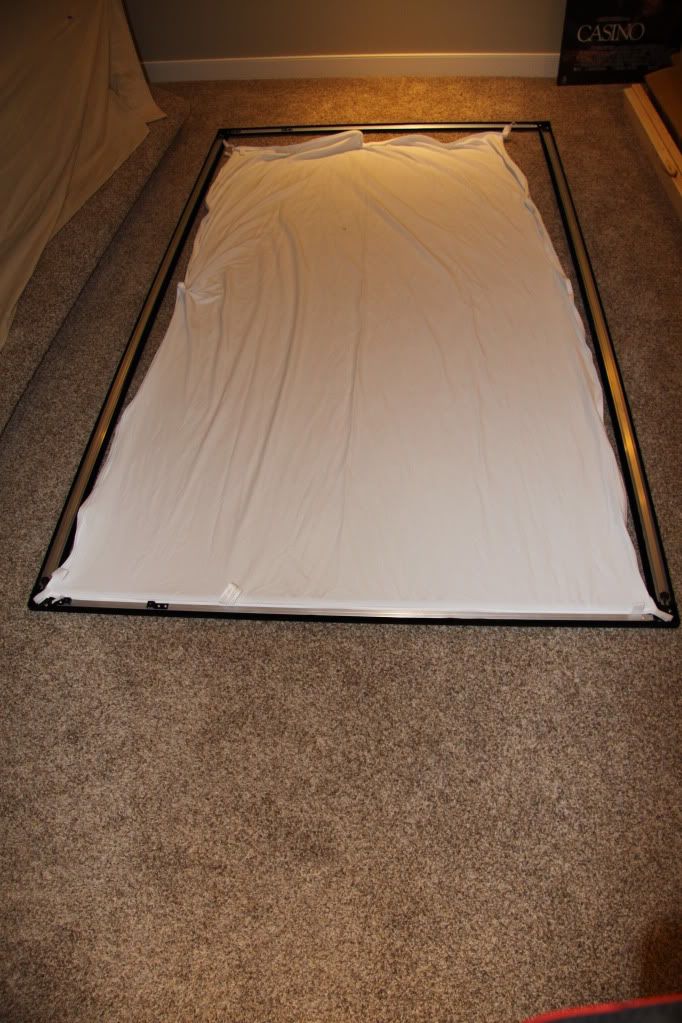 To attach the screen to the frame you need to insert the plastic strip under the inner lip of the aluminum frame. I would insert about a foot of it at a time, then take my thumb or finger and run it over the seam and it would help to tuck it up and inside the lip and lay it flat against the frame. Just make sure your hands are clean during the frame install, its best not to attach the screen after you have eaten popcorn from a different online site, a review to follow on that later!!
Here I have attached one edge of the screen at this point and made sure the Velcro straps on this side were taught. You will also notice there is a loop of fabric here, again not sure what it was/is used for, but it was useful when I wanted to remove the screen from the frame because it was not going in the way I wanted it to. I tried at this point to go to the right side of the frame and pull, stretch the fabric out and continue like I had done on the previous side. This did not work well as I was unable to both stretch the material and install it on the frame. What I did do is shown on the next picture.
I asked my wife for a close up on my hands, I did not want to show you my fancy dud's (sweat pants) but she got them anyways, and I was to lazy to find some software to edit that out. But here it shows how with the right hand I would pull the fabric, and the left hand take it and insert the plastic strip under the frame's lip. Again I would do a foot or two and then use my finger or thumb to make sure the screens material and plastic strop were laying flat against the frame. I continued this process for the perimeter of the frame and that process stretched out the movie screen quite nicely. I then went back and made sure the Velcro corner straps were again taught and as centered as possible.
Now for the moment of truth, I wanted to see how the screen looked form the other side, I took the screen and stood it up on edge. I have to caution you, at this point I found out the frame is not sturdy enough to prevent the tension from the cloth screen to twist the movie screen when not mounted I would not suggest you to leave it like this for any length of time, but you can see other the the curve, how flat the screen looks, all the wrinkles appeared to be removed. Behind you can see my fancy bed sheet screen that I will be replacing soon with the AccuScreen.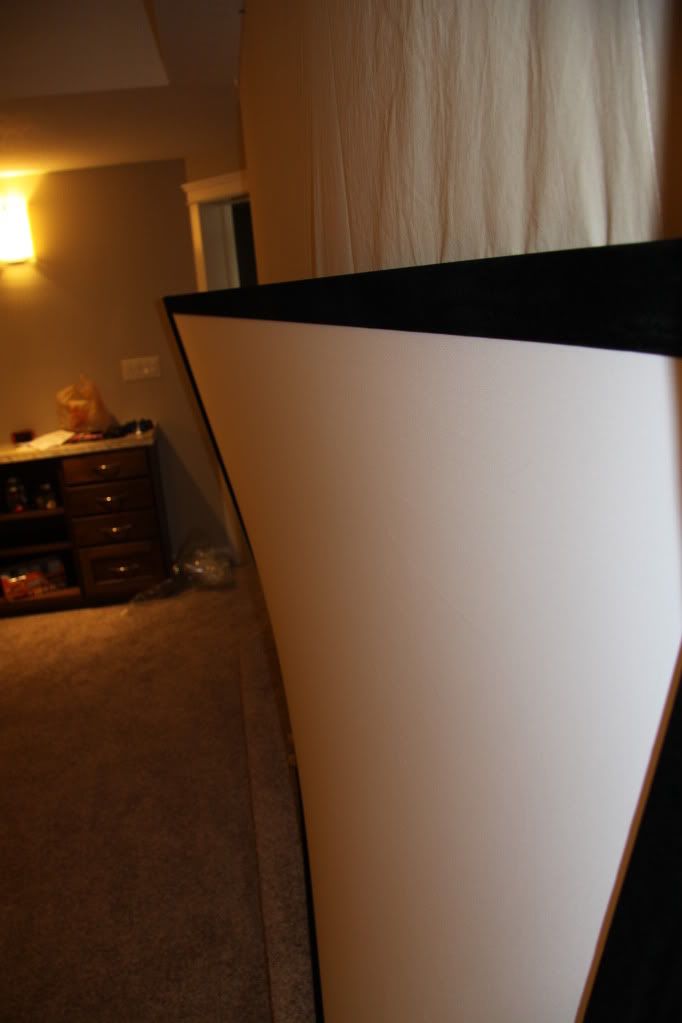 Because I was not ready yet to mount my screen, I had to remove the bed sheet, paint the back wall, all the studs and 2 x 4's black ( with my Wife's help ) I layed the screen face down on my pool table. I wanted to stop it from twisting as pictured above.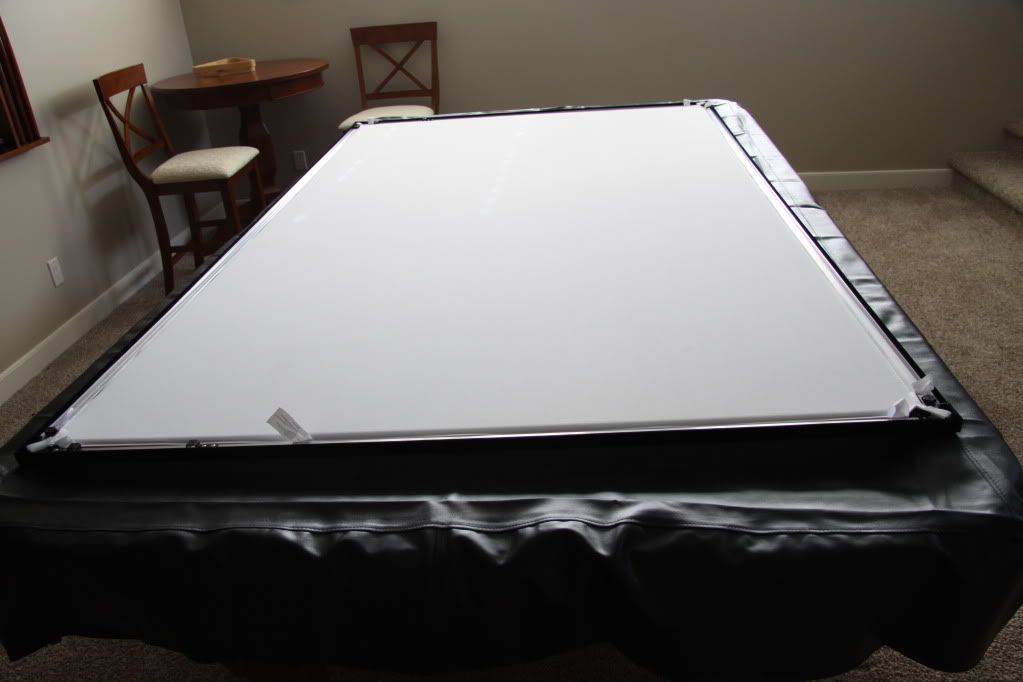 Measurements
I grabbed a tape measure and then measured from the back the dimensions of the frame to see how large it was, I needed to figure out how to frame this out, so I could hang it. The outer dimensions were approx 96.5" X56".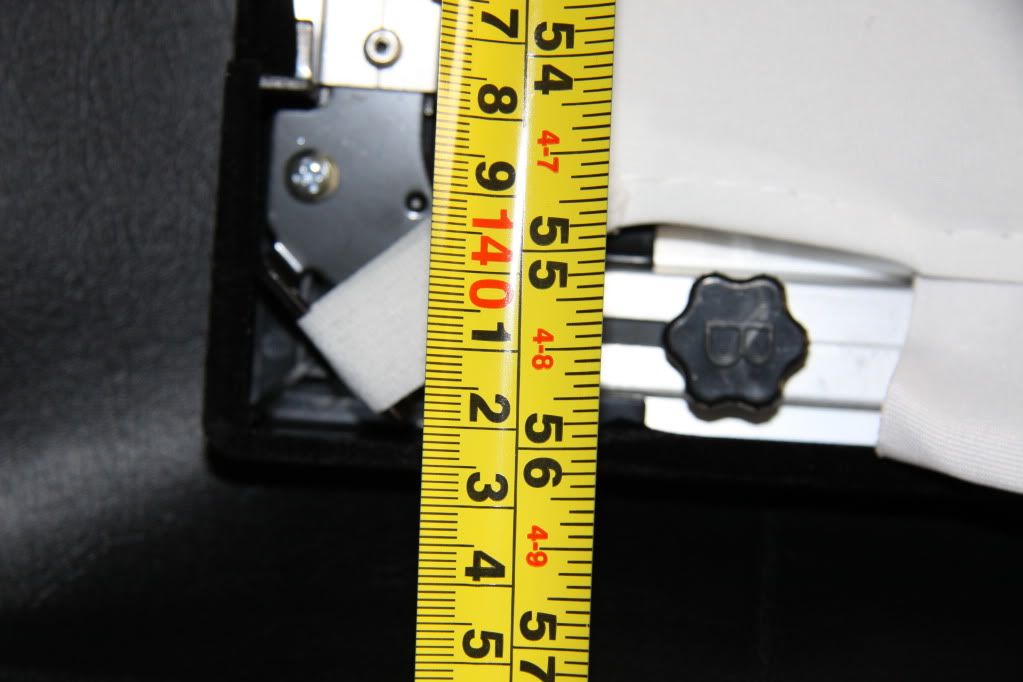 No wait did I say the Frame was 56" high? Its measuring only 55 1/4" in the middle of the screen, it seems there is to much tension on the frame from the fabric, and its also causing the aluminum frame to bow a bit in the middle. It was going to be a while before I hung the HT screen so I did not want to permanently bend the frame so at this point I used those loops of fabric mentioned above and removed the cloth screen from the frame to relieve the tension. Now I need to figure out how to prevent this from both twisting and bowing when I hang it. Look in the fantastically well written instructions and no mention of this....
There were only 4 mounting clips included with the kit, I had to figure out how far to space them apart. What I did was put the clips in the frame by the corners and then measured how far apart they were. I took this measurement and used that to calculate how far apart they should be on the framing I had built. Since it only included 4 mounting clips pictured below, I figured I would choose a mounting point on the frame 1/4 in from each corner. This would prevent the bowing I witnessed above when I had the screen laying flat on the pool table.
Mounting Clips
Since the frame was approx 96", I divided that by four and got 24 inches. I found the center point where I was going to mount my HT screen on the framing and measured out 24 inches to the left and right of center and screwed in my clips, I then used a long level and transfered approx where the clips should be mounted on the bottom the distance I calculated in the step above.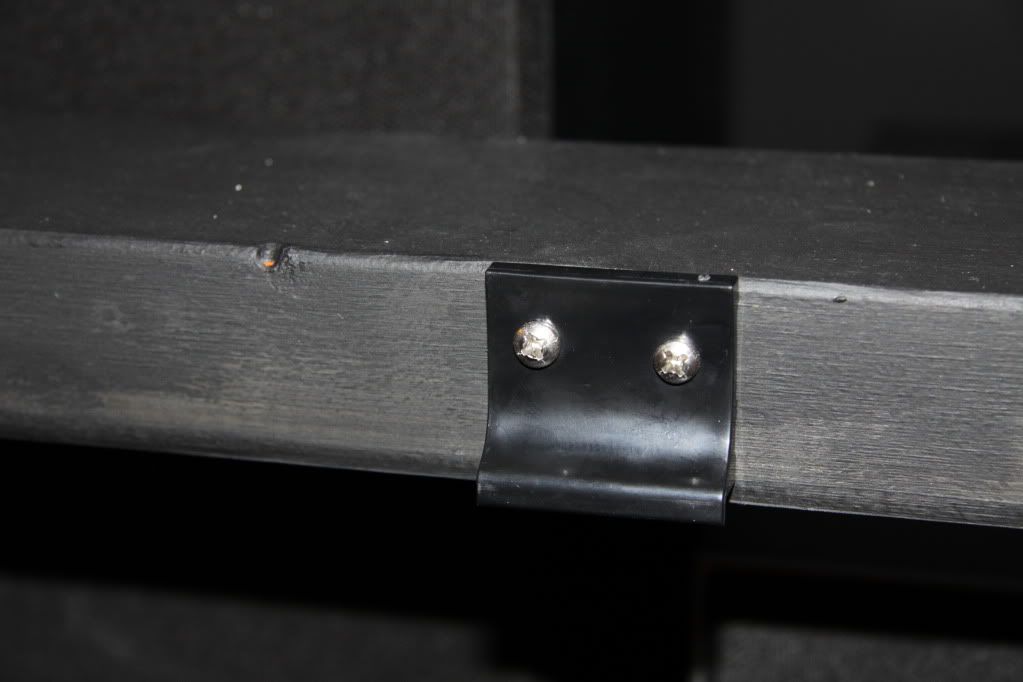 Here you can barely see the 4 clips that I will hang the screen from, and the speakers firing in from behind. I need to hand the center channel from the wall yet, but right now its place is on the floor pointing up.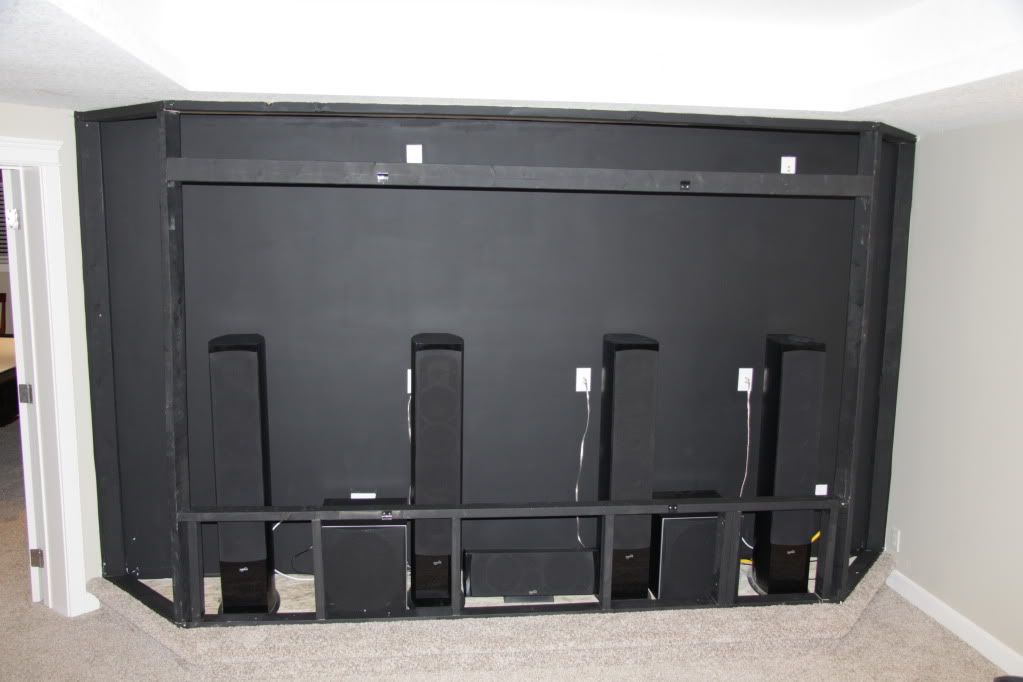 Hung
This is what the screen looks like when its hung. I still need to build frames and cover them with speaker cloth to hide wall and speaker in the back. But this gives you an idea of what it will look like. It is a nice and clean install which if you have any DIY skill is very easy to complete.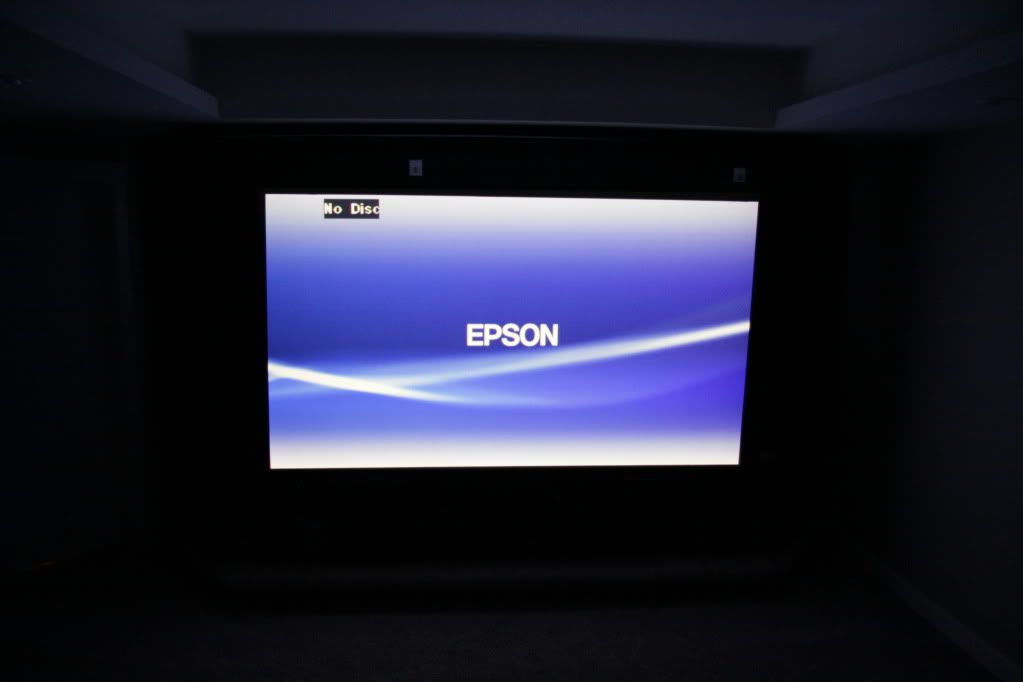 The below image is from a Non Blue Ray disk, I am using the Movie Mate 85D to project this image at 720. Its not going to be the final PJ that I will use, looking for a great deal on a good quality 1080 projector. I'll post up that pic once I have found it. But for now, I think it looks decent.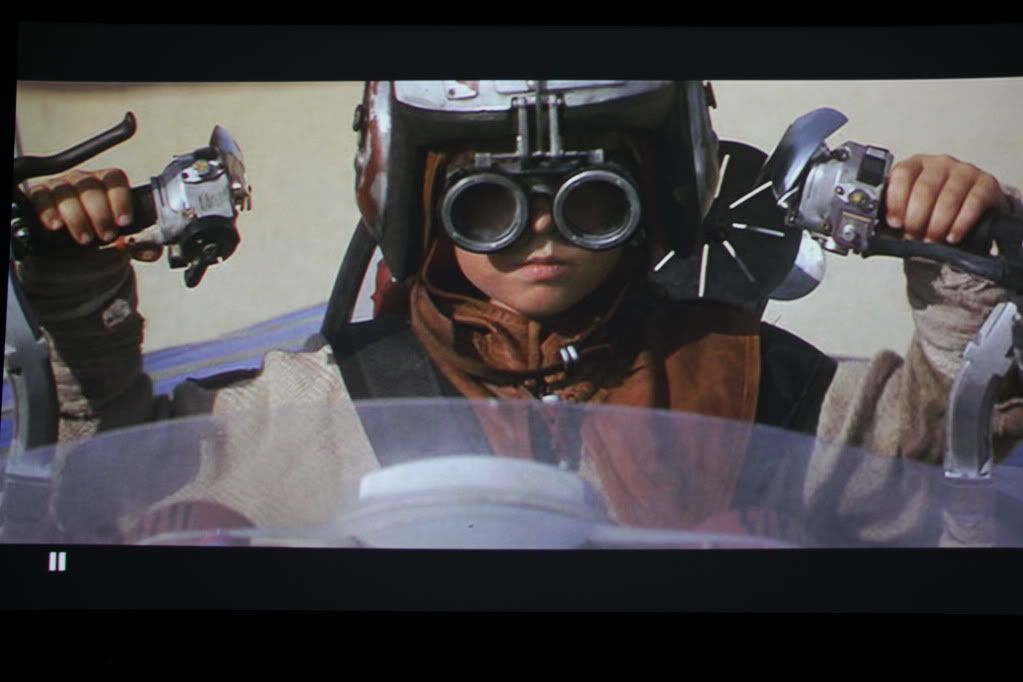 Imperfection
This was on the screen originally, but I just looked today to see if I could find it, either its gone or its hiding, I think it stretched out. I will look a little more closely later and if I find it post that up here, but for now I would say its gone.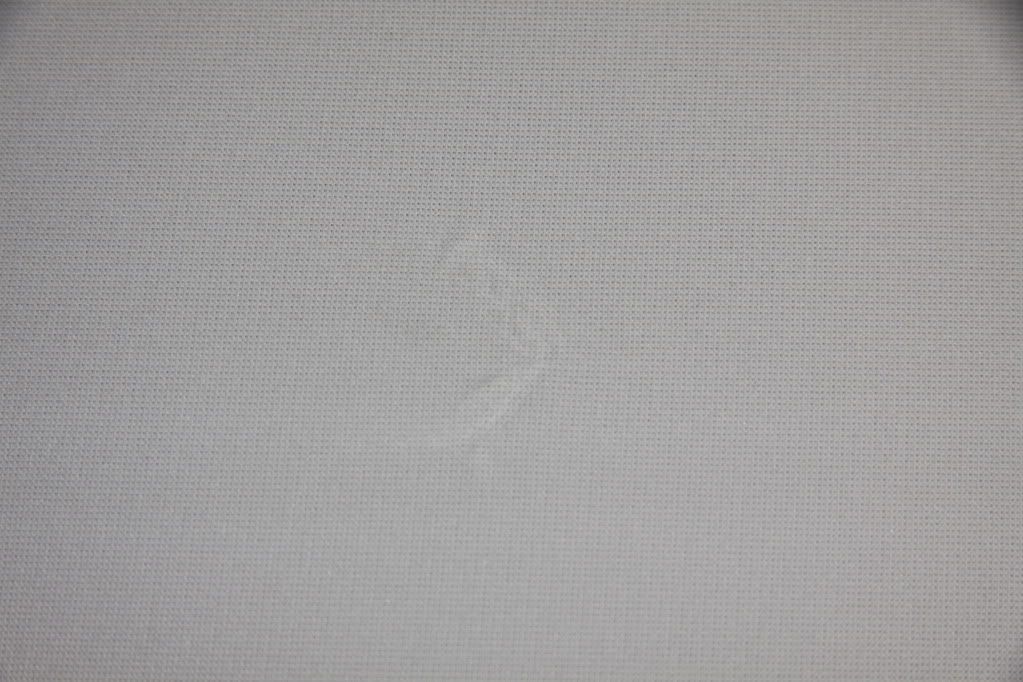 Final Thoughts
To be honest I was not expecting to much from the screen, it was only about $235.00 at the time of this writing, I saw a Black Friday Deal that if I got it today would give me an extra $25.00 off. I have not seen a $1000.00 dollar screen or even a $5000.00 dollar screen so I can't compare it to that. And to be quite honest it would not be fair at this moment as my Projector is not what I would consider Home Theater quality. But what I would say is that I am very happy with the quality of the screen, it is in my opinion worth every cent I paid for it, or even multiple times more. The set up was fairly easy, and the frame does soak up any light that may be misdirected at it. I might of like a wider frame, but that would of jumped up the cost of the screen exponentially. When the room is dark it fades away into the background anyways.
I would not hesitate to suggest this to the budget conscious person looking for an
Acoustically Transparent Screen
to fit their bill. This is the largest screen 106" diag that they make in a 16:9 format and they did not offer a 2:35-1 sizing.
They also offer a: 82", 92" and the 106" diag screens. They do have 4:3 sizing as well but not sure why you would us this in a HT setup. Options are the SoundScreen Matte White which I reviewed and they have a High Contrast Grey Screen. I noticed with my projector and its limited contrast that scenes that are strait black are not as black as I would like, maybe the High Contract Gray may have helped with this. I would recommend this a 5/5 based on Price, Performance, and Build material and Quality. If you not looking for a $1000.00 or more screen, or a screen like that is just not in your budget, don't hesitate to give this a try.
I will be writing a review of the picture quality on this screen, and again my only comparison is from the Wife's bed sheet to this screen. Again it is with the Epson Movie Mate 85D, for its own sake is a cool handy unit and does an exceptional job at what it is suppose to do, but is not a 1080 Home Theater Projector. My first impressions is that the screen does provide a much nicer picture than what I was viewing before.
If your still reading and found this review helpful please let me know, if you have any constructive feed back please post that as well or PM me. This is my first review I have written and its solely because of all the great help I have gotten from HTS and its members, now let see if this will count as 10 posts for the current contests ;c)
-4U2NVME out!