Discussion Starter
·
#1
·
Up for sale is a pair of these industrial mono amplifiers. These are functionally AE Techron 7560's but are branded as Picker Internatonal 8506's. Also they are basically the same as Crown M600's. These are used to run MRI's, motors, lab testing, industrial power supply, etc...and they also happen to make good subwoofer or full range amplifiers. These are a little different than your typical audio amplifier and are way overbuilt since these are intended for much heavier and longer duration duty cycles and loads. For example continuous output ratings from this manufacturer are for a 1khz sine wave for
1hr continuous
. The amps are rated at 600w continuous into 8ohms, 1000w into 4ohms and 1250w into 2ohms.These are 3 rack space amplifiers that are very heavy at 92lbs each. They are DC coupled which means that these amplifiers will pass direct current if it is presented at the input and do not roll off the low end. These are USA engineered and made in Elkhart IN. If you are not familiar with this particular, or even type of amplifier there is a very detailed set of specifications available from the manufacturer here. These amps do have a pair of fans but they are much quieter compared with your typical pro amplifier.
http://www.aetechron.com/pdf/7560.pdf
http://www.aetechron.com/index.shtml
Both amplifiers are in working condition and have been bench tested by a 3rd party. Cosmetically they are in decent shape for their age and I'd rate them at a 8/10.
Here is the bench test data...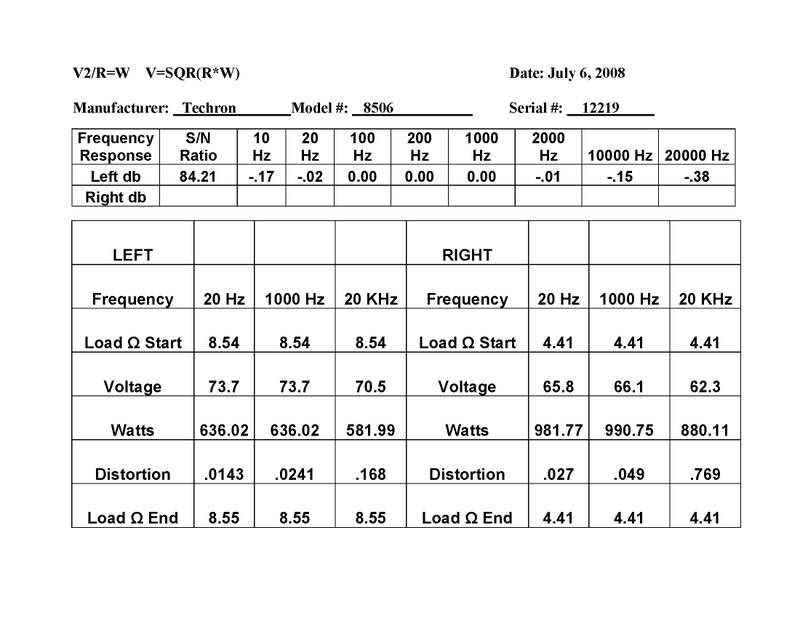 A frequency response test that I conducted...Ignore the uptick up top that is an artifact of the calibration file and sampling rate.
I am asking $1,400 for the pair plus shipping, or $750 each plus shipping. Shipping will be in a wooden crate built around the amp and will be expensive due to the weight of these beasts.