Discussion Starter
·
#1
·
I apologize for the most likely redundant thread, but didn't want to step on someone else's possibly resulting in confusing advice by switching layout, etc in the middle....that being said. I've posted this elsewhere, but in case you didn't read that thread recently....here goes.
Contemporary style house, vaulted ceilings (~20'). Living room is ~20x23'. Hardwood floors, etc. This picture is of before we started doing any work to it.
TV in the corner it's going to live in (ya...i know Vizio is a cheap brand...but i like it and it was all i could afford...also, the stand will most likely get replaced at some point).
And looking from the TV outwards:
Now that you've seen that...I tried to do up a quasi-schematic of my living room and slapped speakers where i think they should go based on the room and where everything got set up (ignore the watermark...downloaded the trial....right rear speaker is under the r in trial)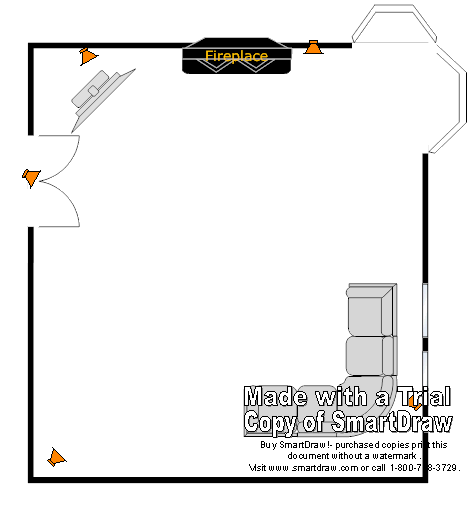 What are your thoughts on placement? The TV has to go where it is. My basic thoughts are:
Left Front - over the double officer doors
Center - over the TV, but centered on the couch
Right Front - to the right of the fireplace, up next to the beam
Rear Surround - sorta like in the diagram...really don't know
Thoughts?
Also, would you recommend using any of these?
For the rear speakers....use a plate like this or just feed through a small hole and leave it like that? Is there some sort of "wall boot" i can put down to make the hole not so raw (like it was cut out & left there)?
Thanks in advance for all your help!!!