Discussion Starter
·
#41
·
The next two rooms were both done by
Pro Musica
. The first room had the Dynaudio Confidence C2s and the second room had the Dynaudio Confidence C1s. A few photos:
The front wall - Confidence C2s:
A side view of the Confidence C2s: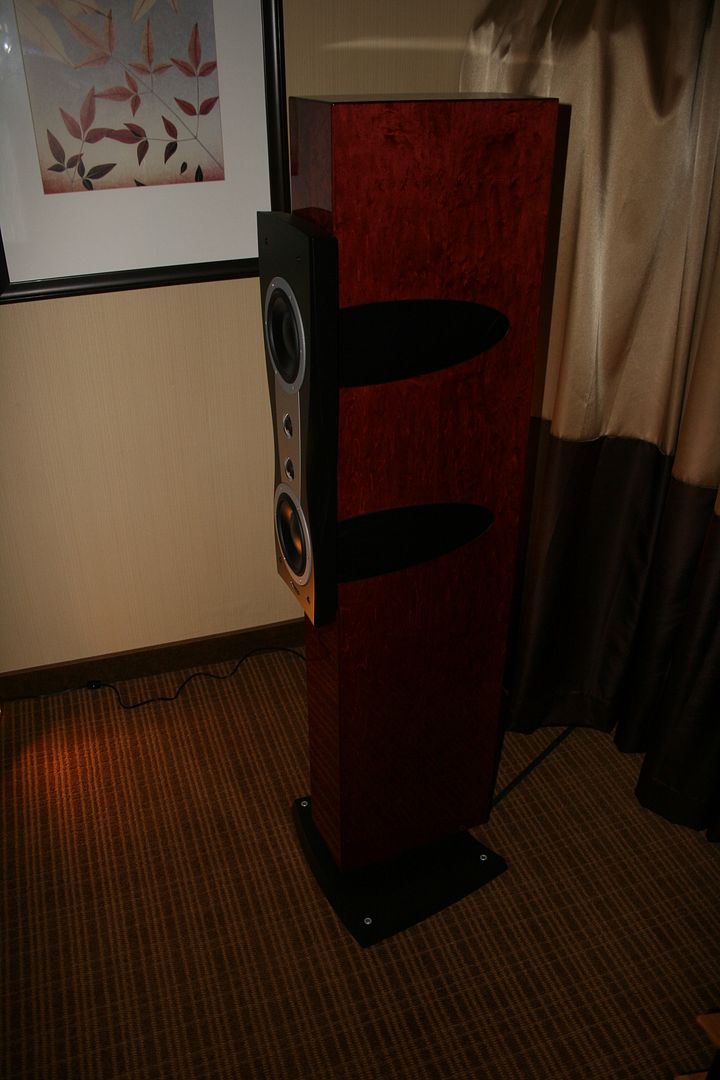 A closer view from the front of the Confidence C2s:
The front wall - Confidence C1s:
Various speakers from the Dynaudio Focus series: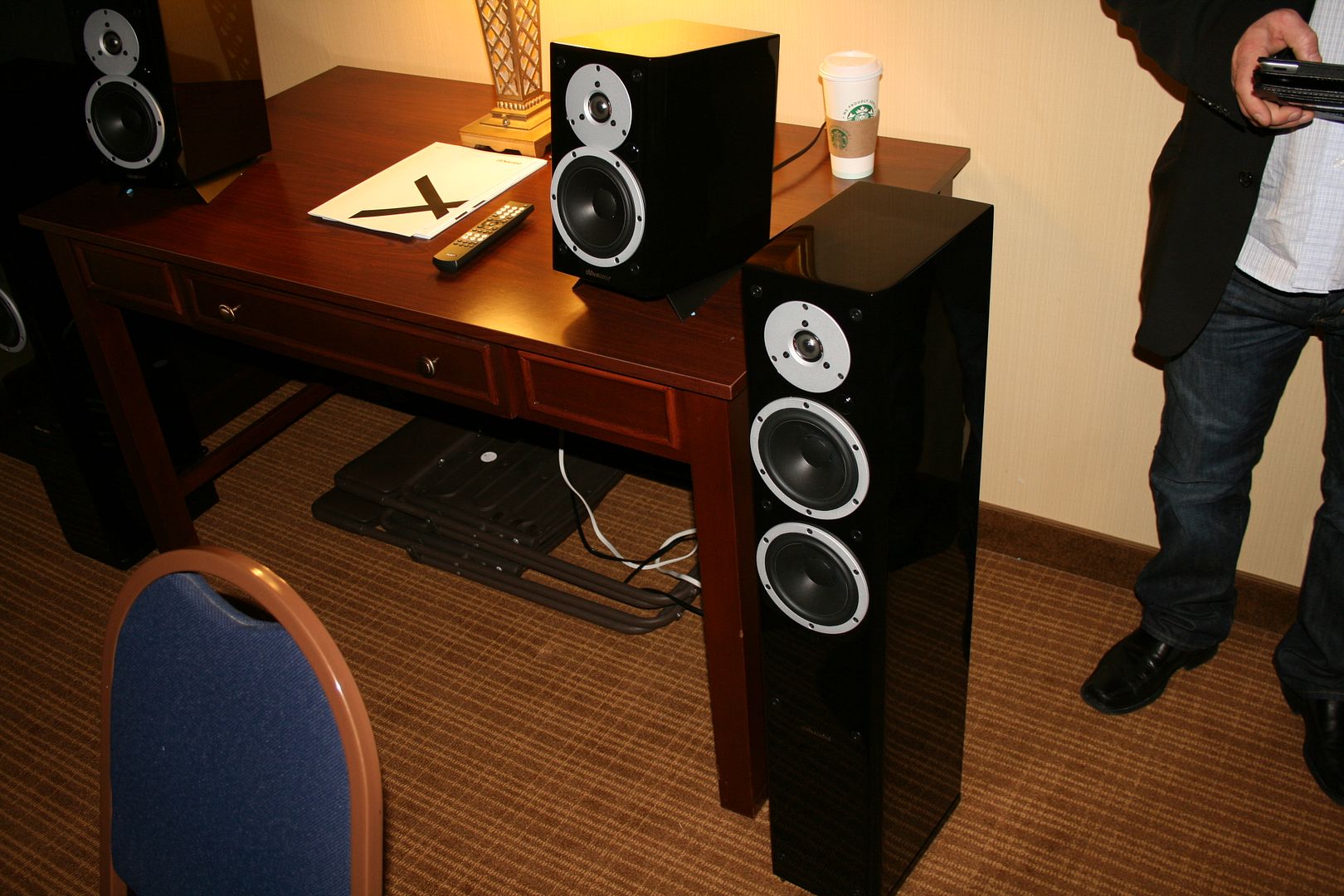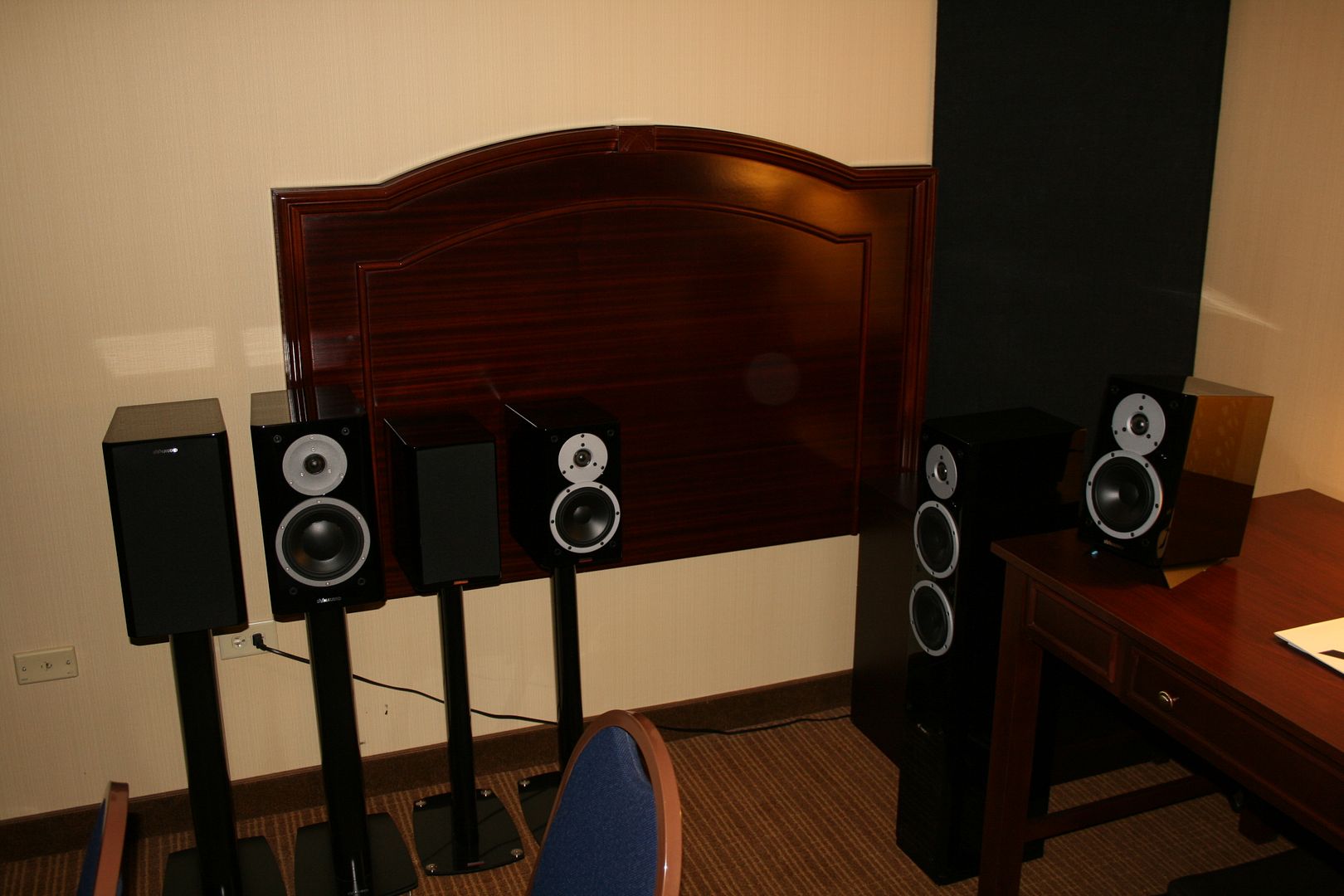 Background / Specifications
All of the equipment in both rooms was from
Naim Audio
from their XS line - unfortunately, they did not provide specifics as to what was in use and the room was too busy to have one of the exhibitors run down the list.
The Dynaudio Confidence C2 (MSRP $15,000) uses two Esotar tweeters and two mid/bass drivers with Kapton voice coil formers. It employs Dynaudio Directivity Control (DDC) which uses symmetrical dual drive units, optimized driver positioning, and advanced crossover design to reduce reflections by up to 75%. The C2 has a stated FR of 28 Hz - 25,000 Hz with a sensitivity of 87 db and weighs 88 lbs each.
The Dynaudio Confidence C1 (MSRP $8,500 for this finish) uses one Esotar tweeter and one mid/bass driver with Kapton voice coil former. The C1 has a stated FR of 45 Hz - 22,000 Hz with a sensitivity of 85 db and weighs 24 lbs each.
Impressions
The C2 has the standard rectangle shape, but they did a great job of breaking it up with the design of the front baffle. The finish of the cabinet really helped the front baffle stand out to further break up the standard shape. They imaged very well and had great dynamic range. The clarity was fantastic - hearing every pluck of the string really is a treat everyone should experience! Low end was good - not overly impactful, but very clean.
The C1 has a very ordinary appearance - the finish was good, but nothing really jumped out at me from an aesthetical point of view. This was another of those monitors that had a bigger sound than its size, and it had good dynamic range for a monitor. Clarity was very similar to the C2 - details were very prevalent. Midrange was good, but lacked the punch I enjoy and I could hear them struggling with some of the low end passages - there was a very definitive audible buzz. I definitely had better experiences with other monitors that cost far less.
Corner treatment was used in both rooms.
Please use the AXPONA 2013 Discussion / Comments thread for questions and comments.