Discussion Starter
·
#1
·
I wanted to make a tapped horn for garden parties and I wanted to see how much I could get with some cheap 15" drivers I had. I took the design ideas from this DIY TH.
My Big Boy measures 203x61x64 with an internal volume of ca. 720 liter and throat to mouth about 380 cm.
As I said the driver is far from the best choice, to low BL and Xmax, but that is what I had on hand. The box is made from scrap wood found on the recycling center, so all it cost me is some screws and glue + time. I made the box so I can replace the drivers (with some better ones). Function over form all the way
Hornresp predicted this
I measured this
I also did a big brother with 4 X 15" volume around 1150 liter and weighting over 200 kg.
Here up and running, little brother sub and big brother sub together.
Here is a measurement with the mains and subs. There is some phase problems because I use 48 db x over, but with smoothing it looks nice. For garden parties there is no such thing as too much bass, so I like the tilted response. It not hifi but it actually sounds very good, and lot's of bass pounding the chest. It really gives "the rumble in jungle", in my garden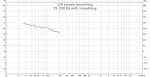 Regards Sebastian