[img]http://i96.photobucket.com/albums/l190/wbassett/HTS/Logos/BlackWidowPFG3.gif[/img]
***EDIT*** - adding the formula to the top of this post for easy reference - ***EDIT***
Black Widow formula
- One quart of Valspar Ultra Premium Flat Enamel (we call this VUPE frequently) tinted PPG (Pittsburgh Paints) 427-2 Bermuda Beige
- 8oz. of Auto Air Aluminum fine

Lowes, Home Depot, Menards, Sherwin Williams, Ace Hardware, Benjamin Moore and I'm sure many others can easily match PPG 427-2 Bermuda Beige. Just tell the counter person you'd like a quart of VUPE, or the flat enamel of your choice, tinted Pittsburgh Paints Bermuda Beige.

Auto Air Aluminum Fine may be found locally at auto paint stores or an airbrush supply store. If not, it's readily available online at Dick Blick amongst other places. Dick Blick runs out of the 4oz bottles quite frequently - like today for instance. What can I say? We created a lot of demand I guess.
You can google it for other online vendors as well.

Add the two in a separate pail and mix until they are blended thoroughly. The Bermuda Beige is just that, beige. When added to the aluminum it becomes a dead on N7.5 neutral.

This mix can be applied either by spraying or by rolling. Rolling should be at least two coats, spraying should be at least 6 coats.

One quart of VUPE gives you 100 square feet of coverage. That plus the AAA should give you at least three coats on a 100" screen.

Some pictures of the items you need:

Vaslpar Ultra Premium Flat Enamel tinted Bermuda Beige.





The Valspar Ultra Premium Flat Enamel paint has been renamed by Lowe's to

Valspar Ultra Premium Super Flat Finish

. The paint is the same so the existing tint formula will still work.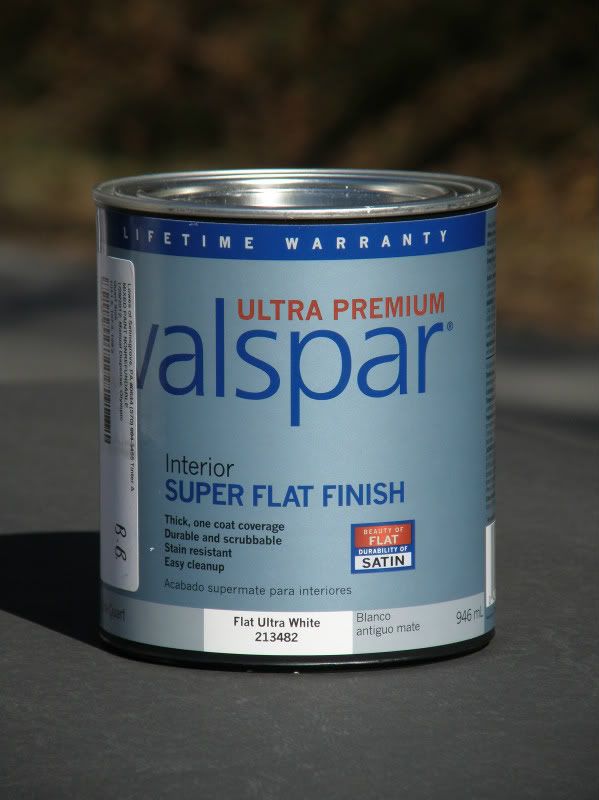 You can use Behr 1850 as well and the picture of the Auto Air Aluminum is actually a quart - not the two 4oz bottles you would need for a quart of Bermuda Beige.



I also tested PPG Grand Distinction Flat Enamel - of all the paints this one seemed the best for rolling. But I think it's only available at Menards - which is a much smaller chain than Home Depot and Lowes.




When rolling, use a 1/4" nap roller for less texture. Do not use a foam roller as they have been found to create more bubbles while rolling which can create concentrations of the aluminum when they pop. It's strongly advisable to set up a work light off to one side of the screen so that you can see the progress and avoid roller marks. Avoiding roller marks is essential but it's not as difficult to achieve as most make it out to be. Roll the screen like you would a wall and you should be fine. Before the paint has had a chance to dry go back over it down rolling each pass. Apply no pressure other than holding the roller on the wall. This will eliminate any roller marks.

Spraying should only be attempted after you are comfortable with your spraying equipment. If you have to spray and have never done it before, we recommend the Wagner Control Spray HVLP gun sold at several of the big box stores. The kit comes with a viscosity cup which helps you determine the amount of water to add to your mix. A general rule of thumb is that you add water, mixing it in before testing it, until the resulting mix runs out of the viscosity cup in 45 seconds or less.

It really is that simple! No mixing tubes of artist acrylics, popsicle stick paints, etc. using tiny little milliliter measuring implements. Just dump two 8oz AAA bottles and the quart of Bermuda Beige into a pail, mix it up and apply. :T
***End of edit*** - January 16, 2010 Black Widow PFG

What is Black Widow 'PFG'? It is a revolutionary way of making a screen the 'DIY' way.

First a very brief history of DIY painted screens and some of the more popular methods and mindsets:

For years the debate was White vs Gray. White is easy and the most forgiving. Of course the better balanced a white screen is the more accurate it will be, but unlike a gray screen White is more forgiving and can be off more and not be as noticeable as a gray screen that isn't a well balanced color. Still even with a white screen, the closer to D65 it is the more accurate it will be.

The same goes with gray screens, the closer they are to neutral the better and more accurate they are.

But what exactly constitutes a 'neutral'?

Good Question. There are many parameters but the main ones are the color balance (L*ab and xyY values), spectral curve, and color temperature.

For years many have tried to make the 'perfect' DIY screen. One that would perform with ambient lighting but also perform equally as well in a dark and dedicated environment.

One of the biggest problems and debates has been what exactly is gray? This has literally been debated for years and rather than explain it all over again the best thing is to refer to the

neutral gray thread.

As good as a simple neutral gray is, there has always been a desire to improve upon things. The most popular way up until now has been by the use of mica (pearlescent) and poly coatings. The problem is

mica by nature causes a color shift

.

So how can we improve on a well balanced neutral gray without introducing color shifting that mica's and interference pigments are known to cause? By using non-interference pigments instead...

[MOUSE]PFG stands for 'Pigment Free Gray'. Granted anything added to a white based paint to change the color is technically a pigment, this is a gray that is not created by use of the standard pigments used in paint shops or by other DIY methods. Hence the original name 'PFG', or Pigment Free Gray.[/MOUSE]

It was found that by adding aluminum based paint (which is a water based paint comprised primarily of aluminum and no other colorants) a gray was created. Aluminum is a very bright and universal element. It has been used over the years as a 'silver' substitute, and has even been used for making mirrors. Needless to say it is very bright and reflective.

That and the fact that it is a non-interference substance it was a very interesting element. The results were astounding.

First let's look at one of the most neutral Off The Self neutral grays made the conventional way with various colorant pigments.
This is about as neutral as it gets with pigment based colorants. Look at the values highlighted in green. The color balance, temperature, and spectral curve all are well within our desired specifications.
Now let's look at what happens to that same ideal neutral when an interference material such as mica is added.
Quite a change from the neutral balance seen before, and this was with just one coating.
Next up is one of the most well known and popular DIY advanced screen methods.
Again a major change from our well balanced neutral reference.
Black Widow PFG is up next... First a 4:1 mix ratio using Sherwin Williams Luminous White.
It isn't dead on neutral but is a very close near neutral. Look at the spectral curve though, it's still very flat!
Next is a 5:1 ratio mix using True Value's Winter Mist, the same as the very first data graphic shown...
So what exactly is Black Widow? It is a gray made using Aluminum paint added in the proper ratio to a common base paint. You can't just use anything, it has to be a water based aluminum paint so we went with Createx AutoAir Aluminum - Fine. The original material was a plain water based aluminum paint, but unfortunately it was said to be discontinued, although I still have a ready supply of it. Even if the person at the company was wrong, Black Jack isn't easy to find, so we found an alternative aluminum.
What are the benefits? Well as the Spider says-
Better Blacks
Bolder Colors
Whiter Whites
Excellent performance with both ambient light and lights out dedicated setups
A brighter and more vibrant image without the color shifting problems caused by iridescence.
Sharper image quality and shadow detail
That's some pretty bold claims... seeing is believing though.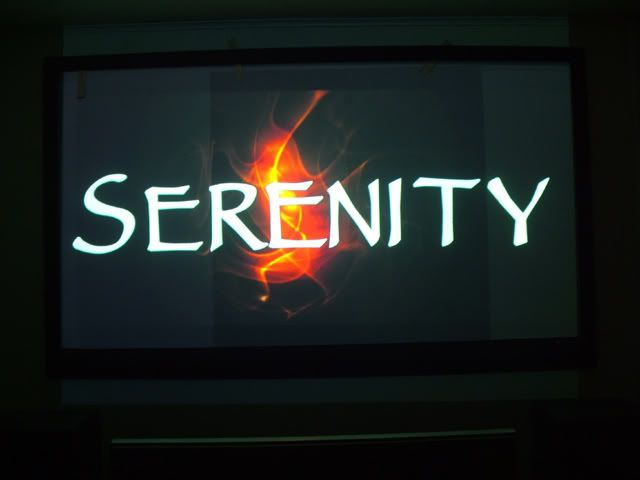 The center of the screen are the two original PFG test panels in a 3:1 and 4:1 ratio. To the left is a known performer, Sherwin Williams Gray Screen, and to the right is a generic general run of the mill N8.5 shade of gray.
SW Gray Screen was one of the Kings of Off The Shelf (OTS) grays that provided deep blacks, excellent color reproduction and very white whites. It's no contest between the two.
So PFG wins with blacks but what about color? Another good question...
Color reproduction is just as accurate but has a more vivid look to them. Here we can see that there is no discernible difference in color reproduction between PFG and a known performer. What the camera can't show is the depth and detail is much greater in the PFG screen.
The secret is the aluminum, but the key is not only the lack of color shifting that iridescence cause, but how uniform the aluminum is.
To the left is a PFG sample, to the right is a mica based application. The aluminum has a much denser and more uniform coverage as compared to the larger mica flakes. It's also very easy to see reds, blues, yellows, orange and other colors throughout the mica. That is a perfect example of uniformity and lack of color shifting.
What is really amazing is this is a darker screen but doesn't look dull or muddy like most dark grays look. The aluminum is the performance difference.
Lights out...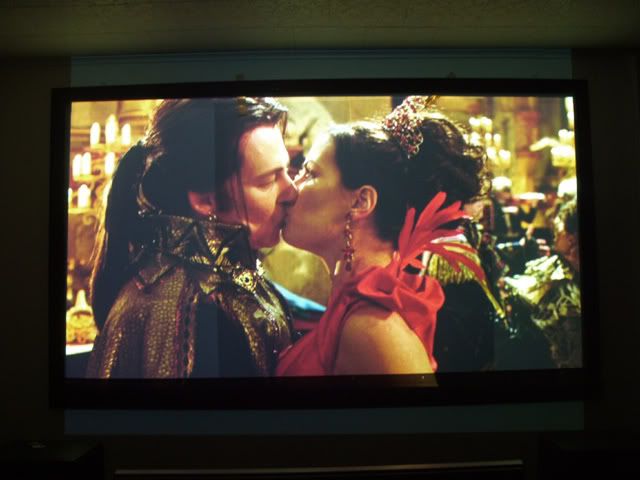 Lights on...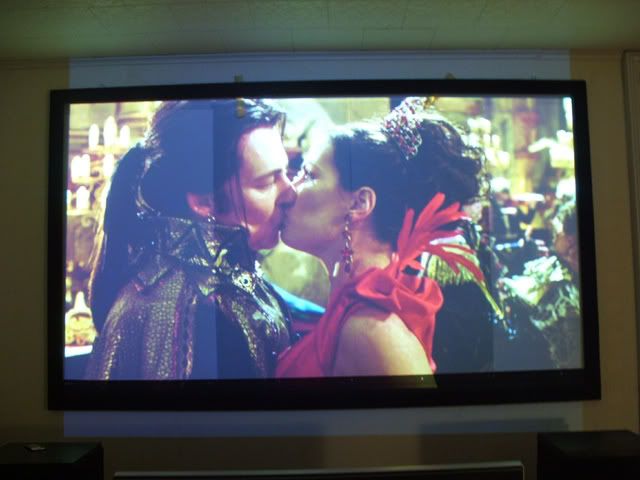 It was these tests that led to the current application that we are now ready to present... Black Widow PFG!
The next logical question is how do you make it and how do you apply it.
Making it is very simple.
For a 4:1 ratio that's mixed with Valspar flat enamal colored to Bermudia Beige- take 8 ounces of Createx Auto Air Fine Aluminum and add it to a quart of Valspar flat enamal colored to Bermudia Beige, stir and apply. That will make 40 ounces of Black Widow PFG
Most of the work done investigating this version of Black Widow can be found
here
.
The Base
The base determined to give us the most neutral mix is
PPG - The Voice of Color
Bermuda Beige (427-2).
The final spectro numbers for this mix are this:
186 186 186
0.312 0.329 49.1
75.5 -0.06 -0.08
Which according to the Lindbloom color calculator gives a screen temperature color of 6503! :bigsmile:
Bermuda Beige can be acquired at any PPG store, Lowe's, or Ace Hardware. These stores should have these colors in their database. The recommended base is Valspar Flat Enamel, although other brands have been tested and work too.
The spectral response curve: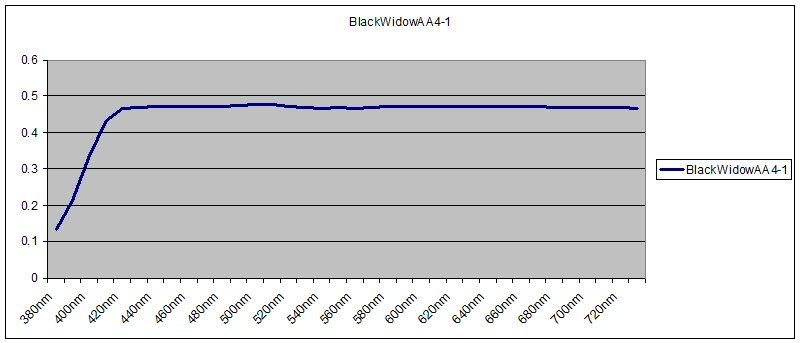 mech
wbassett-
A recap:
So there are no questions as to the base that was used and recommended:
The tint is
PPG - The Voice of Color
Bermuda Beige (427-2) and Lowes can do an excellent color match of PPG paints directly from their color library. They also sell Olympic Paints, which is made by PPG, so they are very familiar with PPG products and color codes.
As for the Aluminum used for the BW AAA, as stated it is Createx Auto Air Aluminum Fine.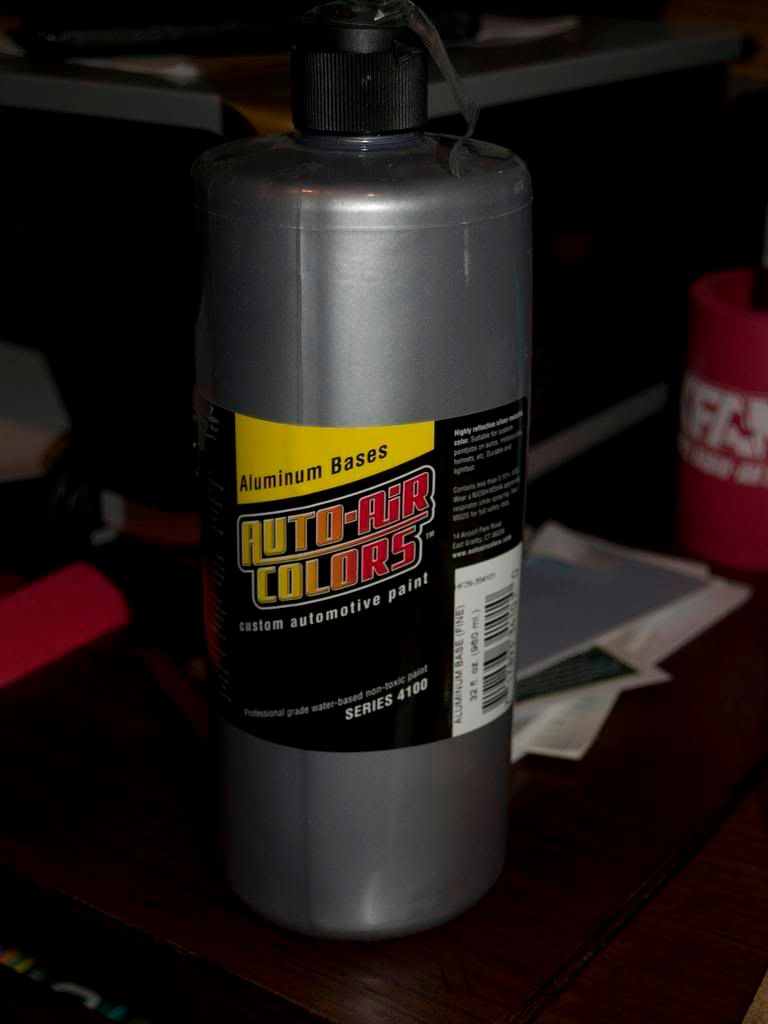 For Black Widow that is in the N7.5 range of gray, it is very simple: Mix 8 ounces of the Createx Auto Air Aluminum Fine with a quart (32 ounces) of Valspar Interior Flat Enamel, mix
thoroughly
, and apply.
I personally use a drill with a squirrel cage mixer.
How is Black Widow PFG applied?
It's just like painting a wall. No special rollers or rolling techniques are needed. Just a good quality low nap roller. Prime the surface with a good primer, my primer of choice is Kilz2, but any good quality white primer will work. Mix up your Black Widow, and roll it on... it really is that easy. Stay away from foam rollers though. They sometimes cause bubbles to form and when the bubbles pop a bright spot is formed. If you see a bubble, don't panic, just roll it out and move on.
Coming up next are some actual Black Widow shots and even a first hand account of making a full size screen and how it performs.
We are also working on lighter versions and are very close to having an N8, N8.5, and N9 ready soon!