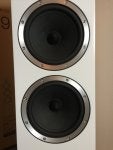 To paraphrase Thomas J. Norton:
"Some speakers strive for maximum output at the expense of naturalness. Others add a biting edge to everything for excitement that's not in the source material. They produce boom instead of bass, or they sacrifice natural music reproduction on the altar of over hyped, explosive sound effects. None of these things describe this B&W system. The key word for the CM9 is balance. It's not the highest-end system B&W makes, but it does offer a balance of strengths on both music and movies that's a pleasure to live with over the long haul."
This 2 year old set includes grills, manuals, shorting bars, spiked/rounded feet, and original shipping cartons. I rated their condition as 8/10 only because of some nicks in one of the bases (as shown in the pictures below).
Special Price for HTS members:
1 (pr) CM-9 S1 Floorstanding Speaker - $1500
1 (ea) CM-2 Center S2 Center Channel - $500
Return Policy:
1) Buyer pays original & return shipping + insurance
2) Buyer agrees to return items in original condition with all accessories and shipping cartons.
3) Refund will be issued upon verification of items' condition