Discussion Starter
•
#1
•
Carada Screen Material Review
Opened for discussion.
Carada is an Alabama based screen manufacturer probably known more for their frame manufacturing than there screen prowess. They feature two lines of aluminum frames - The Criterion and The Precision. The Criterion having a beveled edge. Irregardless, I received no sample of either of these frames so I cannot comment upon their quality. I did, however, receive three 9.25"X12.25" samples of their screen fabrics.
All Carada projection screen surfaces are flexible, unsupported PVC fabrics. They are flame retardant, mildew resistant, and washable with soap and water. Each fabric has an ultra-fine surface embossing that will give you sharp images and accurate colors without color shifting.

Classic Cinema White Screen Material

Our Classic Cinema White screen material provides an exceptionally wide angle of view, helping to maintain a consistent image from different seating areas. It has a gain of 1.0, and is most suitable for dedicated theaters with good ambient light control.

Brilliant White

Our Brilliant White screen material has a gain of 1.4 for that extra bit of punch, with a minimal decrease in viewing angle. It is also a thicker, more opaque gauge of vinyl than our Classic Cinema White. With its higher gain, it is a good option for dimmer projectors, or in environments with some ambient light such as boardrooms or churches.

High Contrast Grey

Our High Contrast Grey screen material has a gain of 0.8, and can improve your images contrast by lowering the black levels. This material is a good option for digital projectors with less than spectacular contrast ratios.
The Environment
The first shots are of the viewing environment. On the left we have medium ambient light, and then on the right no ambient light.
All shots were taken at night and there was no light filtering through the shades as seen in the above photos
Next I'll discuss white/gray balancing. Not much because we do have the thread
here
which goes into more detail as to how I accomplished white/gray balancing. I used a Whibal card and then loaded the RAW shots into Adobe Bridge where I then used this reference shot to white/gray balance all the shots: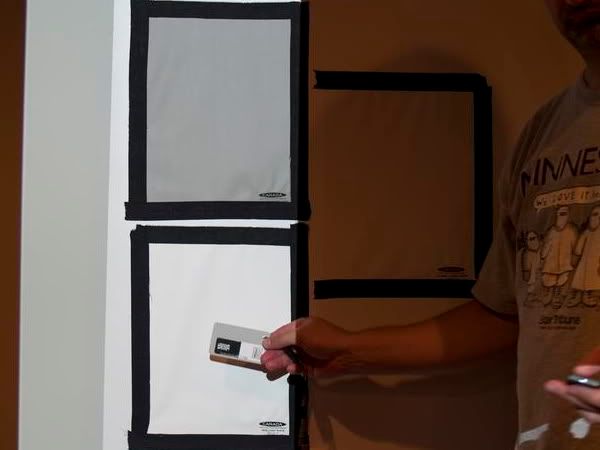 The camera is a Olympus E-500 with a 14-45mm lens. ISO was set at 100. Aperture and shutter speed were set to auto. If anyone should happen to want the metadata for any particular shot(s) just let me know. The camera is resting upon a tripod and all shots are taken utilizing the remote in my left hand.
The Projector is a Mitsubishi HC3000U. It boasts a 4000:1 contrast ratio and a brightness of 1000 lumens ANSI. I however run it in eco mode. I'd guess it's around 6-700 lumens in that mode, but don't quote me on that. It has not been professionally calibrated. It has only been calibrated with my eyes using both the AVIA and the DVE disks.
The DVD player is the Oppo OPDV971H. It has the latest firmware. The Satellite receiver is a DirecTV HR20. Both of these are connected to a Monoprice 5X1 HDMI switch that feeds the signal to the projector.
I should probably also mention that the background screen is a Wilsonart Fashion Grey laminate and the samples are taped to a piece of Designer White laminate. The tape is black cloth hockey tape.
One thing that I'm going to add - sort of a disclaimer - it's extremely difficult to characterize a screens attributes with a small piece of it. What I'm saying is there won't be much of a review here. Just pictures and discussion following.
mech