Chane A2rx-c 5.0 Loudspeaker Review​
by Dennis Young​
​
Introduction
Chane Music & Cinema has introduced the third evolution of their popular Arx series, now going by the alpha numeric '"Arx-c" designation. Using technologies not typically found at these prices, and utilizing an internet direct business model which allows customers to avoid paying dealer mark up, Chane looks to offer the public exceptional value for the money.
Description
The A2rx-c is a two-way loudspeaker, featuring twin 5 1/4 inch woofers with XBL2 technology a two-way crossover with baffle step compensation and a 3 inch planar magnetic tweeter located between in an MTM (midwoofer/tweeter/midwoofer) configuration. This helps maintain the axis of the forward lobe, keeping it on center with the tweeter. The large surface area of the tweeter significantly lowers distortion, keeping driver excursion to a minimum.
Gold plated, 5-way binding posts offer detents for "gription" (a fun nonword learned from my father) to tighten down on your choice of, or lack of, cable termination. The planar leaf tweeter is also the voice coil, an arrangement whose simplicity allows for quick starts and stops due to the transducer's extremely low moving mass. Housed in a sturdy, nondescript Black Ash PVC vinyl wrapped cabinet, the A2rx-c forgoes a fancy finish, focusing instead upon the high performance parts contained within.
The grille, like the loudspeaker, is well built, constructed of MDF and has impressively sturdy metal pegs. These pegs will not be snapping off very easily.
The A2rx-c is a bigger brother to the A1rx-c, with size and output increased dramatically and distortion halved due to the increased cone area. Designed as an LCR loudspeaker, rotating the tweeter allows the A2rx-c to be used vertically as mains or for surround channels, giving users the opportunity to have a perfectly matched front stage.
A 5.0 system is preferable for hi resolution multichannel music, and will be an important focus in this review. Although, I did find myself listening in two channel music mode much more than a television oriented surround sound mode.
Packaging
The Chane A2rx-c loudspeakers are shipped to their destination protected by a single, but thick box, with additional sheets of cardboard lining the top and bottom, and thick foam end caps. Plenty of airspace around the speaker further protects the A2rx-c. The five cartons were delivered to my doorstep with the usual scuffs and occasional gouges our beloved delivery companies imbue upon our precious cargo, but the contents remained completely unscathed.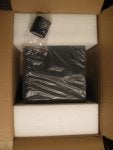 ​
Evaluation Equipment
• Sources - h/k TC35C, Ortofon OM 10 Super, Phono Box S/Marantz VC6001/Sony BDP S590
• Prepro/surround amplification - Sherwood Newcastle R-972
• LCR Amplification - Emotiva XPA-3
• Cabling - MIT AVt 1 speaker cables, Monoprice HDMI
• Wood Technology 24" stands
• Subwoofer Augmentation - Chase Home Theater VS-18.1 (duals), Dayton SA1000 Subwoofer Amplifier
• Light 2" Foam Treatments (Reduce Flutter Echo)
Sound
A great thing about this MTM LCR loudspeaker is that the center can be used on it's side, or the tweeter can be rotated like I did to the left/right mains and surrounds, giving the user perfectly matched speakers all across the front and around the room. Rotating the tweeters was a simple affair, although I did have a wire or wires cause a distressing sound inside of one, creating a surprising loud buzzing sound at certain frequencies at high levels. I opened that speaker back up, re-routed the cable in another direction, and all was well. I also rotated the binding post terminal cups to best accommodate my cables.
As is my custom, I plopped the A2rx-c left and right speakers down in the area I have found works well as a starting point for getting a good room match. I purchased a sturdy metal stand for the center channel and laid one A2rx-c, the one remaining with it's planar oriented for that specific duty, on the stand horizontally and angled slightly upward. All ports were blocked with the supplied charcoalester foam plugs and the AVR set to cross the loudspeakers over to the subwoofers at 80 Hz. The A2rx-c set started off sounding a little bit incoherent, the tweeter was just a bit rough. After about the 20 hour mark, I noticed a major change, the sound started to gel and the highs became more natural. By the 30 hour mark, I had a completely different set of speakers in my room than what I had started with. Low volume listening really drew me in. Now it became time to dial in the placement. I played with toe in, but settled on the left and right pair firing almost straight forward, with just the slightest cant inward. I received a few comments from visitors about the visual lack of toe in, but none on the audibility of this perceived oversight. The surround pair of A2rx-c were placed at the rear of the room and toed in sharply, cross-firing right at my head. This began the point of serious listening.
Near the end of the break in point, detail really kicked in. Images filled in and became more focused, PRaT seems locked in, attack and decay on the planar was quick perfection. I was wishing for just a tad... I mean very, very little.. more energy at the high frequency extremes. But, I might be wishing for the wrong thing, for demanding dynamic peaks were rendered perfectly, very loud, but with no shout, and no wincing on the listeners part like some high efficiency designs might induce. It made me want to rewind program material with extreme high frequency content so I could experience that treble hit again, and I did so several times. It is such a rare event to hear highs reproduced like this speaker system does. So, per the wish for maybe a tad more high frequency "bite"... one has to be careful of what one wishes. Loudspeaker design is a game of trade offs and compromise. The A2rx-c adds nothing of it's own, it is just missing that last little bit of resolution. The end result of these design choices is... no listening fatigue. Distortion levels are almost headphone-like, and at the end of the day, the Chane A2rx-c is only one or two small steps away from the very best monitors I've heard in that regard.
I must say, I have never experienced a loudspeaker that took so long to break in. I intended on using these mainly as a part of a 5.1 movie experience, but after the break in period, I found myself in 2.1 channel mode 95% of the time, such is the musicality of these loudspeakers.
Piano comes through so well on these loudspeakers, even on less than stellar recordings off of streamed media like Pandora. Very laid back presentation, with a large, addicting soundstage completely filling the space behind, between and to the sides of the front baffle plane. Perfect for a home theater situation, and helpful for those with small rooms trying to get a "big" sound, the large presentation is also a desirable trait for surround speakers to have. The twin Split Gap drivers won me over with their substantial midbass power.
It became apparent early on that the A2rx-c like power, as in they REALLY like power. I was able to hit satisfactory levels with my 100 w.p.c. AVR, but it was clear the amp section was limiting the loudspeakers. When laying on the power, the soundstage grows as the volume increases, images fleshing out into life-sized entities. The planar tweeter is so smooth and accurate, right up until the point the amp runs out of gas. When the amplifier clips off the waveform, the planar makes it immediately apparent. Adding more amplifier juice is highly recommended, these speakers deserve it.
When listening to surround sound movies with the A2 center on, I would sometimes switch it off and run phantom center. Clarity increased, as would be expected. The A2 is a great center, but horizontal center placement is generally compromised and this was borne out in my room through experimentation. As is typical with most mixed media systems, I was unable to locate the center channel Chane planar at ear level like the left and right, limited by the center stand's 17" height, which is a little closer to the floor than is optimal. I suspect that a vertically placed A2rx-c placed at the same height as the L/R mains would be quite a treat. Still, the horizontally placed center had it's place with movies possessing strong center channel content, and I did use it more often than not. It was also helpful filling in and making dialogue more intelligent with regular content, like my suppertime favorite, Anthony Bourdain travelogues.
Music
Cars: Candy-O Mobile Fidelity Sound Labs CD - Best listening session I have ever had with this album, on any system, anywhere. The leaf tweeter was super quick, hitting, then letting go of the notes. The decay is uncanny, especially with a speaker of this price.
"Got A Lot On My Head" - This song is very busy and fast, but each instrument was delineated separate and distinct from the others. The chorus keyboards could use just a tad more energy at in the extreme highs, at least I felt so at the time. Turns out, it could just be the recording...
...with "Dangerous Type", at the song's beginning, the forte cymbal hit peaked perfectly, so I wonder if anymore should be wrung out of the A2rx-c's planar magnetic tweeter? Once again I am thinking, probably not.
Herbie Hancock: Headhunters CD - At the beginning of the first track, "Chameleon", the crack of the snare drum is hyper realistic, and the 4/4 time high hat with beats 1 and 3 emphasized stands out. Not every speaker can delineate this, even less can deliver the high hat "spit" correctly while doing it. At the end of "Watermelon Man" the soundstage was filled front to back and side to side with a panoply of vivid images. Hooting and hollering voice, whistles and finger snaps, with percussion placed well back in the mix, as it should be. There is a lot going on here in a recording that is mixed and mastered well, the A2rx-c laid all this busyness out nicely.
Van Halen: Diver Down CD has always been a fun listen for me, the song "Secrets" is going to become a of bit of a reference. The soundstage and imaging were laid out so nicely by the A2rx-c. When "Intruder" kicked in, I got great big, fat, euphoria induced goosebumps, and when the segue to "(Oh) Pretty Woman" began, I did not feel the urge to turn the volume level down like I often do with most speakers.
Listening through Pandora to Bill Withers, "Just The Two Of Us", the HF pat of the kick drum came through, and the sax solo had just the proper amount of bite. The bells toward the end of the song were played wide and outside, behind the plane of the left speaker. Pretty good presentation for low resolution background music.
Good or great recordings will be rewarded, but the Chane loudspeakers are not the most forgiving of bad recordings. The A2rx-c does not make them unlistenable, but less than optimal recordings won't be glossed over, either. The Very Best Of Keiko Matsui CD gave me the heebie jeebies, and that should never happen listening to Keiko. What were those guys in the studio thinking?
Surprisingly, Genesis: Abacab SACD 5.1, which has more than it's fair dose of the usual, pervasive Phil Collins "bite", was absent from that bit of mid-high shrillness. This is my favorite album, so I know it well, having spent countless listening sessions with it on every available medium over the last 30+ years. As with the Cars: Candy-O album, this was my best listening session with this particular album, ever.
Radiohead: OK Computer CD - I put this disc on for a little background music and cued "Karma Police" to let the system warm up before a serious listen. I settled in for a few minutes of social networking before noticing that the sub amp was not on. No big deal, I have been meaning to listen full range, but meant to do it with all ports unplugged in 5.0. So, ports in and out, I tried different AVR crossover settings from 60 Hz down to 50 Hz, then down to FULL range on the bottom of my AVR settings. The A2rx-c pair did an admirable job, full range. A 50 Hz crossover gave me almost the same sense of power and dynamics as with the subs, with 95% of the program material, showing that the A2rx-c can stand on it's own, be it 2 channel or, as I later found out, surround. As an aside, testing this with movie clips, I found that setting the AVR crossover at 60 Hz with the A2rx-c ports open gave the best presentation for surround sound movies, in my room.
​
Movies/Video in 5.1:
Defiance on Netflix - Peals of lightning and thunderclaps roll around the room, correct in tone and sounding as realistic as I've ever heard from any electro-mechanical device. Rain pelts, gunfight skirmishes and orchestral accompaniament, once again I found the A2rx-c is able to handle complicated mixes at high volume levels.
Tron: Blu-ray DTS MA - "Games" chapter, the rear channel roar of the crowd is LOUD. This movie has a lot of strong, abnormally high level content sent to the rear channels, making a really good case for having capable loudspeakers assigned to the job. The dual XBL2 drivers were up to the task.
TOOL: Salival DVD - I bought a used copy of this (finally!) and an Emotiva XPA-3 amplifier right toward the end of the review period. The Emotiva amp was instrumental to my enjoyment of this album, because, as I has suspected, the A2s really liked to fed power to best work their magic.
I first (and last) heard this limited edition album in stereo only, many years ago, on a 2 channel bedroom system. Hearing "Stinkfist" in Dolby Digital 5.1 for the very first time added a new dimension to an old favorite, goosebumps were induced right from the song's beginning and happened a couple of more times before the ending. The center channel A2rx-c kept the growls, yelling and emotional inflection of Keenan's vocals intact, conveying his message completely. Extremely enjoyable, I listened to this song three times that evening.
"Ænema" mixes Maynard's reverb enhanced voice into all 5 channels equally, a very eerie effect. The ability of the dual 5 1/4" woofers to reproduce the challenging midbass of this track (the entire DVD, really) was put to the test, and I was glad for their advanced motor design plus the extra few dB afforded by dual woofers. Ten XBL2 drivers, in 5.1 configuration... yes!
Conclusion
The Chane A2rx-c is a budget speaker, so resolution is a little lower than many mega-buck speakers. That said, nothing I've experienced in its price range or under is going to better its resolution and clarity. If you want that last little bit of resolution, then you will have to spend more, likely a lot more. Fit and finish is high, so even if this speaker sounded average, the A2rx-c would be a great value based on build quality alone. Add in the exemplary, class leading sound and its value skyrockets. On that note, I will also add, the Chane A2rx-c takes on many mega-buck speakers, posing the question, "Why spend more?". Is the A2rx-c the greatest speaker in the world? No, but I feel it is one of the world's great speakers at its price.
The A2rx-c does like power. I hit them with everything my AVR had, repeatedly trying to find the bottom of these loudspeakers. Even when punished by the near insane levels I dutifully subject review gear to, the A2rx-c itself never felt like it was running anywhere near the red line. Driver excursions were always minimal @ 80 Hz, I never saw any dramatic movements, even with the most demanding program material. The 8 ohm impedance ensures the A2rx-c will be a good match with any amplifier, my AVR's operating temp was surprisingly low. Toward the end of the review period, I picked up a hefty 3 channel amp (Emotiva XPA-3) for the front end. Indeed... this woke the A2rx-c right up. My earlier impressions were confirmed, the Chane's like clean power, and will reward you if fed well.
Five identical speakers all around are ideal. Should the consumer like to run only 5.0 (or even 4.0), sans subwoofer due to WAF, space or budget constraints, the A2rx-c will happily do so. The Chane loudspeakers paint a large, life sized soundstage and will take command of all but the largest rooms. Liquid smooth sound, with neutrality leaning toward the side of warmth, it is simply a good, solid design, built right to get the job done. Spartan looks with a sound that competes easily with many four figure speakers, the A2rx-c is a lot of loudspeaker for a little money.
Please use the
Chane A2rx-c 5.0 Loudspeaker Review Discussion Thread
for question and comments.​