Discussion Starter
·
#1
·
All readings performed with a
X-Rite certified and calibrated
i1pro spectrophotmeter. This spectrophotometer
is
calibrated yearly by X-Rite.
X-Rite i1Pro Device Specifications
Spectral measurement device,supported measurement modes:
Reflectance single measurement
Reflectance scanning measurement with automatic patch detection
Emission: radiance measurement (monitor measurement)
Emission: irradiance measurement (light measurement)
Spectral analyser: Holographic diffraction grating with 128 pixel diode array
Optical resolution:10nm
Physical sampling interval: 3.5nm
Spectral data: Range: 380 to 730 nm in 10nm steps
Measurement aperture: 4.5mm diameter
Measurement geometry: 45°/0° ring illumination optics, DIN 5033
Light source: Gas filled tungsten (Type A)
Physical filters: No or UV cut (Filters not exchangeable)
Inter-instrument agreement: Average dE*94 0.4, max. dE*94 1.0
(Deviation from X-Rite manufacturing standard at 23°C for single measurement mode on 12 BCRA tiles, D50, 2°)
Short-term repeatability: ΔE*94 <= 0.1 (D50, 2°), with respect to the mean CIELab value of 10 measurements every 3 seconds on white
Data format: Spectral radiance (mW/nm/m2 /sr); Luminance Y (cd/m2)
Measurement range: 0.2 to 300 cd/m2
Short-term repeatability: x,y: +/- 0.002 typical (CRT 5000°K, 80 cd/m2)
Type: Cosine-corrected diffuse light measurement head
Diameter: 6.0 mm
Data format: Spectral irradiance (mw/nm/m2), Illuminance Y (lux)
Physical dimensions: 6"L x 2.6"W x 2.6"H (151 x 66 x 67mm)
Weight: 6.5 oz (185g)
Power conditions: Device powered by USB. No additional charger or battery required. USB 1.1 high power device.
This will be a closed thread with all of the spectrophotometer readings of all the commercial materials I have.
This is what the chart will look like. This is a reading from a X-Rite N5 Gray Card.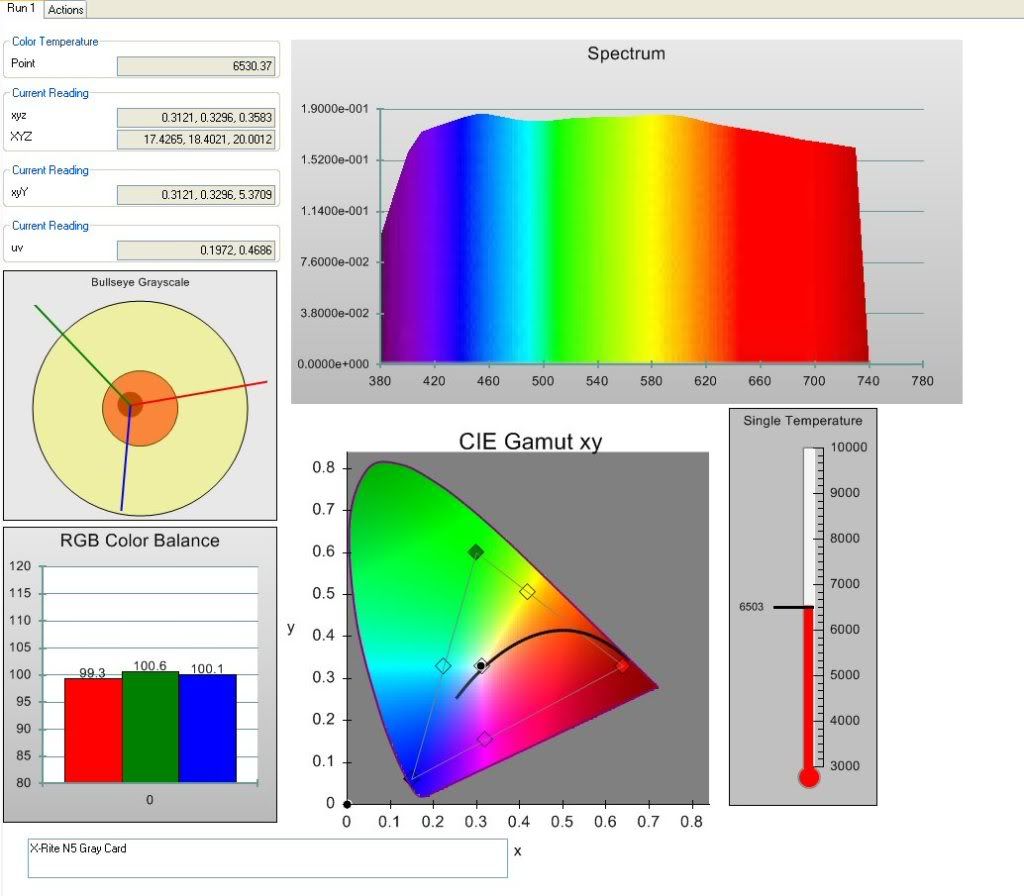 The upper left side has all the data fields. The middle left is the D65 bullseye. The lower left is the RGB Color Balance which shows the saturation for each primary color.
The upper right side is the spectrum chart. Below that is the CIE plot and the Color Temp gauge.
The Y value in xyY is a foot lambert measure, not the standard cd/m2 measure we are used to seeing. Multiply it by 3.4262590996353834259536468581083 to get the proper nits value.