10-18-13 Addendum: The Valspar paints have changed (and some not for the better) so we are now suggesting that
Valspar Signature
be used instead of Valspar Ultra. The tint formula is the same. All mixing is the same.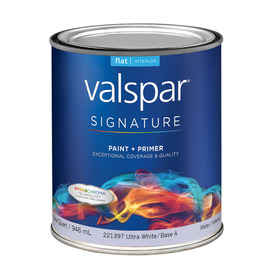 --------------------------------------------
The change in physical makeup of the metallic silver paint used to make the previous Cream&Sugar™ mix means that particular mix (or series of 3 mixes actually) can no longer be recommended unless the old Craft Smart Metallic Silver is still available to you.
Introducing Cream&Sugar™ Ultra! Like the Cream&Sugar™ mix before it, Cream&Sugar™ Ultra is a binary mix (only two paints are used). Both paints are usually easily obtained locally throughout the U.S.; development is continuing in the use of a paint available from Home Depot as well which I'm sure will be glad news to our northern neighbors in Canada since there are precious few Lowe's stores there.
The base paint is
Valspar Ultra Premium Interior Latex Flat Enamel Base 1
with the following tint and amount -
115-0.67
for a quart of paint.
Addendum:The Valspar Ultra Premium Flat Enamel paint has been renamed by Lowe's to
Valspar Ultra Premium Super Flat Finish
. The paint is the same, just a different name, so the existing tint formula will still work.
Note that the photo below is NOT the Base 1 paint, but rather the Ultra White base.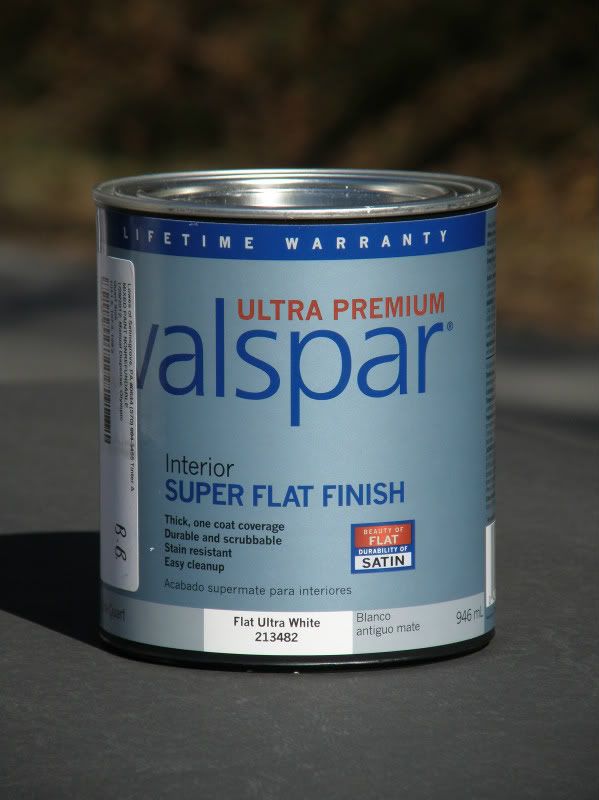 For those coming from looking at the original Cream&Sugar™ thread please note that the ratio of base paint to silver paint has changed for Cream&Sugar™ Ultra, it is now 50% base paint and 50% silver paint (a 1:1 ratio).
To make 32 fl. oz. of mix (before thinning for final application) buy the following items:
1 quart Valspar Ultra Premium Super Flat Finish Base 1 tinted 115-0.67
(available at Lowe's)
16 fl. oz. Liquitex BASICS 'Silver' acrylic paint
(four 4 oz. tubes or two 8 oz. tubs). This paint is available at most arts and crafts stores such as Michael's and A.C. Moore. It is also available at great discount from many stores on the internet.
Now the tricky part
. Since the mix is 1:1 that means only 16 oz. of the quart of Valspar paint is used, to which is mixed the 16 oz. of LBS (Liquitex BASICS 'Silver'). While you could just add 32 oz. of LBS to the quart of Valspar paint, LBS is a fairly expensive paint and it would make way more mix than most people would need. So yeah, the tricky part is measuring 16 fl. oz. out of a quart of paint.
Because the LBS is so thick the mix DOES NEED TO BE THINNED, even to roll. For those rolling I would recommend adding at least 25% distilled water; those spraying would have to dilute even more depending on their sprayer. Add the water and
mix thoroughly
, this mix is slow to accept the added water. Mixing thoroughly is VERY important!
For what I will assume would be the standard C&S™ Ultra mix of 16 oz. Valspar and 16 oz. LBS that means an additional 8 oz. of water should be added to thin for rolling. It would be a good idea to also use some of this water to wash out your containers of LBS to get all the paint out. If you are using the 8 oz. tubs of LBS simply pour the water into the tub, cover and shake. If using 4 oz. tubes of LBS I found it works best to inject the water into the almost empty tube with some kind of syringe, close the lid and shake WELL.
Cream&Sugar™ Ultra is a N9.2 screen mix which is brighter than the N9 of the previous Cream&Sugar™ mix. This means C&S™ Ultra will not perform quite as well in ambient light as C&S™, but it also means the mix will be even brighter than C&S™ in a home theater that has controlled lighting and dark walls.
Data and photos to follow.