Discussion Starter
·
#1
·
I had been thinking of building a small sub for the A/V system in our work out room at home. Space is limited so it had to be a small sub. The sub will be used for 50/50 HT and music, so a ported sub is what I wanted. CSS had just introduced a line of small subs with Passive Radiators, and after looking over the various kits, I choose the QUARTET10 subwoofer kit.
The kit comes with the SDX10 subwoofer, 2 APR 10 Passive Radiators, a 300 watt Bash amp, 4 cabinet spikes, and all mounting hardware. The kit is priced at $379, a quick check shows the individual parts total $475, the kit is definitely an excellent value. I ordered the kit and 4 days later it arrived. The kit arrived in two boxes.
The first box contained the amp, the chart of boost tables for changing the high pass filter, the cabinet spikes and the mounting hardware.
The second box contained the SDX10 subwoofer and the two 10 inch Passive Radiators.
The PR's were well packaged, with recessed firm foam top and bottom protectors to prevent the PR from moving around in the box.
Each PR comes with 20 45 gram tuning washers, a lock washer and a wing nut to hold them in place.
The SDX10 was equally well packaged, with the same firm foam top and bottom protectors.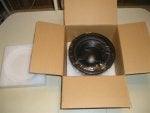 Here's a couple pics of the sub. It's well built and the quality shows.
This is everything the kit comes with.