Before you look at the photo, I already know what you're going to think..."Gosh, that room is
way
too small for those loudspeakers!" Well, probably something along those lines, and sure, I agree. But before you make a judgement and move on, imagine that you had purchased your dream loudspeakers for a big dedicated media room out on the east coast and then a few years later ended up moving to a smaller place on the west coast. Would you sell them for a substantial loss and buy something smaller or try to make your dream system work in the new space?
Well, that was my situation, and it took a lot of hard work over a period of about six months to get these big loudspeakers to sonically disappear in a 15.5ft x 10.1ft room. I ended up using a combination of room treatments from ATS Acoustics and digital room correction called
Acourate
from AudioVero. So, the point of sharing this photo is not to suggest that others should go out and buy large loudspeakers for a small room; rather it is to show what is possible with enough effort and persistence. It's uncommon to have the opportunity to design and build a dedicated 2-channel room from scratch; most of us who are fortunate enough to have a dedicated 2-channel room are going to be working with a smaller space. If this is your situation, don't give up, and don't hesitate to ping me if I can answer questions or help you to make that room reach its potential.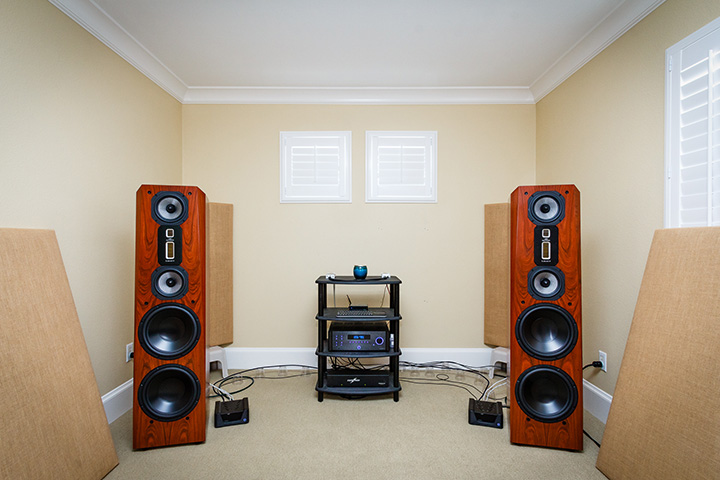 The backs of the loudspeakers are 3ft from the rear wall, and the centers of the midbass drivers are 18.5in from the side wall. The listening position is 4.25ft from the rear wall and 7.75ft from the loudspeakers. The soundstage is wide, tall, deep, and incredibly precise with startling realism on good recordings. Even old mono recordings sound excellent with the sound emanating from a narrow but deep/tall area dead center between the loudspeakers. Bass is extended, effortless, and extremely quick. It took a lot of work to get there, but I'm very pleased with the final results.