The original plan of this build was to actually make two subwoofers utilizing the Dayton RSS390HO driver. After I got this first enclosure roughly together, I ended up just building one due to size restraints in the living area and pleasing the wife. When I started assembly I noticed something, a cardinal sin in subwoofer building had been committed without me even being aware of it.... when the guys pulled the MDF from the shelf at Home Depot, I didn't realize that 5/8" had been cut up until now! Ugghh!! So, I double-thicked the walls, making the enclosure larger than I'd originally planned. Including bracing and driver displacement, the internal volume of the enclosure is 2.6 cu ft. The actual finished box size is about 24"h x 18.5"w x 22"d (would be a tad smaller if single 3/4" MDF was used as I'd originally intended). The slot port is 1"h x 16.5"w x 44.25" long, tuned to 19hz. It exits on the top of the back wall, with the port itself shaped like a 'U' going down the back, and back up the same distance. The sub is being powered by a bridged Behringer EP1500 with an Elemental Designs EQ.2 taking care of the subsonic filter (set at ~20hz) and applying some EQing (currently a 3db boost around 25hz with a Q of 1). The system is also utilizing the EQ2 that the Onkyo SR606 receiver uses to equalize. The reason for using this woofer was its low distortion characteristics and ability to play low and loud in a relatively small box - with some minor EQ on the bottom end, so far I'm very impressed. More in a bit...
Here's some winisd screen shots of what the subs capable of.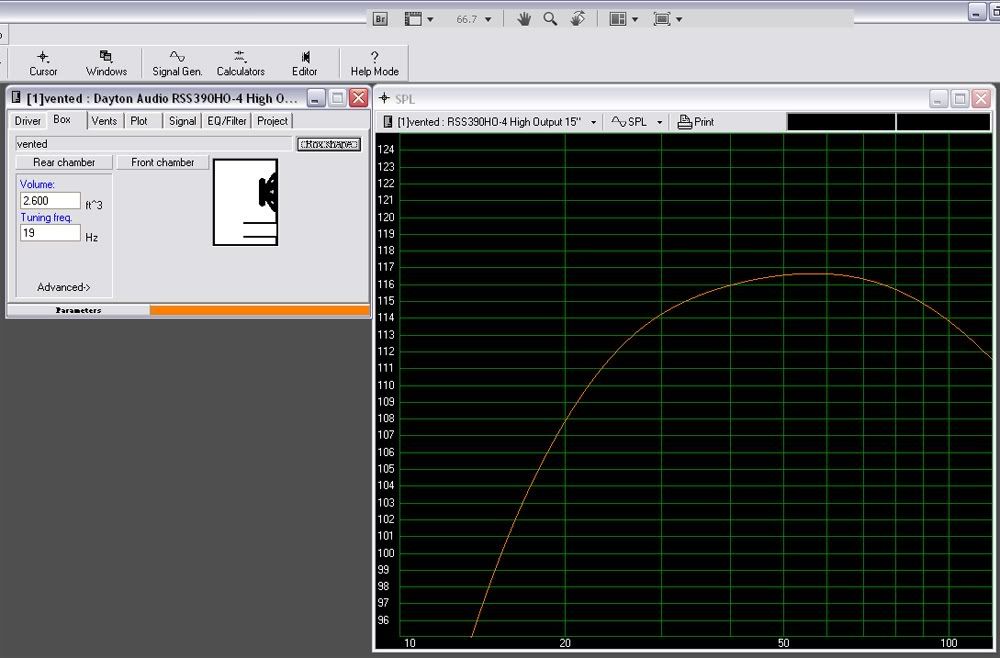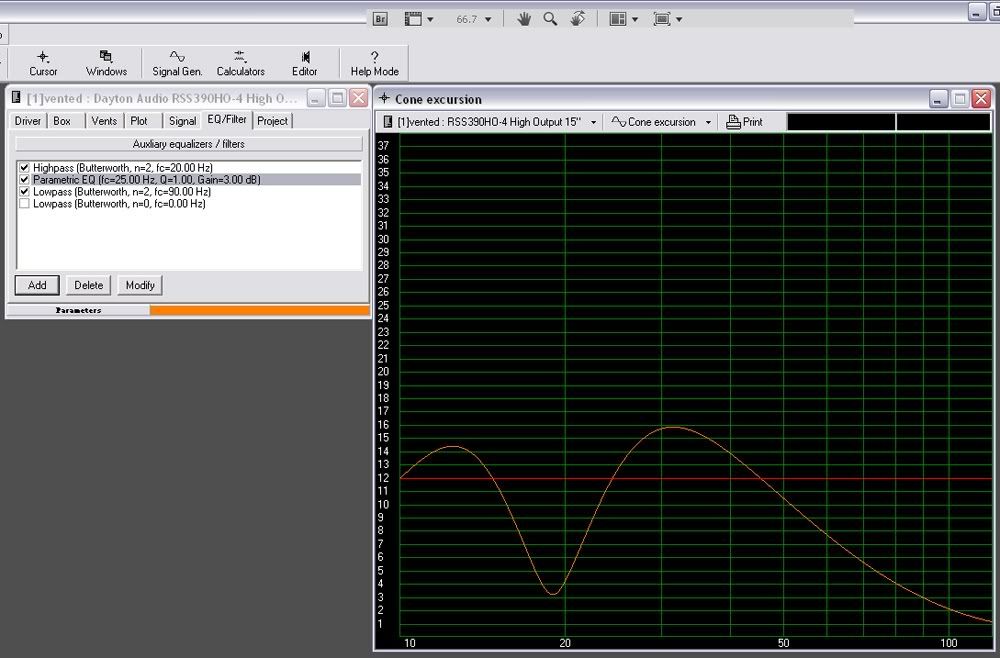 Here's the cutsheet used, as well as a rough wireframe I used to help visualize the port and box design.
Here's the box assembled and filled.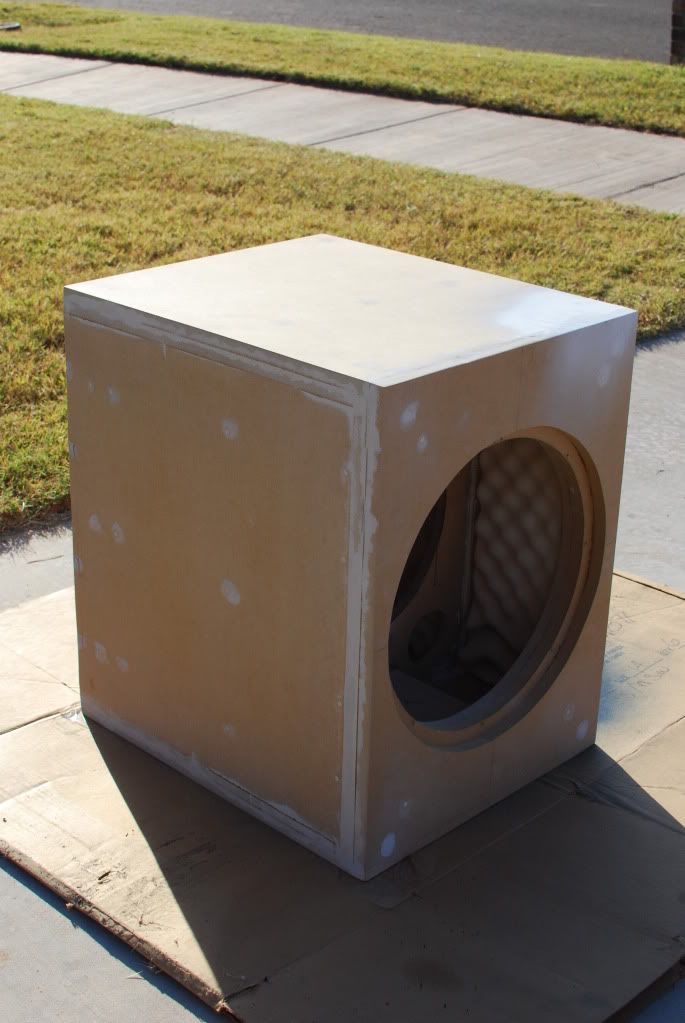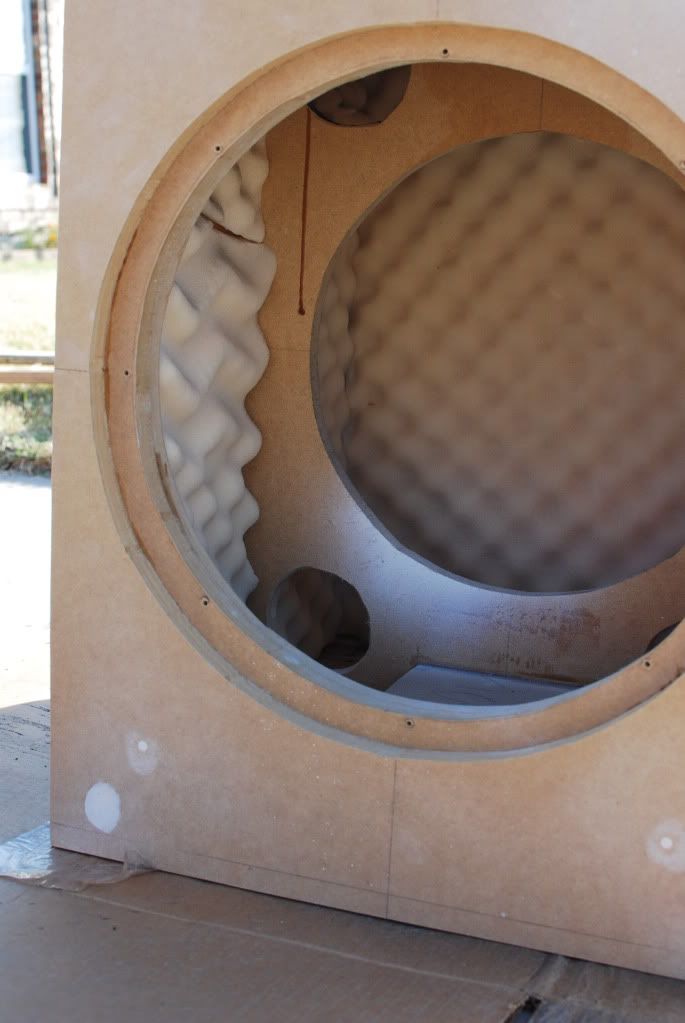 I used Zinnser Cover Stain Primer/Sealant in a spray can to prime the box. Didn't get any pics of it, visualize a white box
It covered really well with one good coat.
I used Rustoleum Hammered Black Universal spay paint to paint it. I should have researched how to apply this paint before trying it out. I attempted to use it outdoors and the wind caught it a few times causing uneven application. I found out after I'd done most of the box that it's best to apply this stuff in a controlled environment (no wind, not even a slight breeze), apply to the face of the box that is facing upwards and do one thick coat - as thick as possible without running. The more you apply, the more it loses it's hammered finish and just becomes a semi-gloss black. I also found that I should have filled in the sides better where they met the face. Oh well, before long they'll receive a veneer laminate (from parts express) to help hide those imperfections. The top and face turned out even, and that's really all you see in its final resting place.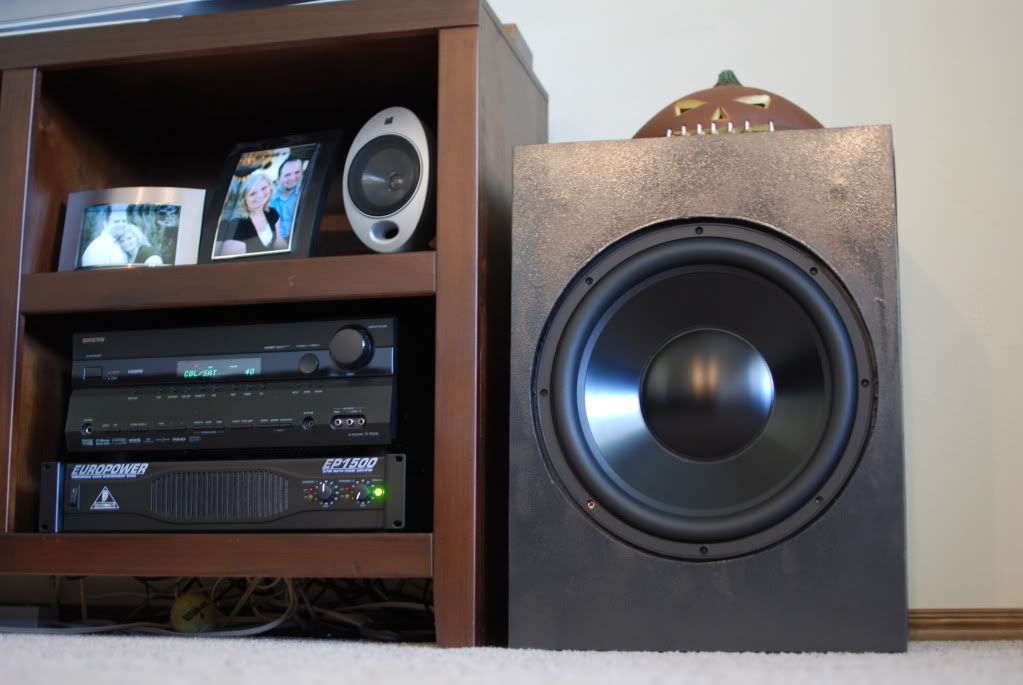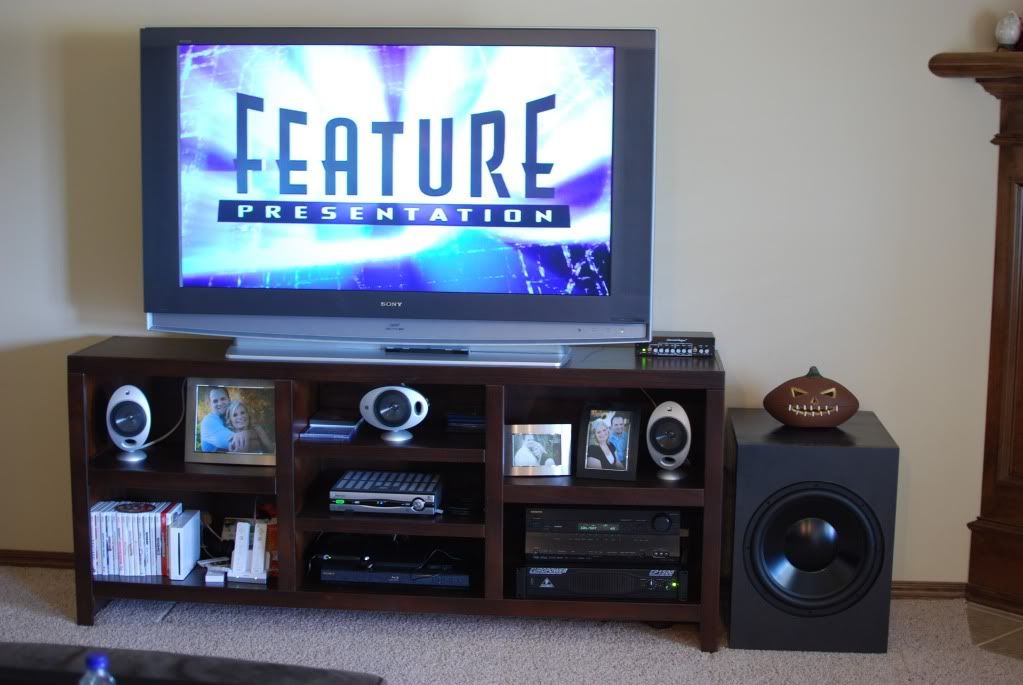 I've been tweaking with the sound of this thing since I hooked it up Sunday. So far I've found it sounds best with the EP1500 at half gain, EQ2 on the Onkyo receiver applied with the Elemental Designs Eq.2 flat. Once that was completed I adjusted the ED Eq.2, bringing in a 3db boost @ 25 hz. I don't have any testing equipment yet, just the ears for now. I'm planning on picking up a meter and a BFD soon to really get it setup and tuned with a nice house curve.
So far I'm blown away with the depth and solid musical bass this thing produces. In our 3500 cu ft living room (counting how it opens to kitchen, dining, hallways), it delivers much deeper solid tones than I'm used to from the previous dual 10" commercial subs we had (an old '98 model cerwin-vega and the KEF that came with our satellites). We've watched a couple movies with it, and I played several action scenes and tweaked it watching them a few times over finally attaining those 'feel' notes without sounding boomy. Even watching TV, simple commercials and audio tracks finally have that added dimension that we'd been missing. I can't really imagine how two of these would have sound/felt, this really accomplishes what I was after with just one sub. Someday I may decide to swap out the Dayton woofer for a Mach 5 IXL-15.2.2 because it models pretty well in this same enclosure, but for now, I'm happy!