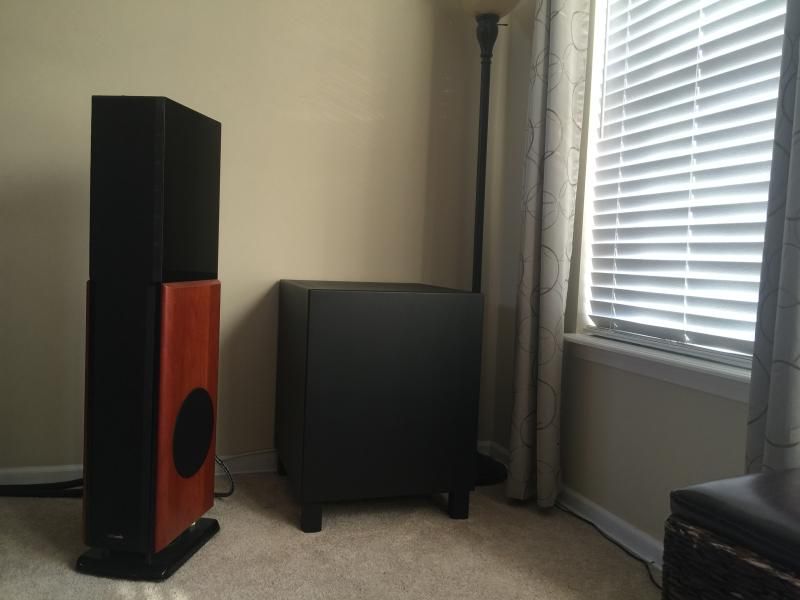 4
Up for sale is my
PASSIVE
DIY sub. It has been in use for the past year and a half or so. Never driven to hard for any length of time and will shake rattle and roll your pictures/glasses/kitchen cabinets all over.
Why am I selling if its that good you ask. Well my room needs a bit more cone surface, so I'm moving to dual 18" subs to help even out bass response and deal with the fact my room is open to a lot of space so I need more.
Plus I'm a bass head....
The sub is a 4.5 cubic foot box, tuned to 21hz. It was put together by me and a buddy and given roundovers on ALL sides, and was mounted as a downfiring sub, so its 100% kid friendly.
I have the original box for the driver and will include that with the sale, so you can upgrade the driver and sell and ship this one later if you desire.
It uses the following parts:
Stereo Integrity D2 HT15 sub
Cardas CCBP L binding posts (I think this is the exact model)
14 gauge internal Furez wiring.
Set of Larry's Rings that will fit perfectly on this sub. I have NOT installed them in the enclosure as I simply got lazy. Note there are 2 rings included, so you can make another sub and use it with them as well.
Asking price is 300 bucks as it stands. A amp is NOT included in this sale, nor is speaker wire.
Initially I will NOT sell the driver separate from the enclosure. I will NOT ship this beast as it is cost prohibitive. I am open to the option of meeting within a reasonable distance.
I also have a Dayton SA1000 amp that I can add to the sale as well for another 300 bucks and may even add a discount if you buy the full setup.
All kinds of pictures of the build in progress can be found below
Build thread here