Discussion Starter
·
#1
·
DNP Supernova​
Since 1989, dnp Denmark has been the worldwide large-screen production centre of Dai Nippon Printing Co. Ltd. With 35 production plants, 21 product divisions, more than 34,000 employees worldwide and an annual turnover exceeding USD 13 billion, Dai Nippon Printing Co. Ltd. is one of the world's largest printing and media companies.

With a 65% market share, dnp Denmark is the world's leading supplier of optical projection screens for high-quality display solutions. The dnp product portfolio includes a wide range of optical screens for front- and rear projection applications. Many of the world's leading brands depend on dnp for their screen solutions.
I contacted Manfred Freiberger back in early March to see if I could get a sample of their Supernova screen material for a review. Manfred was kind enough to send me a sample of their .8 gain ISF certified material. Their 2.0 gain Supernova is being replaced soon (June at Infocomm in Orlando) with a 1.6 gain Supernova. Hopefully when that's released Manfred will do me the honor of reviewing that as well. :T
The Supernova is layered screen technology. Seven layers to be exact. Seven layers of which there secret is known to only a few dnp employees. What Manfred did know he was happy to share though. The bottom layer is a high reflective layer and the subsequent layers vary between translucent layers and contrast filter layers.
The sample was sent in an aluminum suitcase:
The sample they sent was a XX" size framed mini screen. The frame itself is aluminum with a felt/velvet 1" strip on the outer portion of the screen to absorb light spill. The bottom and left sides of the frame were silver/aluminum in color and the left and top were black. Kind of a neat touch. :T
My initial testing of the Supernova were to take spectrophotometer readings of the material with my X-Rite i1pro. I took these readings using both CalMAN and BabelColor. I've gotten really comfortable with CalMAN lately and it offers customizable work spaces. BabelColor is my old 'tried and true' program for quick readings.
The initial readings had me somewhat confused at first. They are a bit off from D65 neutral showing towards a blue/green push. After a brief moment of shock I then remembered that the Supernova is optical layered technology and that my i1pro may not be reading the full story just by an initial reading from it's own internal reflectance lamp.
This first chart is the BabelColor screen. The Supernova measurement is on the left with generic N7.5 readings on the right. The square box shows the difference between the two colors with the Supernova being the outer box. The CIE plot shows the Supernova sample as the green box, underneath the N7.5 box, tracking slightly southwest or green/blue.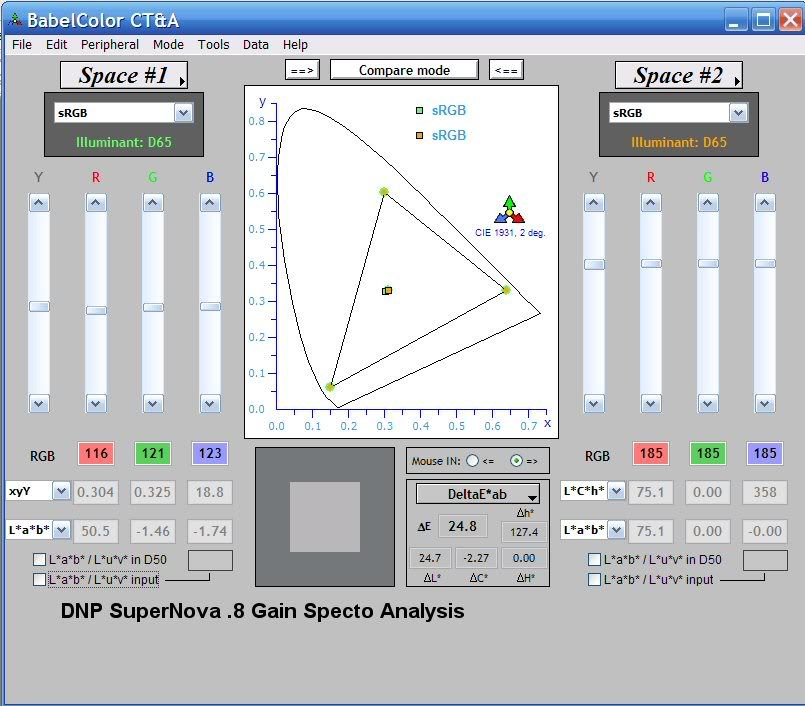 These next two charts show the CalMAN spectro analysis with the first chart being the Supernova sample and the second being a X-Rite ColorChecker Gray Scale Card. The reading is from the middle gray on the card which is a N5 neutral gray. The CalMAN chart confirms the early reading with BabelColor, but hardly tells the true story of the Supernova.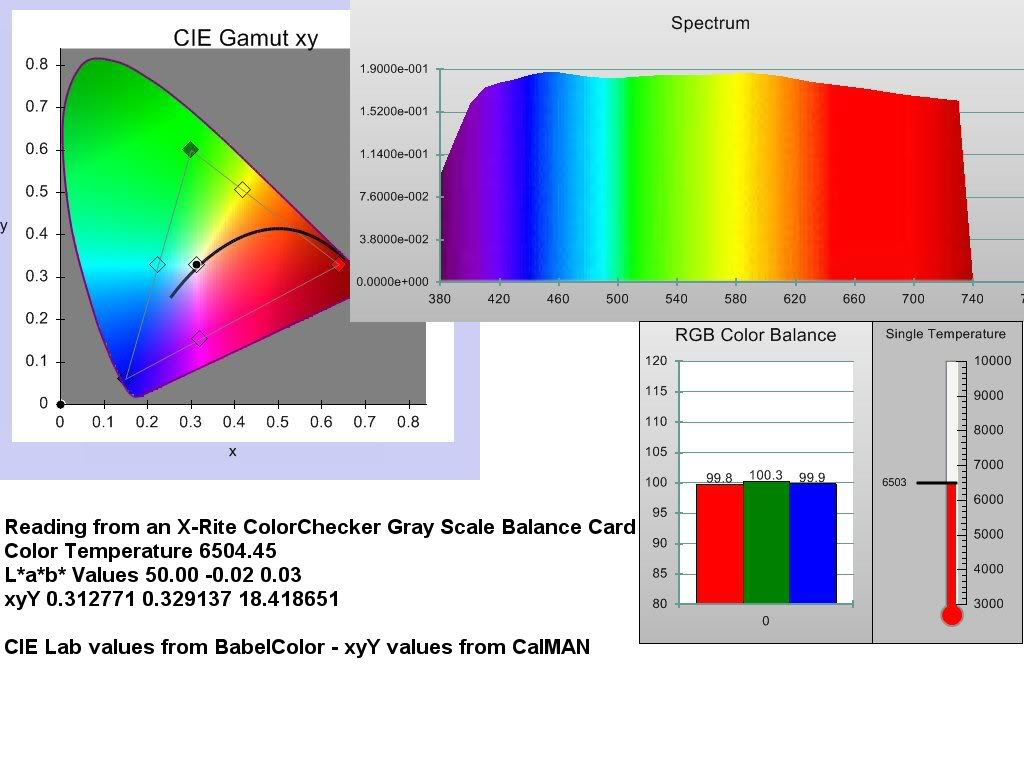 Before I get to the actual screen readings from a reflected calibration images, it would probably do to explain a bit about the technology behind dnp's Supernova. dnp incorporates multiple layers or lenses into the Supernova, each with a different purpose. These layers, when combined, allow the user to enhance the image for optimum viewing by focusing and concentrating the projected light. dnp states that the key to creating outstanding image in bright environments is contrast. More from dnp on contrast:
[PIE]Empirical studies show that in order for a viewer to be able to see detailed information clearly, the minimum acceptable image contrast is 15:1.
This is NOT achievable using a standard white front projection screen in normal environments. That's why, in 2004, dnp introduced the Supernova screen range – the world's first front projection screens to break the 15:1 contrast barrier. What's more, our rear projection screens offer contrast ratios of well above 30:1.
Thanks to advanced contrast-enhancement technologies, dnp optical screens dramatically boost the perceived quality of your image. You get blacker blacks, more vivid colours and brighter, sharper images. In fact, scientific tests show that dnp optical screens can enhance the contrast level of a projected image by 7 times when compared to a similar image on a standard white front screen. [/PIE]
The next chart is the actual reflected readings from the screen using a colorimeter. This is limited version of what a calibrator would run through to calibrate your projector. I just did gray scale readings and gamut readings. If you're unfamiliar with this I'll give a brief description. Gray scale readings give you a sense for how the pj/screen combo will track with regards to D65. The SMPTE (Society for Motion Picture and Television Engineers) has set the standard as D65. Therefore that is what the goal is. The gamut readings are readings done using 75% primary and secondary color windows. It also includes a 75 and 100% white window reading. The primary purpose of these readings is to tell us how the color accuracy of the screen is. And of course, all of this would be moot if I didn't include the second chart, which is the direct reading from my projector after calibration.
So, what do these charts tell me? They tell me that the dnp Supernova is worthy of the ISF certification, as it accurately reproduces what is projected onto it. And it conforms to our wishes here in the screen forum at the Home Theater Shack as a D65 screen. Once all of the layers/lenses in the Supernova are utilized it performs as advertised with amazing results in high ambient light environments.
Gain - Gain measured with a 60IRE field was .78 and at 30 degrees it was still at .5. I only did those two readings.
These pictures show you the Supernova's capabilities in high ambient lighting. The background screen is the diy paint mix called Silver Fire with a matte white reference square on the upper left side.
Lights on full​
Front can lights off​
The Supernova is quite a bit darker than Silver Fire and yet it has equal whites and yet much darker blacks. I'm going to use these pictures in a new discussion thread about something that I've recently become an advocate of - screen noise. Briefly, the Silver Fire panel exhibits a lot of screen noise while both the matte white and the Supernova reflect the image accurately and purely. Look for an upcoming thread on screen noise soon!
The Supernova exhibits
no
screen noise whatsoever.
Keep in mind that this kind of technology does not come cheap. dnp has years of research built into their products and therefore they go for premium prices. One other thing that should be noted is that while the 08-85 screen material is touted as a solution for high ambient light applications, it works equally well in a dedicated home theater, as the contrast filter sets new standards for viewing in a dark room.
For further information do to the dnp Website at
www.dnp.dk
or contact the US office directly at:
17935 Sky Park Circle
Suite A&B
Irvine, CA 92614
(714) 545-2711
Thanks to Manfred Freiberger and the folks at dnp for allowing me to review this material!
www.dnp.dk