Discussion Starter
·
#1
·
Re: post count before attatchments aloud?
This thread was an inspiration and I thank you very much Rodny.
http://www.hometheatershack.com/forums/diy-subwoofers-general-discussion/7048-ib-makeover.html
I used REW for the first time 2 days ago, I am still getting the hang of it, but here is what I have so far. I haven't run Audyssey yet, I don't know how to, so this is no EQing yet, no room treatments (I have a 60"x90" entryway leak, bedroom door leak, and a false roof that has almost 3" of flex) and no HP filter. Dual 128 cubic foot cabinets, each loaded with a pair of FiCarAudio IB3 18's, each powered by an EP4000 ( four IB3 18s and two EP4000s total) each with a 12" diameter port 5" long with two free ends for a 13.5Hz tune. My electrical is very lacking, that will come another day as well.
Sweeps at 5dB increments starting at -40dB master ending at -10dB master to see compression. Distortion tests yet to come once I figure out how to do them. LP was set to 80Hz, I will sweep some more with it at 250Hz.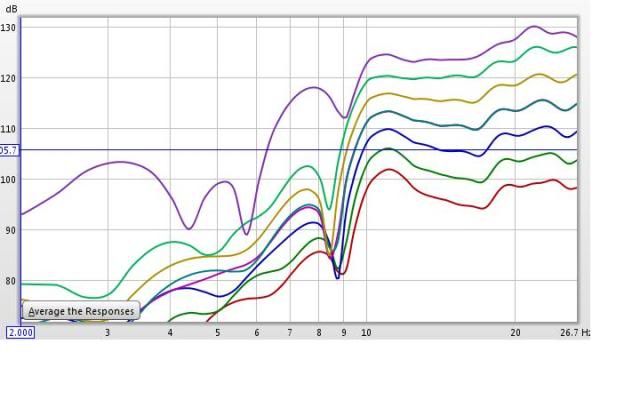 SLLT is not a myth.