Discussion Starter
·
#1
·
Experts,
I have dedicated home theater / listening room 19'2"x15'3x92". I have JAMO DPEX7.1 speakers and Denon 4806CI Receiver with Audyssey MultEQXT. The speakers and receiver are THX UltraII certified. I'm using HTPC with Realtek ALC883 HD Audio Chipset and RadioShack 33-2050 SPL meter as a MIC via Line-in.
Here is a graph showing my sub and main and combined frequency response measures.
1) I spent a lot of time fiddling with mixer settings to finally get some decent measures. Thoughts, suggestions?
2) How reliable is an integrated Audio Chipset?
3) How reliable is the RadioShack SPL meter - with calibration file from HTS?
4) I did not use a closed loop calibration with other sound channel, do people typically see more reliale results using this method? If so what are the typical problems to look for when not using it?
Here is a picture of my home theatre.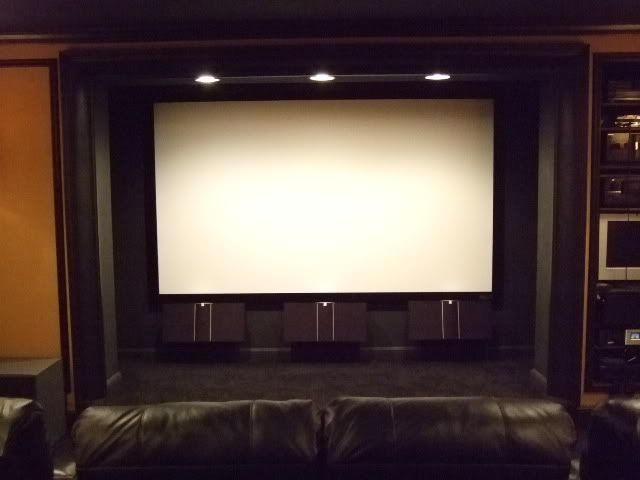 5) My room is purely rectangular except for the small wall around the stage that houses my equipment rack on the right side of the screen and all of my panels and media hidden behind the left side. Also the stage and a stadium seating riser may have some impact. In using a room mode calculator, does this wall or risers negate a standard model using the complete rectangular room dimensions?
6) Right now, all my speakers except the sub are wall mounted. I am thinking about moving the front 3 speakers forward near the edge of the stage. I think this might help with music listening and should reduce first reflections from the stage wall that may be limiting my imaging. Thoughts?
7) I'm also thinking about adding a second matching subwoofer as is required to fully achieve THX UltraII with my setup. Although since my room is much smaller than the standard THX UltraII room size, I'm not sure I really need it. Thoughts?
8) I have not added any sound treatments to the room yet. I have a fair amount of slap echo in the room, which I am hoping is the cause for the erratic measures at mid and high frequencies. It seems elementary to add sound absortion pannels to absorb first reflections. I'm thinking about making either 1" or 2" thick fiberglass panels wrapped in acoustic fabric mounted to walls and ceiling for this. I'm not far enough along to make any decision regarding low frequency sound treatments yet. Thoughts?
9) My budget is limited and while I love this hobby and am willing to invest some time into the audio calibration end as I have in the video calibration end, I am budget concious and don't want to waste money making any big mistakes with either sound treatetments to the room or further electronics investments for enhanced test and equalization equipment, or hiring any hack to make mistakes on my behalf with my money. Thoughts on hiring an expert? Thoughts on where to spend my money for best results?
10) Room EQ Wizard is awesome!!! I hope to rely on this tool similar to how I relied on ColorHCFR for video calibration.
Thanks,
Dave