Ok, I posted some initial graps at another forum, but I've adjusted these for the requested requirements of HTS for axis spreads - except I went down to 12Hz, since I thought it revealed a bit more information with the subs. These are Outlaw Audio LFM1-EX's set in 16Hz tune (one port plugged).
Room details: 15wx17dx10h with ceramic tile flooring and a rear that opens up to a double vaulted ceiling great room. Mirage 895i mains and a Denon receiver. Here's a photo...
Here's the first...
Graph1:
The red is my current best pick with one front right, other left rear, both about 3 feet from the corners along the side walls, front crossover off (just receiver's, don't remember what it's supposed to be - 100Hz?), rear using internal crossover at 80Hz and phase set opposite of front.
Graph2:
For comparison, here's the above dual setup (red) versus a single front (blue) versus a single rear (green). This shows how in my room the dual setup helps smooth the response.
Graph3:
Here's the initial dual setup while sitting in the main chair in the middle of the room (red) versus another seating position along the wall (blue).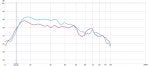 Graph4:
Yet another graph with minor tweaks...the standard (for me) dual setup, front right: crossover off, phase normal, left rear: crossover on, phase opposiste. (red) VERSUS having the rear with the same phase setting (blue) - make a fairly substantial change in response.
Graph5:
Another minor tweak...the standard (red) VERSUS having both crossovers on and phase opposite (blue)
Hope these aren't too many graphs, but I find it very intersting that once you think you have or do not have ideal locations for subs, just some minor changes with internal crossovers and phase can make huge differences. My personal opinion is that I don't need a parametric EQ - what's y'alls thoughts? With my preferred setup, there doesn't appear any place I need to tone down, and I know I can't really boost a spot (not recommended).