Gain Structure for Home Theater


Getting the Most from Pro Audio Equipment in Your System

​
Back in the days of stereo, things were pretty simple. The typical hi-fi system was anchored by an AM/FM receiver, a pair of speakers, and source components such as a turntable, cassette deck and/or CD player. Serious audiophiles went with a separate pre amp and power amp, and perhaps a few more source components, but that was usually as complicated as things got.
Today many home theater enthusiasts use an outboard equalizer between their receiver and manufactured subwoofer, and those with high-performance DIY subwoofers may add a high-powered amplifier as well. Some ambitious hobbyists even go so far as to build their own active speakers, with a dedicated amplifier channel for each driver and an electronic crossover or digital speaker processor handling the frequency-dividing between the tweeters and woofers.
Due to limited demand, components such as crossovers, equalizers, speaker processors and high-powered amplifiers are virtually non-existent in the product lines of home audio manufacturers, so many enthusiasts turn to the professional audio market to find solutions to their needs.
However, pro gear is a different animal from home audio equipment, and indeed something of a mystery to many home theater enthusiasts. Parallel mode; gain controls; switchable limiters and filters; MIDI; AES/EBU; balanced or unbalanced connections that use TRS, TS, XLR, Phoenix, or barrier strips - small wonder that a certain amount of misinformation floats around the home audio forums on how to integrate professional and consumer components into a cohesive system.
One of the significant differences between home and pro audio equipment is their respective mean operating signal levels. Specifically, the industry standard for professional gear is considerably higher than that of home audio components. So naturally whenever the subject of pro gear comes up on the home audio forums, the issue of mismatched signal levels usually enters the discussion as well. Often it's not a pretty picture – a lot of conflicting and unreliable information, frequently given by ultracrepidarians with minimal experience in professional audio.
Level-matching is an issue in the pro-audio realm as well, since there are differences in headroom capacity and noise floors in each piece of hardware in a professional sound system. Compensating for these differences in the signal chain in order to maximize overall system performance is known in the industry as
gain structure
. It would seem logical, on the surface at least, that if we're going to include professional gear in a home theater system, gain structure is something we should be concerned with as well.
What is gain structure?
Thanks to the Internet, it's not a problem digging up information on gain structure as it relates to the pro audio field. But you will probably find that the more you read up on the subject the less sense it seems to make, especially trying to figure out where home components fit into the picture. Don't feel alone; I started researching this piece more than three years ago but kept running aground on that very point.
It certainly doesn't help that the material is all over the map; e.g. there often isn't a lot in common from one article to the next. This is because different essays cover the subject as it relates to different fields, disciplines or applications – digital recording, DSP devices, live-sound PA systems, even car audio. Fortunately, we can narrow down the focus: since a home theater is a type of sound reproduction system, the material on PA systems most closely relates to our application. You can ignore the rest. (Hopefully none of us are using any car audio gear in our home theaters.)
The objective of a properly-executed gain structure in a PA system, according to most thinking on the subject, is to align the signal-level (gain) settings of all components in the system so that they reach distortion at the same point. The graphs below show various pieces in a typical PA system before and after a gain structuring process; note the differences in headroom and noise floors the various components have. After appropriate gain calibration, the system's dynamic range increases considerably.
PA System Before Gain Alignment
Courtesy of ProSoundWeb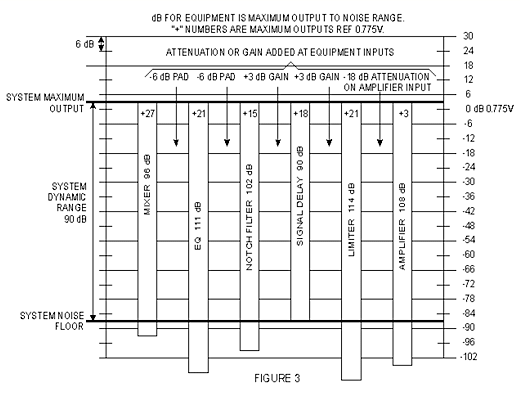 PA System After Gain Alignment
Courtesy of ProSoundWeb
​
When it comes to adding professional gear to a home audio system, the fly in the ointment is their vastly different signal ranges. The mean operating signal level of pro gear is +4 dBu, while the average for consumer equipment is -10 dBV. The dbV and dBu values aren't readily interchangeable, but they can be converted to a common standard, Vrms. The consumer -10 dBV translates to 0.316 Vrms, while the professional +4 dBu translates to 1.228 Vrms. So you can see that the professional signal reference is over four times higher than the consumer. In real world use this translates to a difference of 12-14 dB (depending on which information source you trust).
Since consumer and pro equipment have such a tremendous difference in average signal levels, it should be immediately obvious that the chance of achieving a textbook pro-audio-styled gain structure in a mixed system is nil. Nevertheless, a cadre of home audio enthusiasts presume (beyond reason) that a paradigmatic gain structure is attainable in a mixed system. It merely requires keeping signal levels as high as possible throughout the signal chain. This, we are told, is the way to optimize dynamic range and signal-to-noise levels. Here are a few typical examples lifted from various home theater forums:
The equalizer needs an input of +22 dBu (9.75v) in order to use its entire dynamic range. Anything less diminishes dynamic range and lowers the final signal-to-noise ratio. If you can't get that high a signal you need to add a line level converter.
You need something like the Samson S-Convert to get the levels up.
There aren't that many pro amps that can work for home theater, because pro works on +4 signal levels.
As you can see when you don't use a full-strength signal, the dynamic range available above the noise floor is lessened.
Unfortunately, the maximum-levels canon is ill-advised and naive. The truth is that going to extraordinary lengths to max out the low-level signal fed from a home theater AVR to downstream professional gear, especially by using external signal-boosting devices, is often unnecessary and can even be
detrimental
to achieving optimal dynamic range. As it turns out, gain structure suitable for a mixed pro/consumer system is relatively easy to attain and seldom requires anything in the way of extraneous signal manipulation.
It would be nice if this piece could be wrapped up with that statement, but I expect it will not satisfy our more technically-inclined readers. Unfortunately, it's a long and torturous path arriving at that conclusion, so strap yourself in. I apologize for the length of this, but I figure if you're going to scorch the "max level" sacred cow you'd better have the documentation to back it up. Plus I felt those inexperienced in audio, especially pro audio, would benefit from and indeed appreciate detailed explanations in "plain-speak."
However, those who aren't interested in the "whys and wherefores" and just want to know how to gain-structure their mixed system can skip to
Part 9
, and perhaps
Part 7
for info on determining if their AVR will drive a pro amp.