I'm going to be leaving in a few months for some military stuff and will be gone for a year. I figured I might as well sell off some excess gear and buy all new stuff when I get back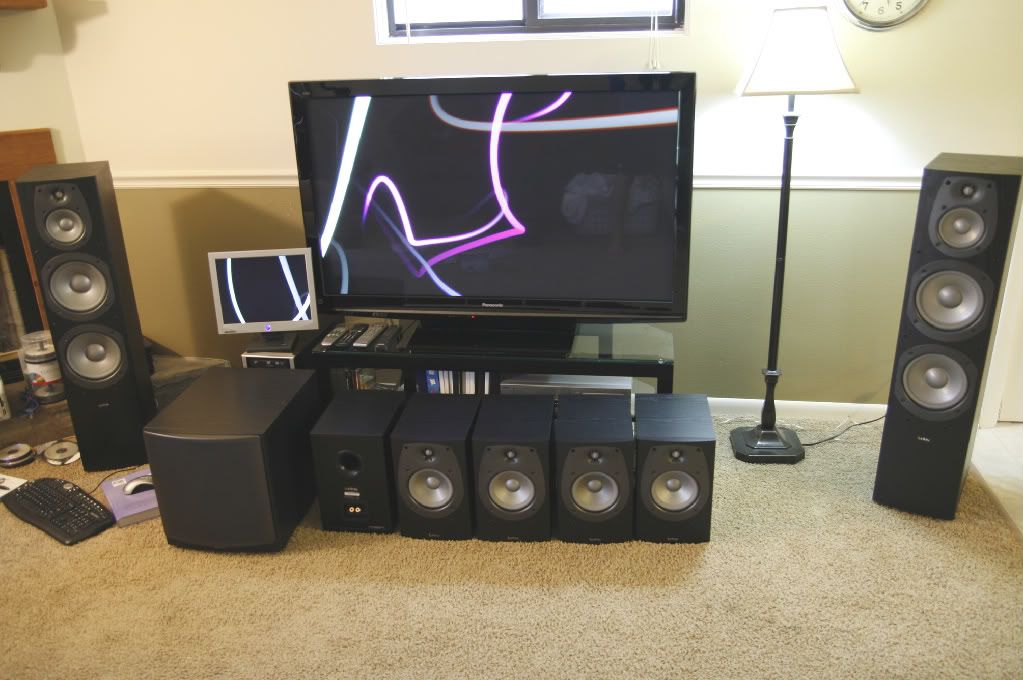 Raw Drivers:
AEspeakers TD15h (two): SOLD
-
DIYMA R12 (four): $125/ea ($475/all) shipped (US48)
One was hooked up free-air to a bash300 to test mechanical noise. Another was hooked up to make sure it wasn't damaged in shipping, the others I just assumed were not damaged in shipping. Build never materialized.
-
Fountek Neopro5i (one): $185 shipped (US48)
Never mounted. Hooked up to power for a couple hours to test sound quality. Build never materialized.
-
CSS SDX-15 1st gen (one): SOLD
I actually have two available. I only have an enclosure built for one, but plan on building an enclosure for the 2nd one this summer...finally! It's been boxed up for around 2yrs. If it sells, I guess I won't build a 2nd enclosure.
-
OEM woofer for JBL PSW1200 (one): SOLD.
Never hooked to power. Harman shipped me the wrong woofer by mistake.
Wave guides:
-
QSC Part #: PL-000447-GP (three): $90/all shipped (US48)
Fits models: DCS SC-2150, HPR-153i
I was going to use these in my theater room of the house we ended up not buying. I got the idea from this thread.
http://www.avsforum.com/avs-vb/showthread.php?t=1173647
Speakers and Subs:
-
Cerwin Vega LS-12 (pair): $100 cannot be shipped.
I bought these used in KC about 4yrs ago so I don't have the original packaging.
-
Infinity Beta-50 (pair): $375 Cannot be shipped.
I also bought these used in KC, but just a few months ago at Christmas. At the time, I didn't realize the biggest Beta series center, the c360, was going to be too small to put my TV on. I would mount my tv on the wall and use a Beta-20 as an upright center, which is what I've done at my parents house, but my wife says no. She instead wants me to get the biggest center channel imaginable, one that is the same width as the TV. That is why I am selling my Beta speakers, because I'll be getting all new speakers. One of the B-50's has cracking on the plastic trim piece around two of the mounting screws due to the previous owner removing the woofer and adding more polyfill.
-
Infinity Beta-20 (two): $85/ea shipped (US48).
I actually have six of these and would rather sell four in order to keep a pair for myself. But if someone wants to buy all six, I won't say no. These were all bought about a year ago. I think these are fantastic bookshelfs and sold my pair of Monitor Audio RS1's after buying a pair of these. Two have scratches on the bottom when someone else decided to "help me" move things at my wedding rehearsal and placed them on a stone fire place without a towel down.:unbelievable: Even when placed on my wallet friendly speaker stands they still had a towel down to eliminate scuff marks.
Cerwin Vega LS-12's used as rear speaker stands.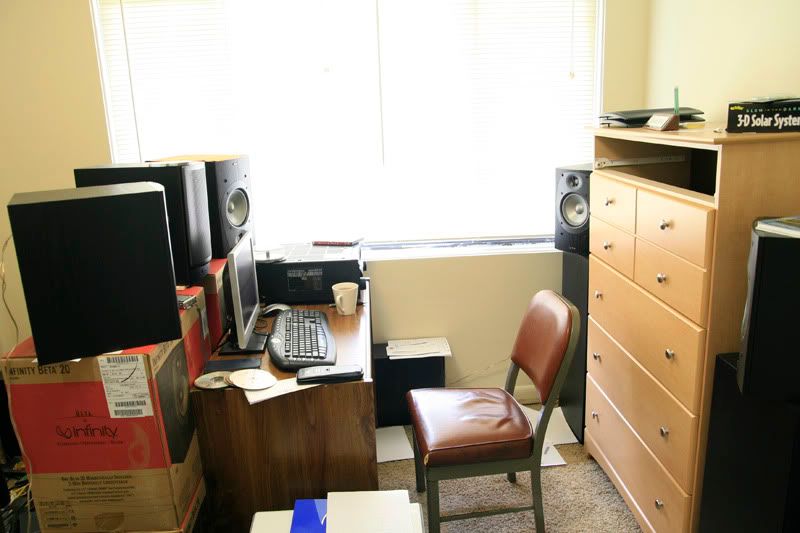 -
Infinity Beta SW-12 (one): $250 cannot be shipped.
I bought this sub about 4 yrs ago and has primarily been used as my computer sub with various bookshelfs.
-
JBL N26awii (pair): $100 shipped (US48).
I bought these about a year ago to be used on my parents parent's breezeway, but they're too deep and never got installed. To replace them, I bought some JBL S36awii's.
Payments method:
-Bank Draft (preferred).
-Personal check (given a 7 business day wait period to clear).
-Paypal accepted, but they skim 3%
-Cash in person.
Shipping:
-I will usually ship FedEx since I have a drop-off center just down the road from a grocery store.
-The majority of the time, I can have the package(s) at the drop-off center the same day I receive payment, but that's not always a guarantee.
-Insurance is highly recommended and will be included if I am paying shipping. If the buyer is paying shipping and opts to save a couple bucks on insurance I will agree to it, but don't get mad at me if something gets broke.
-Local pickup is welcome and encouraged. However, in person the items have to already be paid for or cash must be in hand.
Equipment condition:
All equipment is in perfect working order and in good to near mint condition depending on the particular item. Pictures are available upon request, but I will also be making more posts about each item with individual pictures. Give me time though; home, school, work, military, and family keep me busy.