Discussion Starter
·
#1
·
Here's what I have in my system in no particular order...
Guts:
Panasonic VCR.. yeah baby!
Denon AVR-5700 Receiver
Panasonic DVDRP-91 dvd player
Parasound Halo A52 amplifier for mains
Behringer 2500 amp for subs
Speakers:
M&K S-5000thx LCR
M&K SS-500thx dipole surround
M&K SS-150thx surround back (kind of..behind the couch same signal as mains)
DIY dual sonosubs - 15TC1000
"TV":
Panasonic PT-AE700 projector
DIY 101" screen
Other:
Monster Power 3600 for the cool amp meter
Monster Z-series cabling around..... I know....
PS2
Motorola dvr hd cable box - love the dvr!
Behringer Feedback Destroyer for the subs
Auralex acoustic room treatments
The Room
Basement of a rental while in school. Shared with 3 other roommates and can't wait to graduate!
sorry for the bad photostitch..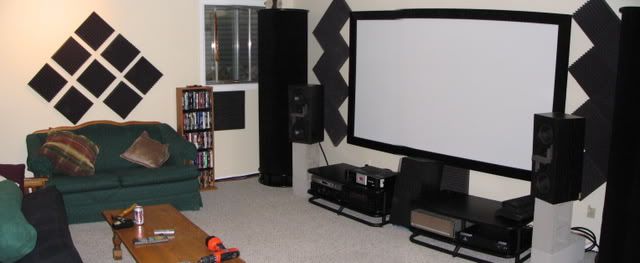 That's it for a while. Eventually I'd like to build a dedicated room and update both the audio and video sides to handle hd-dvd and blue ray. By far the biggest improvement I've made to this system was the addition of the LLT subs. I love them!