Discussion Starter
•
#1
•
I thought I'd start a home theater construction thread here to get thoughts and ideas for my new theater build. We recently bought 20 acres and an older house that is going to needs a fair bit of renovation, and as a part of that process, I plan to build another dedicated theater. This house has a full basement, and I'm quite excited to get some serious room gain from the concrete walls for once. (mavcave 2.0 had almost no gain)
Here is the general layout I've spec'd so far:
I plan to do a screenwall, and place the speakers and front subs behind the screen. I'm also planning on doing superchunk bass traps in the corners.
The front wall will have 4 inches of OC703 or something like that as well. The side walls will have something like Linacoustic up to about 42 inches. Not sure what I want to do on the back wall yet. Open to suggestions there.
I plan to do a 2 tier platform with raised seating. It was also suggested I do a hemholtz resonator into the risers so I'm looking into that.
I plan to do stagger stud contruction on the side walls and isolation clips in the ceiling. Double sheetrock with greenglue on both sidewalls and ceiling as well. Would love recommendations on isolation clips that don't cost a fortune. I'm currently thinking greenglue clips or the RSIC-V clips, which are half as much as the RSIC-1's and Whisper clips.
Here is a few renderings of the room: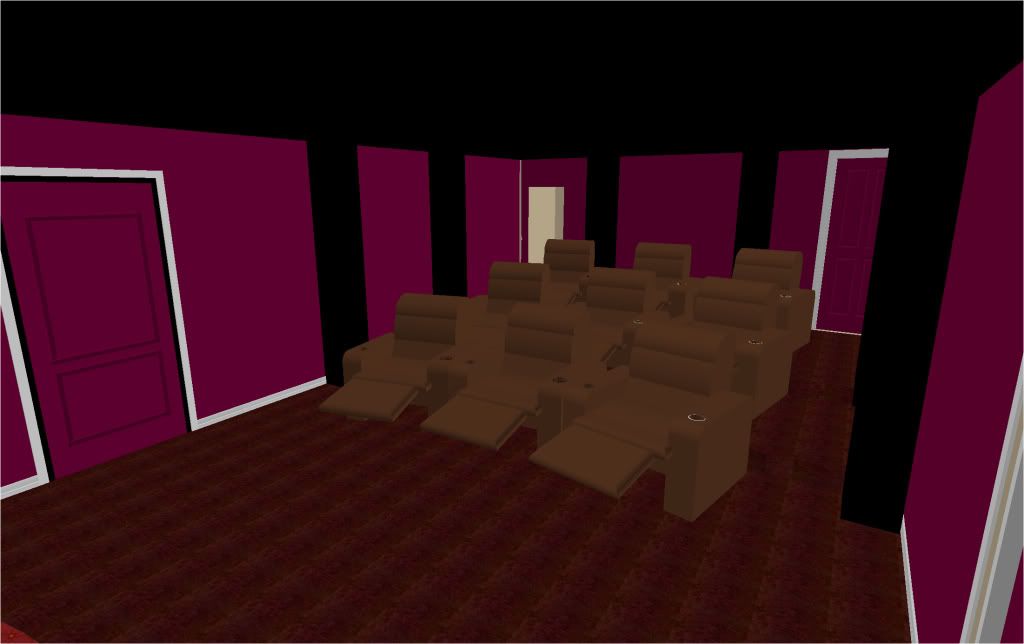 I plan to hide the Sho10's in the columns. Need to figure out light fixtures but currently thinking sconces on the columns.
In terms of HVAC, I'm thinking of not having any heat down there, but not sure yet. I'm worried about sound transmission. Need to research muffling techniques there.
What else should I be thinking about? Please feel free to point anything I'm about to do that is collosally dumb
I've been modelling it. The room is long, giving me the ability to build a stage this time to hide the speakers behind the screenwall. I think I'll also been a baffle wall behind the screen as well.
Here is a view from the front of the room:
I'll be able to have 3 rows of 3 this time. Equipment rack will be along the back wall in the mechanical room behind the theater.
Here is a shot from the rear:
I'll be going with an accoustically transparent screen that can support 4k. Waiting for the next gen projectors to hit the market at a reasonable price, but want to have everything ready for when they do.
I'll be double sheetrocking with green glue to cut down on noise outside the room. I also plan to put sand in the platforms to damp them.
A few things I'm trying to decide is how much accoustical treatment to put on the walls. I'll put corner wedges in teh front 2 corners. above the subs. I'm trying with making the entire room fabric lined with OC703 behind it, but I don't want to overdamp the room either. The faux columns will hide the sho10's. Wondering if I should make those fabric wrapped and make them out of OC705 as well.
Also trying to decide what to do with lighting as well. Do I go with Can lights or sconces? What does everyone think?
I should be getting started in the next few weeks, and will update you all as I get going...
__________________
LCR: Gedlee Abbeys for LR and Nathan for Center Surround & rear 4 x Sho10's
Subs: SS18.2 & SS18.T
Electronics: Marantz SR7002, Acurus 200x3 (LCR), PS3, HTPC, CDP300, Mits HC1500, Elite 106" Cinewhite