Discussion Starter
·
#1
·
I generally don't give out praises like 'Ultimate' to much of anything. For instance there is no one single 'king' or 'ultimate' media center setup or component. Each has their pros and cons and flaws. Each also has a loyal fan base that will tell you one is far superior to whatever you have or like. That's okay... maybe a particular unit does what they want better than the others, but it may not do what you want the best. Hence why I say each are good but none are the 'ultimate'.
We're not talking about media players though, but a device that is truly the ultimate companion device for virtually all media centers. It is the Hauppauge PVR 1212.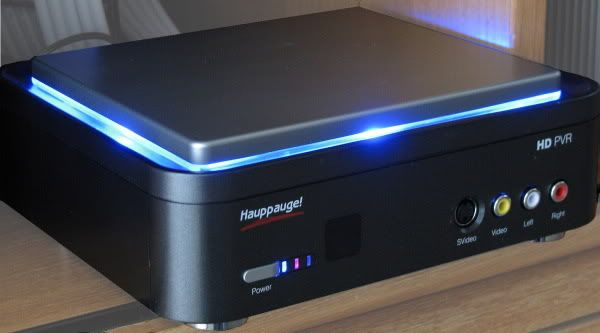 What makes this so special and why does it earn the title I bestowed upon it? It does what no other device out there can. It will record everything from your cable or satellite box in up to full 1080 resolution, and... get ready for this... with full Dolby 5.1 surround.
When I say it records everything, that isn't me whistling Dixie. This will record things you can't even record to your cable provided DVR. Things such as Pay Per View movies and events as well as on demand programming. It even comes with software to schedule recordings on a timer as well as a easy and slick DVD authoring program that allows you to create professional looking disc menus and you can even burn ACHD on a single or dual layer DVD and have High Def play back in your bluray player. Or you can stream it to your favorite media center.
For years my brother has been telling me to buy a DVD burner for my HT setup, and for years I have been baulking at the thought. Why? Well the thought of only being able to record via SVideo at best and only two channel audio just wasn't appealing to me and I couldn't justify the price. While I was down visiting him he showed me a link to this little gem, and I couldn't pass it up.
I got mine for $173 shipped, so definitely look around and search for discount coupons because the average going price for this is $229 without shipping.
Installation of the software is straight forward, but there are some quirks that I will explain.
[img]http://i96.photobucket.com/albums/l190/wbassett/HTS/Hauppauge/DSC00731.jpg[/img]
Knowing I was getting this unit, I went to my cable company and traded in my standard def cable box in my bedroom/computer area for a high def Scientific Atlanta 8300HDC just like I have down stairs in my HT room. The first 'quirk' I ran into was I rushed and plugged everything in and then turned on my 720p LCD and cable box and I saw and heard nothing. There was a constant 'snapping' sound coming from my AV receiver. A quick check at Hauppauge's site and FAQs told me that you have to setup the software on your PC for the right audio inputs, in this case SPDIF. Once I set that the audio came right through, but no picture. That was also a quick fix, and not a problem with the PVR 1212. I bought component cables from MonoPrice and basically... I am throwing them out. The cable gauge is great, but the plugs are not tight and easily slip off the connectors. I originally didn't want to use the cables that Hauppauge provided because they were longer than I needed, but they are very good quality and fit snug.
I was now up and running and able to see and hear everything on my LCD HDTV as well as in the recording software window on my PC's LCD HDTV monitor. It was time for a test.
I fired up the cable box and went to an on demand channel and selected a show. For this test I didn't do anything fancy or test the scheduler, it was a simple queue up the program on the cable box and them hit record on the PC software. Just like the old days of using a VCR
My first run failed. Around 40 minutes into the recording I blue screened with a message one of my quad core cpu's took a dump. This is most likely my fault because I tend to use my system pretty heavy and once I rebooted my system and brought it up clean (verses being up for a week with whatever pgm remnants were hanging around in memory) it ran through flawlessly.
Video quality is pretty much what you see is what you get. If your cable channel doesn't look good on your HDTV, that's what your recording will look like. Garbage in, garbage out. Just pick a clean channel, or better yet an HD channel if it's available and you will be blown away by the recorded image and 5.1 surround sound! Like I said, nothing else out there does what this unit does. At least nothing on the consumer market and for this price.
Cons... Okay, I recorded an episode of Band of Brothers. Episode 1 tagged in at 4.92GB. The video quality is outstanding, but the actual DVD does look better, but not by leaps and bounds. So yes you won't get the best PQ compared to a professionally made commercial DVD, but cable/satellite never was as good as DVD or BD. Even cable/satellite HD content as good as it looks compared to regular channels isn't as good as a commercial BD.
We're not talking about doing what you can buy though. There are tons of classic TV and shows that are not available on DVD, and may never be released. Up until now the only options were to record it to your tiny cable box DVR hard drive, or send it to a DVD recorder, but only via SVideo and two channel audio. The PQ loss going from component or HDMI to composite or SVID is pretty dramatic. Now you don't have to deal with that.
The PVR 1212 has component in and component out, as well as SPDIF in/out. You can also connect composite or SVideo and use two channel RCA audio, but why? The other potential 'con' is that the unit does not pass through audio or video if the unit is off. That means if you have it setup in a room where you will be watching TV when you are not recording, you have to turn the 1212 on in order to just watch TV... even on your HDTV. You can get around this by using a switch box though.
All in all I am extremely impressed and I have just got it setup. It records in either M2TS or TS, and any media server worth it's salt can handle either of those formats.
This is definitely a :5stars::5stars: rating