Discussion Starter
·
#1
·
Hi,
The basement reno's are schedule to complete next week, after which its on to the HT bits
Here are a couple of SketchUp designs show the room layout and colour scheme: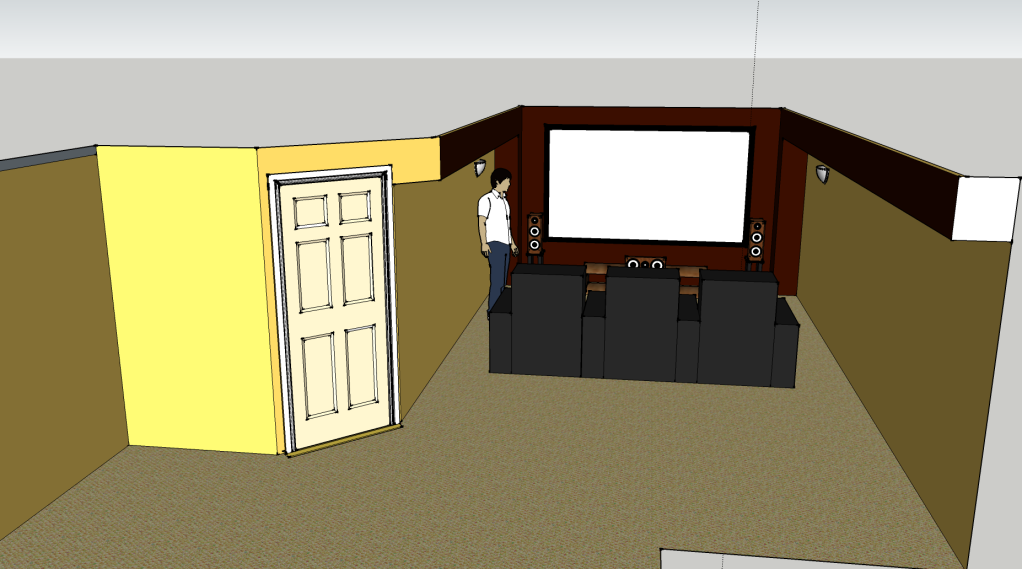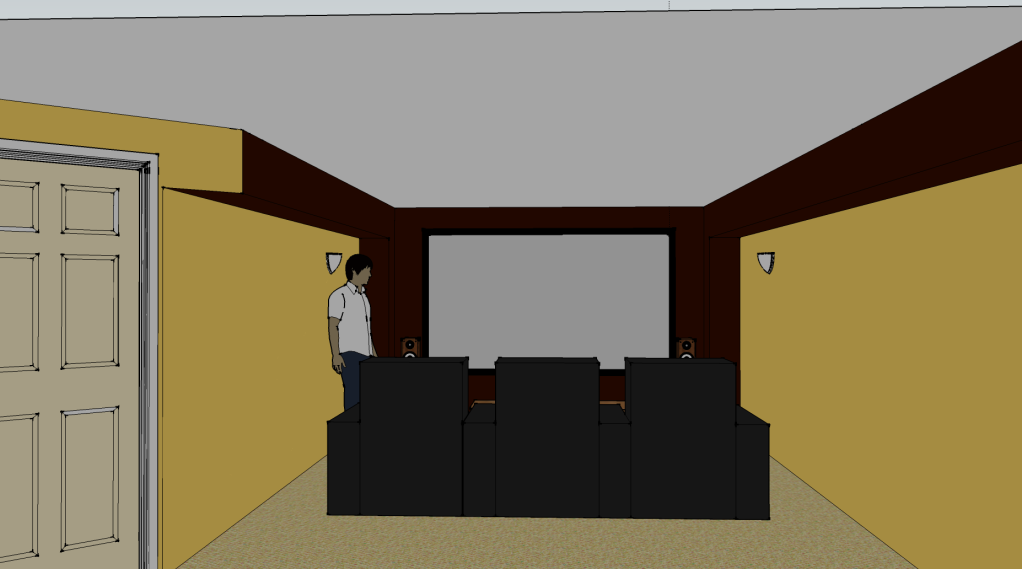 Note: Its just two colours, a dark chocolate brown, and a lighter yellowish brown. Unfortunately the ceiling is white (california) and there is nothing I can do about it.
The room is 13.5' wide with a 7.5' ceiling.
The projector is an Epson 6500 UB. I will be mounting the projector with the lens ~ 15.5' away from the wall and want to throw a 115' - 120' diagonal image.
My plan is to paint the screen right on the drywall.
The contractor is going to paint the room for me, I have asked him to leave the screen wall section just primed with whatever primer he uses. I will get some Kilz2 and throw a couple of coats on the screen wall after they are done.
I am going to setup the remainder of the HT and live with an all white wall for a couple of weeks while I make sure I am happy with the position/size of the screen. I will calibrate my projector against the Kilz2.
I need to find the right formula DIY screen paint for when I am ready to finish off the screen. I have total light control (and no windows), but would like to be able to have some lights on (low) for when we play Wii/PS3 instead of requiring total darkness. The wall sconces are on a dimmer, as are the potlights (in two seperately dimmable zones). For gaming, I'd like the lights up at what I'll call a "social" level (if that means anything to you) as people will be moving around taking turns, etc. For movies, it can be total darkness.
I am looking for a cost-effective paint solution, without too many exotic ingredients and without too complicated a formula (i.e. so I can't screw it up). It also needs to be rollable as I have no sprayer (and can't find the Wagner Control Spray in Canada). Once the screen is rolled, I will make a 2-3" frame covered in velvet (or equiv) and affix it directly to the wall.
So, where should I start looking? I have been reading about all different kinds of formulas, enough to make my eyes bleed, and see there are a couple of camps, even when it comes to basic ingredients (mica vs alu, etc).
My original plan was to just roll on some Behr Silver Screen or equiv, but all the DIY reading has got me psyched ot try something a little more custom.
So what N# should I be looking for? I was reading about Scorpion and it sounds like the best of both worlds with the flexibility I need, but it also has a more complicated formula. I am most concerned at optimizing for movie performance, where the room will be darker. So should I just go for a Black Widow. I have also been reading up on formulas on some other forums (such Silver Fire and RS-MaxxMudd). The key for me is that I want to roll it, so it has to be a little forgiving.
All video signals will be sent via HDMI from my Pioneer Elite SC-05 AVR. My sources will be Popcorn Hour, Wii, PS3 (or another BD player).
What else do you need to know?
Total light control but want option for some ambient, white ceiling, Epson 6500UB, rollable, painted on drywall. Any help/opinions will be gratefully appreciated
And the answer is....