I just picked this tv up today 50 dollars. In the power supply the two caps are swollen like my p50s601. One of the driver chips on the lower sdr board is burnt. If i unhook the sdr board then the tv powers up with the top half working. I am going to replace the two caps in the power supply and look into ordering the lower sdr board. in my p50s601 It was the top sdr that was bad now this one its the lower one. everything looks the same as the p50s601.
If you have this model check out my other tread with info about this model.
http://www.hometheatershack.com/forums/hitachi/30302-p50s601-blue-power-light-flashing-3-times.html
click this link to see about the sdr boards and how to test the chips if you dont see burnt ones.
http://ww2.justanswer.com/uploads/OriginalSeadog/2009-11-26_232005_DW3BufferICs.pdf
click this link for the trouble shooting flow chart.
http://ww2.justanswer.com/uploads/O...55402_P50H401_Trouble_Shooting_Flow_Chart.pdf
another link showing you how to trouble shoot the sdr
http://ww2.justanswer.com/uploads/O..._Trouble_Shooting_DW3-no-pix-troubleshoot.pdf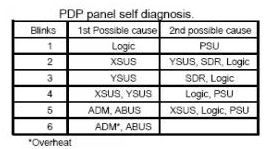 [/QUOTE]
This wont let me update the title. I forgot the H in P50H401