Discussion Starter
·
#1
·

YouTube - Indiana Jones IV SPECIAL EDITION Trailer - NEW High Quality
[img]http://i96.photobucket.com/albums/l190/wbassett/HTS/MovieReviews/IndiaJonesCrystalSkull/DVDCover.jpg[/img]
Actors: Harrison Ford, Cate Blanchett, Shia LaBeouf, Karen Allen, Ray Winstone
Directors: Steven Spielberg
Writers: George Lucas, David Koepp, Jeff Nathanson
Producers: Kathleen Kennedy, George Lucas
Format: NTSC, Widescreen
Language: English, German, Russian
Subtitles: English, French, Spanish
Region: Region 1
Aspect Ratio: 2.35:1
Number of discs: 1
Rating: PG13
Studio: Paramount Home Entertainment
DVD Release Date: October 14, 2008
Run Time: 122 minutes
Indiana:
It's not the years, honey, it's the mileage. ​
[img]http://i96.photobucket.com/albums/l190/wbassett/HTS/MovieReviews/IndiaJonesCrystalSkull/indy4-trailer2.jpg[/img]
[img]http://i96.photobucket.com/albums/l190/wbassett/HTS/MovieReviews/IndiaJonesCrystalSkull/indiana_jones_and_the_kingdom_of_th.jpg[/img]
Well... I'm still debating.
Overall I have to admit I did enjoy the movie, but it wasn't the best in the franchise. When the movie started, Harrison Ford looked great... the silhouette of him picking the now famous Fedora up and putting it on, then the slow pan up to his face... If you squinted just right he looked just like the Indy I always remembered and love. However his dialog sounded a bit off and stiff at first. As the movie progressed though Ford seemed to start getting back into his old Indy groove.
The idea of a 65 year old Ford reprising his most famous role was questionable, but he actually didn't do that bad. If Stallone can get back in the ring at 60 then why not a rough and tumble elderly Indy?
The movie did have some problems though and it felt like they tried really hard to capture the lightning again but just couldn't. I won't give any spoilers so there won't be in depth details but you'll understand when you see the movie what I am talking about with certain things. There were 'Oh comeon, give me a break here, that's just crazy!' moments throughout the movie. Probably one of the biggest was the refrigerator scene. It was so outlandish it was compared to The Fonz jumping the shark in Happy Days... which the expression 'Jumping the Shark' has come to mean anything that has out lived its hayday and is becoming more and more silly and a parody of itself. Like I said, there is plenty of that in Kingdom of the Crystal Skull.
Part of that can be overlooked because they openly admit they went for 'B' movie feel... the problem is though, this wasn't a 'B' movie and had all the pomp and royalty as well as financial backing of the blockbuster this was supposed to be.
Spielberg shot the movie on film, and thankfully Lucas agreed to that. Visually the movie is stunning and has the same look as the other Indiana Jones movies, but never quite gets the right Indy feel down. Even with us knowing this is an older Indy, something just felt like it was missing.​
[img]http://i96.photobucket.com/albums/l190/wbassett/HTS/MovieReviews/IndiaJonesCrystalSkull/IJ4_IA_3142_R.jpg[/img]
Karen Allen is back, and looks great, but she is showing her age. In the special features they were all gushing over Karen and saying how she looked exactly the same... she looks good for her age, but I wouldn't say she looks like she did in Raiders.
One of the problems with the script was some pretty major characters were very under developed. I understand Allen's Marion Ravenwood had her day in the sun in Raiders and her character was fleshed out in the first movie, but here she mainly gets to smile and be there as Indy's romantic interest. She's a good actress and they didn't let her shine in this installment like she did in Raiders.
[img]http://i96.photobucket.com/albums/l190/wbassett/HTS/MovieReviews/IndiaJonesCrystalSkull/002477238794.jpg[/img]
Shia LaBeouf- What is up with this guy? He's being groomed to be the next Ben Affleck it seems. Everyone loves him, but he's really a pretty arrogant and cocky guy in real life. I first saw him on Project Greenlight in The Battle of Shaker Heights. Never heard of it? Don't worry most haven't. It wasn't a 'real' movie as much as Mirmax tried hyping the Project Greenlight movies as. It was a spin on reality TV and that's that. Shia was hired because quite frankly PGL had no budget... just about literally! It was a contest for amateur writers to get their movie made, but... and this is a huge but, the budget had to be no more than a million dollars.
It was presented as a 'behind the scenes' look at how a movie is made and how the industry works. Shia didn't seem to get it that he was hired because he was cheap. All I can say is in the behind the scenes stuff he was cocky and so full of himself it was sickening. Then he threw in cussing every other word to obviously compensate for his age. I never quite got over that image of him.
So with my lack of love for Shia proclaimed... He actually didn't do bad in Kingdom of the Crystal Skull. Yeah there were some hammy parts, but he seems to have outgrown some of the smugness he was showing a few years ago.
William Hurt was completely wasted in this movie in my opinion. He could have been the Sean Connery class act of this installment but again, like Allen they just didn't give him much to work with.
[img]http://i96.photobucket.com/albums/l190/wbassett/HTS/MovieReviews/IndiaJonesCrystalSkull/2008_indiana_jones_4_010.jpg[/img]
[img]http://i96.photobucket.com/albums/l190/wbassett/HTS/MovieReviews/IndiaJonesCrystalSkull/arts_indiana-jones_584.jpg[/img]
That bring us around to the villain, or in this case the villianess... Cate Blanchett as Col. Dr. Irina Spalko. They decided to replace the Nazi's with the evil Russians in this one, but all in all... they still looked like the Nazi's from the previous flicks and even fought like them. Well, except for Cate, who I couldn't stop thinking of Natasha from Boris and Natasha from the Rocky and Bullwinkle show.
Did I mention though that the movie wasn't that bad? Good because so far reading all that makes it seem virtually impossible that this could even be remotely enjoyable.
One thing to keep in mind is this one was supposed to be a bit campy, whereas the others were supposed to be like the old movie serials. The problem with Kingdom of the Crystal Skull (besides the name of course) has nothing to do with anything I have talked about so far. What made this movie a let down to many was simply due to the fact that the previous movies were so good. Even Temple of Doom is better in many ways and that one was the 'sellout' of the franchise, but it was still a wild romp.
I have watched many movies that weren't even close to being as good as Kingdom, many just this year. So like I said, it really isn't that bad, but everyone was expecting something much bigger and more spectacular I think.
[img]http://i96.photobucket.com/albums/l190/wbassett/HTS/MovieReviews/IndiaJonesCrystalSkull/002476425035.jpg[/img]
The DVD transfer is absolutely gorgeous. In that sense they got everything right. This is what a big movie is supposed to look like. The detail is amazing and close ups are extremely crisp and clear, and this isn't High Def! The Bluray version of this one should be absolutely mind blowing and even set a new standard in quality. There is something about film that video or digital high def video just can't seem to capture. To me it's the depth and scope of the shots. High Def looks incredible, but also many and most times it looks artificially incredible, if that makes sense. In some scenes you can practically taste the desert dust.
[img]http://i96.photobucket.com/albums/l190/wbassett/HTS/MovieReviews/IndiaJonesCrystalSkull/indiana-jones-and-the-kingdom-of-th.jpg[/img]
The sound is equally impressive. The musical score gets us in the mood and once Ford puts the hat on it is hard to keep the nostalgic rush from sweeping over you. The surround channels are active and there is plenty of bass. They also did a good job with the center channel. Not once did I have to strain to hear the dialog during heavy action scenes.
The special features are very limited on the single disc version but the two disc special edition is chocked full of documentaries. Where the industry is really getting things wrong though is the Bluray version is still more expensive and it needs to be at the same price as the two disc special edition version. Those that don't have a Bluray player and want the two disc set will get it, but for those that have a BD player I sometimes feel 'punished'. Actually, I really miss the days of the dual format HD DVDs that I can play in an HD DVD player or a regular DVD player. I would pay a couple bucks more for a BD if it also had an SDVD version included... but that's just wishful thinking.
Overall I say give Kingdom of the Crystal Skull a chance. It's not as bad as you may have heard, but like I said, it suffers from having to live up to the previous movies which were just too good and it was too hard to live up to that.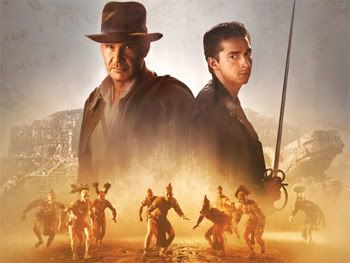 I rate it :3.5stars: for the storyline and acting and :5stars: the sound and visual quality.