Hey guys,
I've just purchased my first sub (well not exactly first, but I haven't had one in more than 10 years), and I'm in the process of integrating it into my 2 channel system (which also serves as HT system). I'm hoping that you can help me get things properly set up.
My system consists of the following:
Denon 3312ci AVR
Oppo BDP-93
Salk SongTower (L,R,C)
Salk Custom Sub (LMS Ultra 5400, sealed, 3.3 cu ft)
SpeakerPower SP1-2400 Amp (for the sub, running on its own 20amp circuit)
Gain Structure and Clipping:
First, I want to be sure that I set the gain correctly on the amp. I read through Wayne's comprehensive discussion of gain structure as a guide. I measured the sub pre-out on my AVR with a volt meter and found that it produces 6.8 volts (with volume at max and speaker-level for the sub at max). I didn't have a way to identify where this signal begins to clip, so I took Wayne's advice and subtracted 30% from the max voltage to obtain an estimate of clean signal output--this came to 4.76 volts. I then adjusted the volume on the AVR down until the sub pre-out produced 4.76 volts. Then I connected the sub amp (but disconnected the subwoofer) and played the 60Hz signal provided by Wayne. While playing this signal, I then proceeded adjust the gain on the amp until the clip light started to blink. Wayne said to adjust the gain until the clip light becomes solid, but I only had enough gain to adjust it until the light was blinking fairly rapidly. So my question is, have I done this properly? As set, it appears that the amp can take all 4.76 volts from the AVR as it starts to clip.
After setting the gain as described above, I adjusted the speaker-level for the sub pre-out back down to 0db (since it was maxed out at 12db for the gain structure process). Then I further adjusted the speaker-level for the sub down after measuring with REW since it seemed too high (now it is set at -3db). Set here, the sub pre-out now produces 4.76 volts when the AVR volume is set to +10db. So, supposedly this is where the pre-amp signal clips and also where the amp clips.
Should I assume that the signal driving the internal amps in the AVR (for the fronts and center) also clip here? I seem to get distortion in the fronts before reaching this point (+10db on the AVR) and I wonder if this is due to the AVR amp clipping or the speakers not being able to handle the power? Or maybe the amp itself does't produce clean power at this level?
Am I on the right track with all of this?
Noise (Buzz and Hum):
When I initially connected the sub, it exhibited a very disturbing hum. I assumed it was a ground loop problem and quickly discovered that it was largely from the cable box connected to the AVR. I checked the cable outside and found that the cable company literally installed a faux ground cable. It literally ran from the grounding block attached to the coax down a plastic conduit (for the incoming phone line) nearby and attached to....NOTHING. So I ran a new ground to the main electrical ground stake. That eliminated the loud hum, but it did not eliminate the noise entirely. As long as a signal cable is connected to the amp and the AVR is on, there is a hum that is fairly audible (definitely not acceptable). Should I be looking at installing an isolator or some other device? Jensen seems to make a few different products for dealing with this issue, but I'm fairly lost as to what the best approach is. Also, whatever I do will need to be compatible with the addition of future EQ (maybe miniDSP) for the sub.
Crossover:
I set my crossover to 80Hz thinking and it seemed to work OK, but I think I get better results via REW measurements when using 60Hz. I'm new to REW, but this is what I measured (via REW, Tascam 144, Cross Spectrum Labs calibrated mic):
Green Line is Crossed at 80Hz and the Brown/tan line is crossed at 60Hz (1/12 smoothing)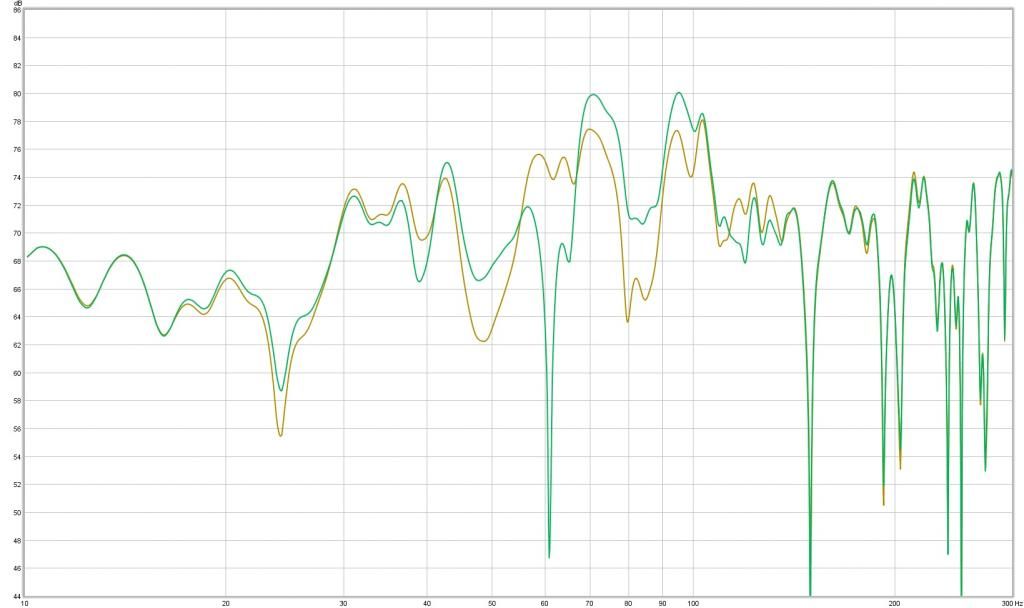 There is no EQ applied yet (that's a bridge I'll cross later), so the sub (being sealed) should roll off at about 30Hz. Given that, do my readings seem high between 10 and 30Hz? Could that be room gain, or am I making a mistake with REW? Which crossover point would you recommend considering that EQ will be added later?
If you've made it this far, sorry for the very long post! But I am very curious to hear some good feedback.