Discussion Starter
·
#1
·
Hi,
I'm pleased to announce the new CSS EL70 extended full range loudspeaker designed and built by Mark Fenlon of Mark Audio in Hong Kong. Over the past year or so, Mark and I spent time talking about the need for a smaller "classic" paper cone driver with extended frequency range. Both of us recognized the need for a moderately priced driver capable of providing audiophile grade output and that's easy to use in a wide variety of applications. The EL70's frequency range is ultra-wide (Fs=64Hz, Fr to 25-kHz @+80dB). It's very capable of delivering extended low bass response and with a Qts of 0.55 is usable in many box designs. Applications range from close field desk top, small BR for power handling, larger BR for extended range, MLTL, horn etc.
The first batch is on its way from China and should arrive in Vancouver around August 24th. Prototypes and the first production units are scattered around the globe as a number of DIY people are co-operating on a variety of cabinet designs. These will be released over the next few weeks and the plan is to compile them all into one place for easy distribution.
For now there will be 3 SKUs set up on the CSS website, although others may also be developed. All drivers include mounting screws and gaskets. Here are the initial prices for the first month.
EL70 single driver US $45, C$ 50
EL70KITP1 2 drivers, 2 ports, 2 sets of binding posts, 16 gauge wire, connectors US $90, C$ 100
EL70KITP2 4 drivers, 2 ports, 2 sets of binding posts, 16 gauge wire, connectors US $170, C$ 185.
Dr Jim Griffin showed his design with 2 EL70s per cabinet at the Dayton DIY event on July 11th. He will also show these at the Atlanta DIY event August 8th. A pair of EL70s as well as a pair of Mark Audio Alpair 10s will be given away at that event.
Stay tuned, more to follow.
EL70 Datasheet
Bob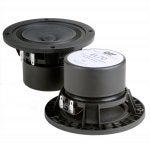 ​