Discussion Starter
·
#1
·



House curve / X curve confusion
In Part Three of my article,
House curve: What it is, why you need it, how to do it
, we saw that the film industry uses a standardized room curve for both production (soundstages) and reproduction (movie theaters), known as the X curve. On the home theater front, it's not uncommon to see enthusiasts confuse the X curve with a house curve. The following quotes are from a couple of discussion threads that originated right here at Home Theater Shack (emphasis added):
"Vote for your favorite Room Voicing Curve.
1. Academy Curve
2. X-Curve
3. No Curve at all!"

"I am interested in what you think is a house curve 'appropriate to the room'. I may be wrong but I think for a home-sized listening room, the appropriate house curve is zero. The need for an X-curve EQ gradually diminishes with room size from 100% for an auditorium or theatre, to zero for typical lounge or listening rooms."

"Let us say an orchestra (or solo piano) is playing in a world class venue, and the recording mic is placed in the best seat in the house, say centre stage, 20 rows back. No EQ or compression is applied to the recording. When we play this back in our homes, what is the ideal room curve? It is flat, not X curve. Flat EQ will reproduce the same bass-to-treble balance in the listening seat as in the seat where the mic was placed. Playing the above recording through an X-curved system will sound far too dead due to the attenuated treble."
As you can see, these parties freely interchange the X curve with a house curve as if they are the same thing, and also assume the X curve is an option for a residential system. Therefore, it bears noting again that
the X curve is specific to the film industry.
No other professional audio field that I am aware of uses the X curve, or any specified room curve for that matter.
Origins, applications, and practical limitations of the X curve
To show that the X curve is wholly inappropriate for a residential/consumer audio system, it's beneficial to know something about its origins and purpose. As best as I can tell by wading through Dolby Lab's
History of the X Curve
, it's something the film industry came up with decades ago to address the deficiencies in both optical soundtracks and the speakers of the day. Ioan Allen of Dolby Labs and other movie industry professionals did some experimenting on a soundstage in England back in the early 1970s, comparing hi-fi KEF speakers located near-field with old-school, two-way Vitavox film monitors located far-field, equalizing the latter until they felt a timbre-match with the former had been achieved (which strikes me as a futile exercise going in, but that's a discussion for another day).
After this exercise the film monitors' response was electroacoustically measured. All parties in attendance where surprised to find they exhibited not the KEF's verified flat response, but a roll out of the high frequencies above 2 kHz. No one could readily explain the discrepancy, even though it seems there was no shortage of places to look. They could have started with the speakers themselves: The Vitavoxes were dead in the water above 8 kHz. Perhaps their prehistoric compression drivers sounded nasty with the highs suitably elevated, so the sound engineers instinctively kept them rolled back. Or perhaps the primitive equalizers the engineers used did the film monitors no favors. Who knows? What's glaringly apparent is that the parties involved made no attempt to get to the bottom of it.
Regardless, the enhanced response measured for the Vitavox monitors was later adapted as the X curve. Subsequent testing and measurements in movie theaters of the day took reverberation into account and further validated the X curve's high frequency roll off as suitable for maximizing
speech intelligibility
in movie soundtracks. A low-end roll off below 63 Hz was implemented to minimize distortion from overloading the full-range speakers commonly used at that time (before commercial subwoofers were commonplace).
An outdated standard?
"Speech intelligibility": that should tell us right there that the X curve was never intended to maximize the capabilities of extended range, high fidelity sound systems. One could argue that since the highest fundamentals of the human voice – the sibilants – are about 7.5 kHz, there's no need for a speech-optimized speaker to have extended range. But there are numerous musical instruments with harmonics that can reach an octave or more higher – violins, cymbals and other percussion instruments. Instruments like electronic synthesizers can generate fundamentals above 8 kHz, as can sound effects generated by Foley artists. Apparently it's not enough that a movie's music soundtrack will typically be mixed at a lower level than the dialogue. The concern seems to be that if not squelched, the music track's extended high frequency content will swamp the upper registers of the dialogue, rendering it unintelligible.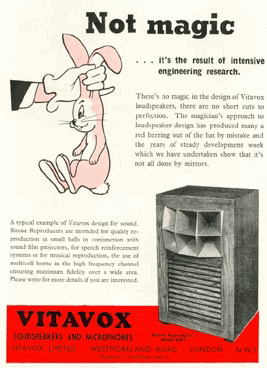 1950s Vitavox Trade Publication Advertisement
​
Whatever the reason, over the decades as advancements in professional loudspeaker design have improved both low- and high-end extension, the film industry has rigidly adhered to the X curve, essentially keeping movie theater sound "dumbed down" to the level of the limited-range speakers used back in the '50s and '60s. Adding insult to injury, modern theaters are much more- and better-dampened than they were in the past, diminishing the effect of reverberation on both measured response and speech intelligibility; yet the X curve remains. Small wonder that modern movie theaters sound as dull and lifeless as they do.
It should take only a small leap in logic to determine that an X curve will not sound good in a home theater system. As explained in Part One of my
house curve article
, it has problems going in simply because it is a type of rigid-value slope that presumes to be the reference standard for any and every room, no matter what the size. Bottom line, the X curve was never intended for our tiny rooms and has no place in a residential setting. The only possible exception I can see would be for the center channel speaker.
Thanks to:
brucek for his excellent Excel program, from which we created our X curve chart.
Donna Pflughaupt, for creating the Excel chart.