There is a DIY speaker head to head matchup planned for next weekend that I will be a part of which will compare ---k---'s Khanspires vs JonW's Spassvogels. Since I don't think I can link to other forums, do a search on google for those speaker names for more information and pictures. Basically the crux of our test is whether multiple drivers of medium quality and medium price (WMTMW using Dayton Reference series) will outperform fewer, higher quality and higher cost drivers (TM using Scanspeak). Other variables in play are the crossovers each creator settled on, the flat baffle of the Khanspires vs the slanted and heavily chamfered baffle of the Spassvogels, and a WMTMW implementation vs a TM.
Details aren't final, but I'm pretty sure the methodology will be one of blind preference. By that I mean we will play the same clippets of song or full song back to back and the listeners will note which presentation they preferred, not knowing which speaker is being used on each run.
Should be interesting, as every speaker I've heard with drivers above the tweeter seems to lose imaging quality and soundstage width, and at the same time, I feel strongly that a speaker with just a small midwoofer can't displace enough air for my needs. I will post back next weekend with my results - this post is just to build up any anticipation :bigsmile:
I think I may have found a few pictures that can be usable until the owners send me some directly.
Spassvogel unfinished cabinet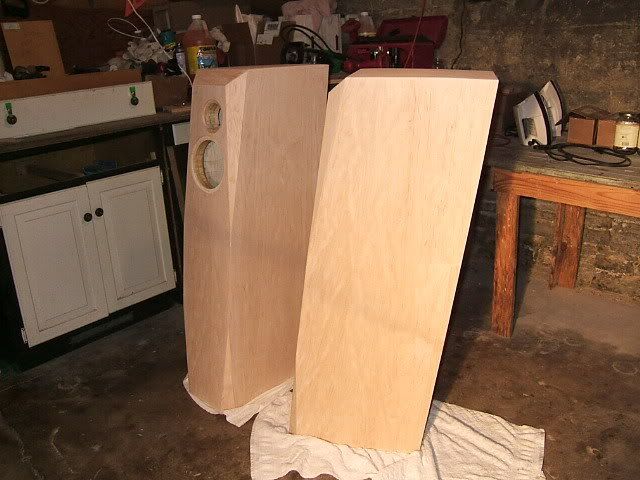 Khanspire