I wasn't sure I was going to post any pics since this is my first DIY subwoofer and I've never really built anything out of wood before. I had no idea how it was going to look but so far it's turning out pretty close to what I had hoped.
The design goal was to hide a Maelstrom-X in plain sight. I asked for ideas and came up with the "subwoofer credenza" It's going to double as a speaker stand for my L-R-C, the Pioneer Plasma will wall mount right behind it and I'll be able to put my PS3 on it as well in one of the little shelves. It's downward firing, going to get 4in stainless steel legs and should be just around 7 cubes sealed with bracing and the speaker inside.
I used a triple baffle under the speaker so I could recess the sub and still have 1.5in of MDF to hold it in place. I used Spax MDF screws which are pure awesome, and yes, you don't need to pre-drill with them but it's faster if you do.
As I said this is my first DIY sub and my first real woodworking project. I built this using a circular saw with guide, cordless drill, miter saw and a hand held router. I wasted a full sheet of MDF learning how to cut square but the veneer was a lot easier than I had thought. I've been working on this almost every day for a month so it's taken me 3 weeks longer than I thought it would and it's not even done yet.
Behold the pastiche of clamps. I wish I had more and I wish I didn't buy those horrible orange Harbor Freight clamps. All of the panels are also screwed in from the bottom and most from the sides as well. I went out and bought two more Bessey clams to get the top on.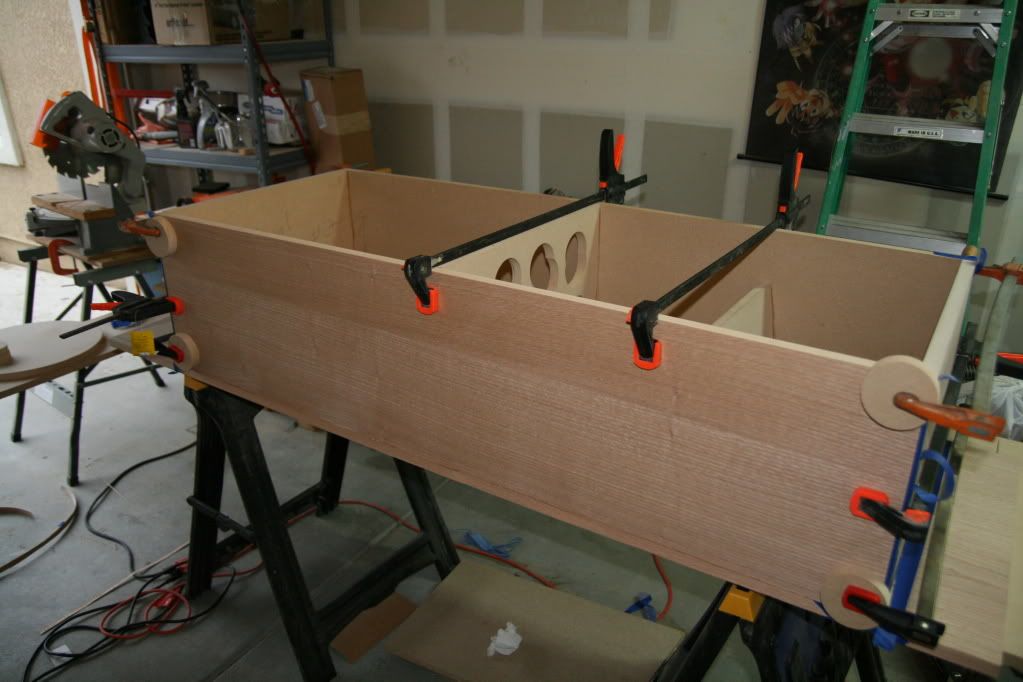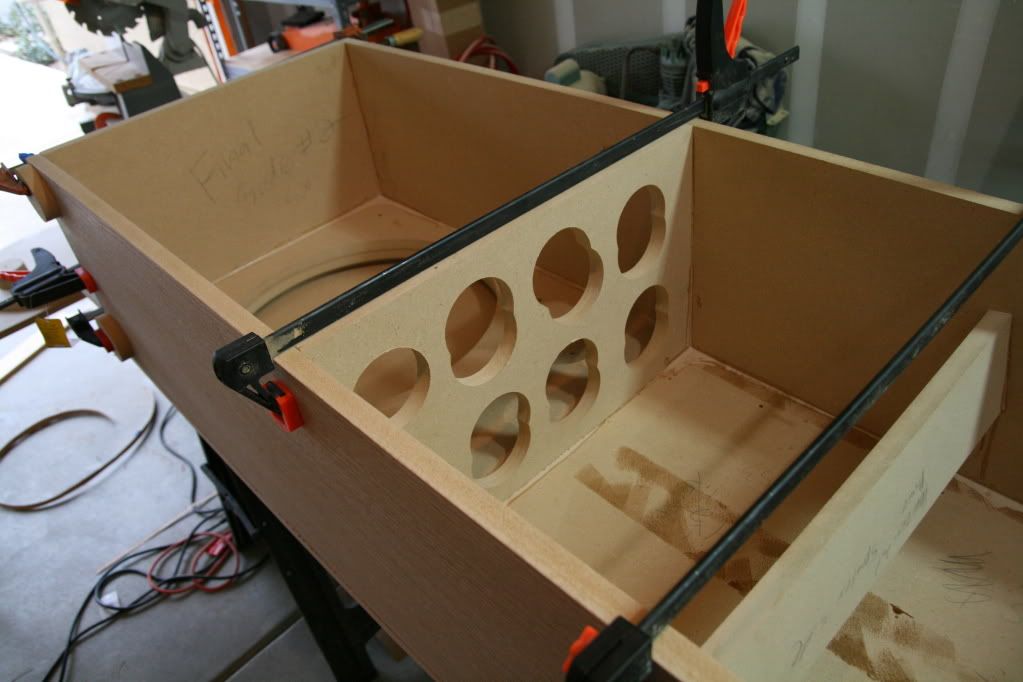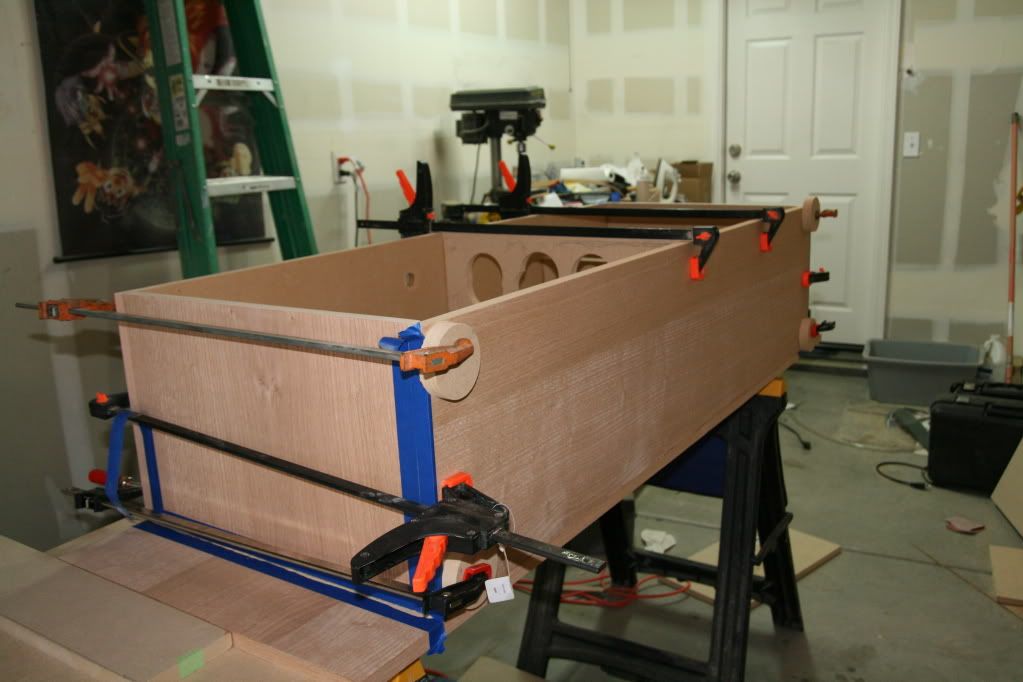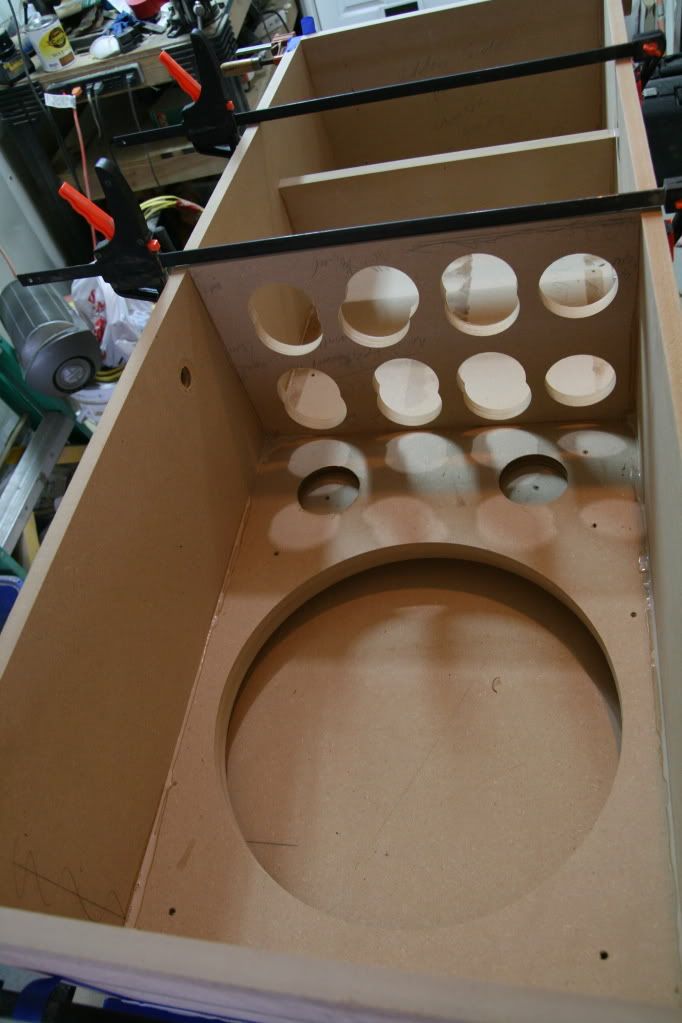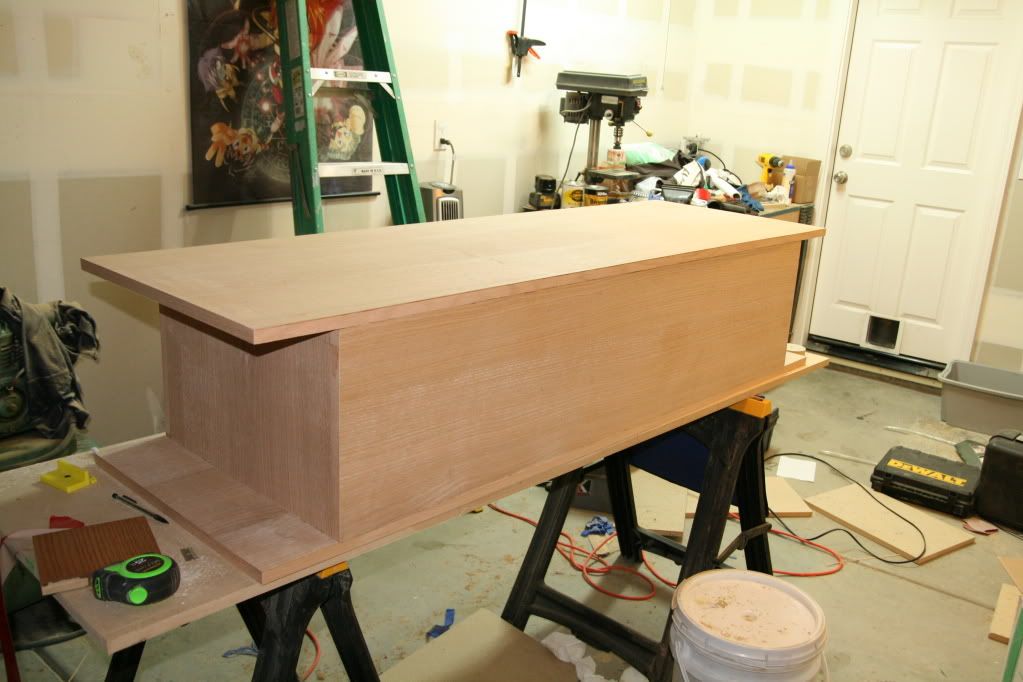 Before sanding
After stain
Tomorrow I'll do a couple coats of polyurethane, Saturday I'll get the legs and speaker inside.
I've learned SO MUCH that I could build it again better. One of the things I'm so so on is the veneer I used. I went with Red Oak since it was dirt cheap, $35.00 a roll, and the pictures online looked really cool. The grain on it is great but looking at it now most of my house is Scandinavian and this looks more old west. We'll see how it looks with the stainless steel legs I bought for it. If I'd do it again I'd also put more bracing in it. I didn't take pictures of it all but there's also a brace in each corner. I thought having 3 layers of .75in MDF for a baffle would be thick enough to not need as many braces but in some places it doesn't pass the knuckle test.