Discussion Starter
•
#1
•
This is something that I've been meaning to do for quite some time and I intend to get it finished and posted in the Moderator forum within the next week or so. The sticky threads there have become a bit cumbersome so I think we need a catchall that has the links to the pertinent threads in that forum.
Moderator Reference Links
Moderator Duties, Responsibilities and Benefits
Forum Rules... All Moderators Must Read!
Staff Dates
Members we need to watch!
Confidentiality and Nondisclosure Agreement
- Does this even apply anymore? I'd guess not. Sonnie?
Staff Contact Number
Forum Sponsors and Advertising Rules
Turn Off Tynt (Copy and Paste Tag)
Google Interest Based Ads Opt-Out
Edit Post Limitations for Members
HOW to move a Thread or Post
Moving Threads/Posts to the Graveyard vs. Deletion
How to Edit a Thread
How to Check an IP Address (looking for spammers)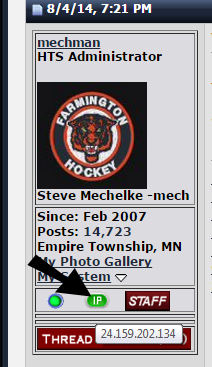 ​
Click on the IP button in their profile window. You can see that their IP address will also pop up when your mouse is moved over the button as shown above. Clicking on the IP button will take you to this window:

​
You can then copy and paste the IP address using the tools below to determine if the member is a spammer or not.
IP Lookup
- Will tell you the location of the IP address in most instances. Countries that seem to have the spammers are China, Indonesia, Phillipines, Romania, Russia, Bangladesh, Hong Kong etc.
DNSBL
- Spammer Database. You enter the IP address and click on 'Check This IP'. It will then tell you of the IP is listed with any of the various spam databases. I usually weigh the IP location with the number of red strikes that come up against it. You also have to take into consideration the post itself, is it gibberish?
MXToolBox
- Another spam database tool that I've seen used.
Reporting a Post/Thread
What to do with a Violation of our Rules
Gotta run so I'll work on this more a little later...