Discussion Starter
·
#1
·
It's a rather unappreciable channel so I'll cut to the chase.
What I've done is take one film for monitoring (Event Horizon 1997) chapter 8 at (37 minutes 35 seconds to 37 minutes 38 seconds) this where (Sam Neill, Jurassic Park) looks hypnotized as he stares deeply into the rotating ball that powers the ship to travel or bend time and space to reach great distances in a short time.
I've re-plugged the connections that used to go as LFE.1 out to my audio mixers line 6 input then from output on one of the two line outputs to the FBQ2496 and then output tracing back though a second EQ that I use to make minor trims if the soundtrack is too much on the LFE.1 which is often the case and often leads to damaged sub bass speakers.
Now I've taken the output from LFE.1 sent it directly to the FBQ2496 and from the output to the audio mixers line 6 input and from the output I can monitor the spectrumlab frequency waterfall or waterfalls of independent LCRS if I want though the other low channel outputs from LCRS.
Now what was giving me, the cheeps as much as (the disturbing visual images) from the film LOL was the heavy peak in the middle part of the spectrum. So I looked at it and thought what if I apply a (Q of 1.0) and reduce the level and select a frequency of (43.7Hz -12db for argument sakes) and hmmm, now that''s different and smoother as well.
I'm going to conduct further testing later on with this approach with the JBL 4645 sub and LCRS.
I had to borrow the lead that powers the smaller sub bass Eltax A 12-R I need to make up a new XLR lead to go from the FBQ2496, and I have very little solder left.:gah::bigsmile: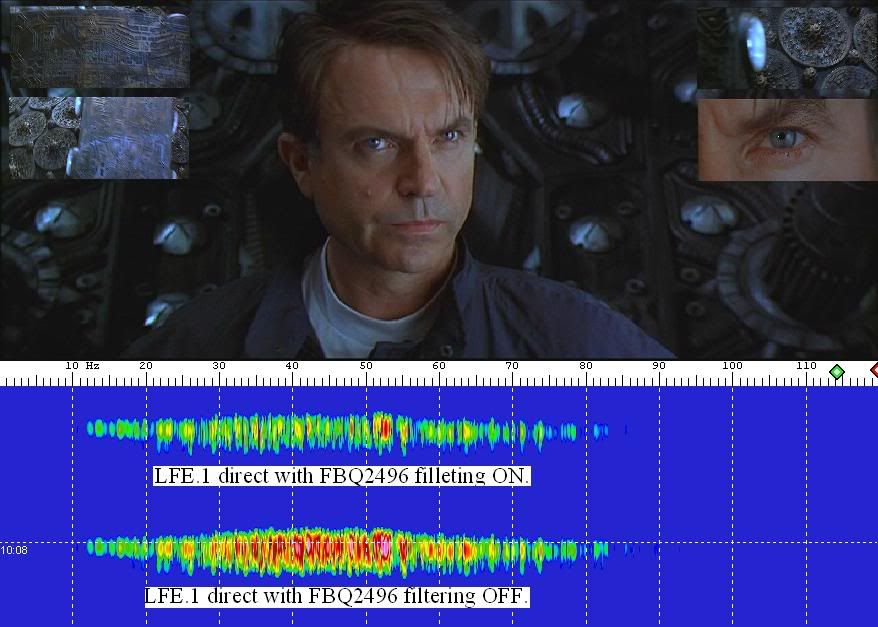 Merry Charismas