...are running if not
finished
. The boxes, 3/4" MDF, are about 65"X35"X12" (HWD); an internal divider creates 2 6-cubic-foot cavities. The front and bottom plates are double layer, and there must be about 50 pounds of screws in each box!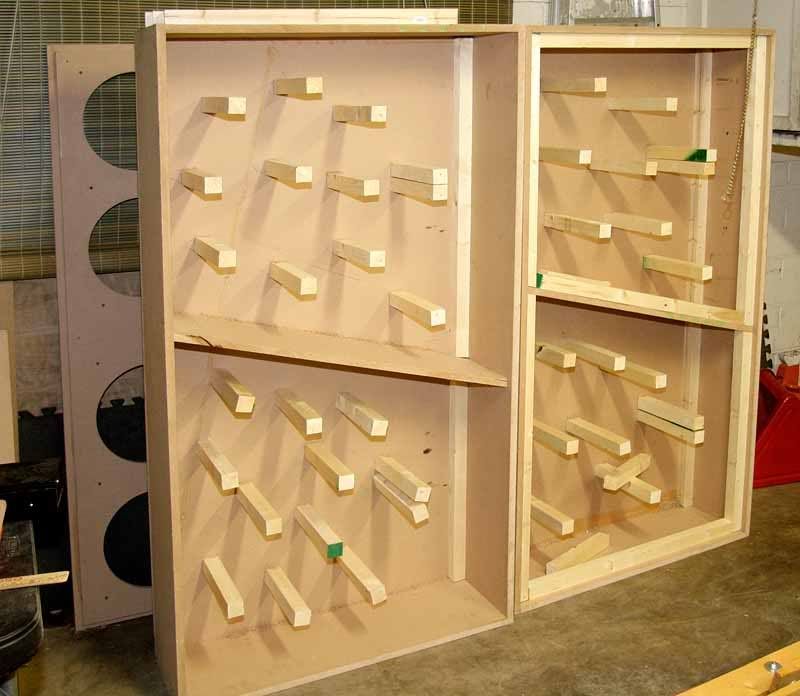 I added lots of front-to-back braces and covered about all the internal surfaces with 1-1/2" plastic foam.
Used 8g. wire...actually quad-14g....per pole, unbroken back to the amp.
The left-right planks are anchor plates to push the left and right sides against the wall. Each box has 4 screws anchoring it to the 2X6 studs; I used 1-1/4" camper-mounting tape on the boxes' backs against the wall.
I've been using 4 SC300s in my main system until about a month ago; I've mounted 4 newer drivers in the boxes for initial break-in...maybe c. 50 hours...before I add the older 2 drivers per box.
I have a Crown CDi 2000 (1000 Watts per channel into 2 Ohms [measured at 1KHz]) to drive the 2-Ohm loads, so I think I'll have plenty of power; the Outlaw 770 is driving the 4-Ohm loads now.
Will be using REW to measure responses, room nodes, etc., and the Crown's EQs and the crossovers (and maybe EQs, too) in my dbx DriveRackPA to get the response where I want it, which is substantial energy in the 14 - 60Hz octaves.
I recently bought a pair of new SVS PC-Ultras. These gave me a dose of LOW-bass energy and quality :bigsmile: I've never experienced previously; right now I can only hope my S-SWs are up to the challenge.
More later.