Hello all,
I am a lurker/newbie and I am appealing to your good nature for some opinions & advice. I always try to contribute positively to every forum I frequent and HTS will be no different.
For whatever reason, I have been dealt the good fortunate that MY WIFE asked me to build her a "small HT" centered around a 50" LG plasma, Pioneer VSX-1014, and other misc. gear I have lying around. I'll let the fact that my wife is asking for this sink in for a minute.
OK, my first two thoughts are:
1) I finally get to put together some Murphyblaster CAOW1's for L/C/R & Madisound "Recession Busters" for surround/back and
2) what kind of sub should I go with?
To maintain the WAF, I plan to install all drivers—including the subwoofer—in a "hidden" manner (in-wall covered with magnetic grills & picture framing). This means the sub & port will "peek out" between two studs, which mandates a sub no larger than 12" (gap between studs is somewhere around 13-1/2")…
the dual-18" RL-p18 LLT I have designed will have to wait for the "big HT" that I will build in the near future.
The bulk of the enclosure will reside in the garage which shares a wall with the soon-to-be "small HT". So I began a search for a single, HT-capable, 12" sub and the Shiva-X sure looks like a winner!
I ran the Shiva-X thru WinISD given the following limitations & goals and this is what I found:
Limits/Goals:
1) Achieve maximum extension with a LLT-type alignment,
2) Use a slot port (the enclosure will be a little shallow so bending a big, round port around in it would be a hassle),
3) Limit power to 500W (per comments in
THIS POST
) from an EP-2500,
4) Limit excursion to 20mm (per comments in
THIS POST
) to maintain linearity,
5) Limit port velocity to 18 m/s (recommendation from "Flare It" program), and
6) Room dimensions are 13x15 with the rear "wall" opening into the rest of the house.
Results:
1) 5.36 cubic foot enclosure tuned to 21 Hz (box will be roughly 13-1/2"W x 20"D x 54"L),
2) 12.0"x3.0" slot port, 35.9" long (both ends will be flared with either ½" or 1" radius),
3) Excursion max is 19.7mm at 30Hz & roughly 500W (ignoring subsonics),
4) Port velocity max is 17.7 m/s at 19Hz & roughly 500W
5) Port resonance is 188Hz (a little low, but should be OK for a THX crossover)
Please let me know if I've missed anything or fell for any "gotcha's".
This isn't my first sub build, but it IS my first HT sub.
Here are the WinISD plots: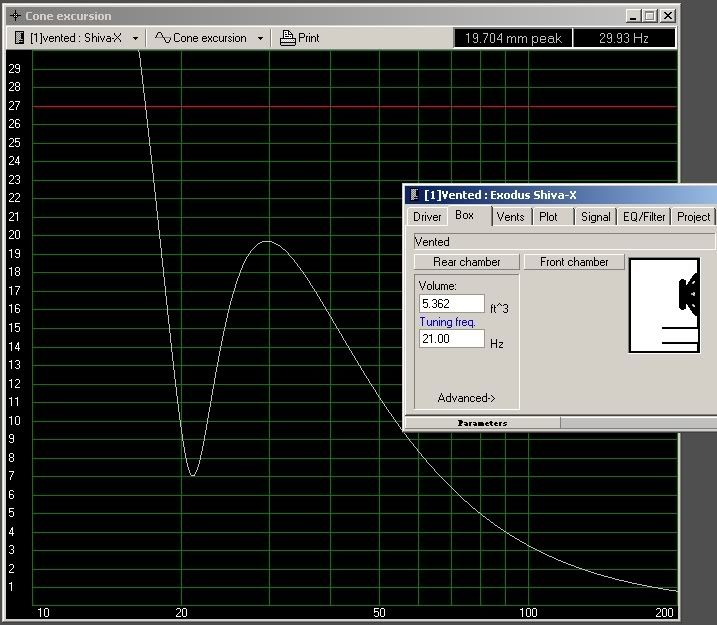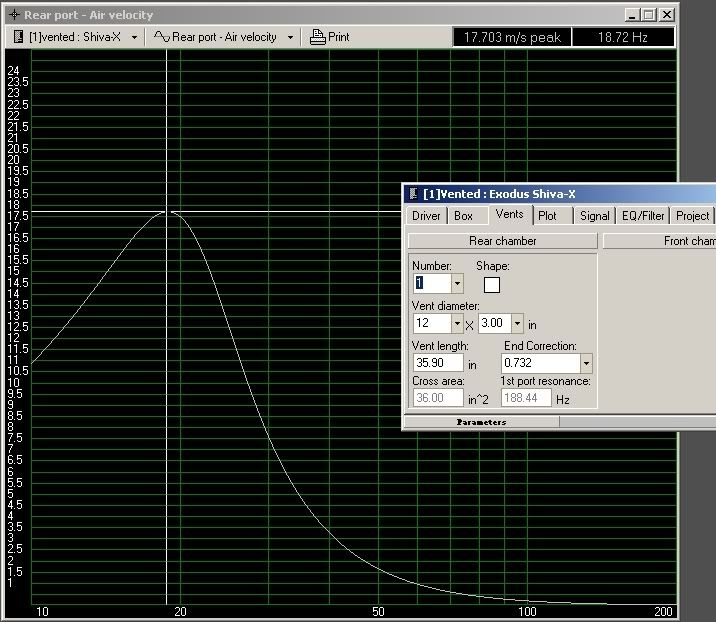 Questions:
1) Although this is intended to be a HT sub, my wife likes to throw on XM and listen to music while she moves thru the house. Is this sub alignment a good choice for 50/50 music & movies/TV????
2) Am I an idiot for planning to tie the enclosure to the studs it will partially sit between? Will this rattle the hell out of the drywall & cause noise issues?
3) Would it be better to let the enclosure sit between the studs and not actually touch them?
Here's a quick sketch of what the enclosure will look like. Note how I've allowed for port tuning by reaching thru the speaker hole and attaching "shims" made of 1/2" MDF with the same cross-section as the port itself.