My enclosure is 21 cubic feet after sub/port displacement, tuned to 15.42Hz. The port is a 7.75" sonotube 19.5" long, leaving 8.25" port clearance at the back.
external 42" wide = 40.5" wide internally
front 38 tall, rear 32 tall = 36.5" + 30.5"= 33.5" average height
bottom depth 30.5" top 28" = 29 + 26.5 = 27.75" average depth
40.5 x 33.5 x 27.75 = 21.788 cubs before sub/port displacement
7.75" x 19.5" = .532 cubes port displacement + .22 sub displacement = .752 total disp
WinISD with 21 cubes with 7.75 x 19.5 says 15.42Hz tune, and I round under, so close to 15Hz.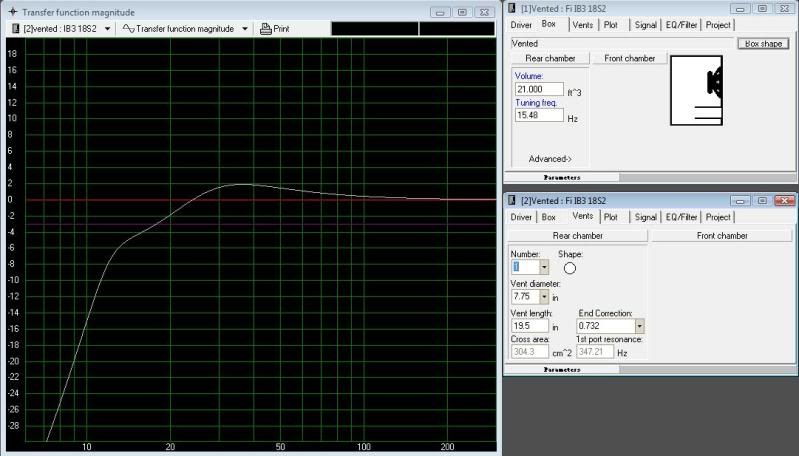 So here is my problem. Bass I Love You has a 16Hz tone. I had more excursion at the 16Hz tone than I did on the 30Hz and 25Hz tones. Please excuse the very poor quality of this video, turn your speakers down!
http://www.youtube.com/user/kryptonitewhite#p/u/31/zD9FU-SZLOY
also note, very little port velocity. that 2 liter bottle barrely moves, and not much air blew through without the bottle in it either.
Now here is sub_junkie's vid. He is 7.6 cubic feet tuned to 15Hz as well. IDK where his SSF is set to, but mine was at 15Hz. You can turn it back up for his vid.
http://s536.photobucket.com/albums/...tion=view&current=UTGM324Gen3forSale005-1.flv
his excursion is just the opposite: more excursion on the 25Hz and 30Hz, very little on the 16Hz, as it should be, correct?
Here is another video of mine with a much better camera just to get a better view and listen of things. Please bear with me, it's a rap song, but the bottom note on this track is 26Hz I believe. Willie The Kid : Love For Money
http://www.youtube.com/user/kryptonitewhite#p/u/18/3jzenFwzkZk
same song, different vid
http://www.youtube.com/user/kryptonitewhite#p/u/17/yGWsO36WPtc
PLEASE HELP! THANK YOU!