Discussion Starter
·
#1
·
Hi guys, been a while since I posted, and I keep getting a friendly reminder to get in and post! So I am! So there!
And also, I must acknowledge Sonnies enthusiasm and 'welcome back' the last time I posted, so this is a special one just for Sonnie. Don't we just love him??:bigsmile:
I am 95-98% finished, so as good a time as any to show you all. I hope that there are a few ideas here that might help/inspire others with their builds. Including one or two that, although I ended up not using, could be valuable to others.
Have had this basic layout for years, in what was basically a 'test box' that, to put it mildly, does not look too flash hot.
So much so, that one wit christened them the 'frankenspeakers', and the name has stuck in a rather affectionate way. May as well introduce the franks now so we can see what we started with.
Ta da!!
Ok, when this pic was taken the driver complement was an 18 inch PHL (7030), 6.5 inch PHL (1660) and a cabbasse tweeter, DOM 40. Ha!! As the build basically started a year ago (yes, serious!) a few driver changes have been made.
I now run a morel tweeter...unsure what model it is, it has been laying around for years and there are no markings on it whatsover, and memory...well it has faded shall we say? I have also changed the mid to a PHL 1360. It too has been laying around for yonks. For a long time I did not bother trying it, as I figured 'one PHL for another PHL, can't be too different' yeah?
Boy, was I wrong! I decided to give it a try as a direct result of the build, ie 'I should finalise all the driver choices before I go too far' type of thing.
glad I did.
So to the build, first off my biggest problem went something like, 'just HOW do I get a hulkin 18 inch driver into a design that looks halfway decent??'
After a lot of doodling on bits of paper, I came up with an idea that looked pretty good, and one that I doubted could be bettered. To get a bit of a feel in the real world, I made a little model of it. That will help give you an idea of what it is starting to look like, but I also feel a bit of a 'story' could be fun. Ie, will take you through the whole process.
The model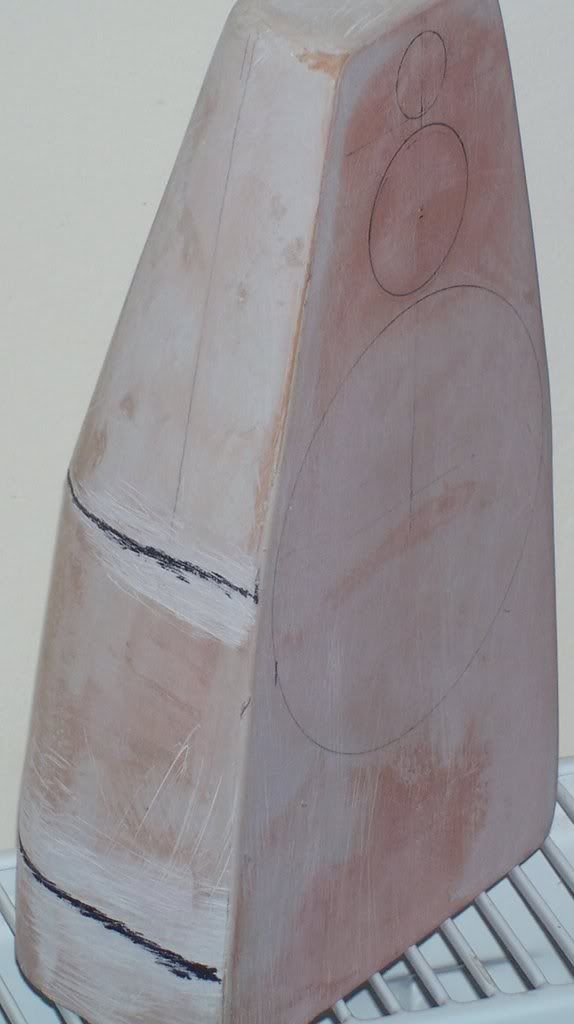 and the front view (needed to understand the 'concept' behind it all)
So, from the front view we can see that there are basically three sections, the base, middle and top, with an increasingly steep angle on each. So far so good.
I then had to work out how to build it, and work out the plan view. The how to build was easy, three sections stacked upon each other. A bit of fiddling with a compass produced the following formula
Hope you can see that OK...on the right is the elevation, on the left the plan. What is important with the plan is that it is all based on compass swings, to a set ratio of the dimension (taken from the elevation) of the relevant part of the baffle. The pic might not be very clear, but as you can see from the front view the dimension changes as we rise up the baffle, and at each succeeding slice (tho the formula remains the same) the radius swings change in step.
Clear as mud right? (EDIT, can see the pic is clear enough, so everything hinges on the 'x' dimension (from the front view), and the radii at each slice has the formula '1.2x' or whatever etc etc)
So I rigged up a router on a swing arm, where I could vary both the swing radius, and the pivot point that it rotated about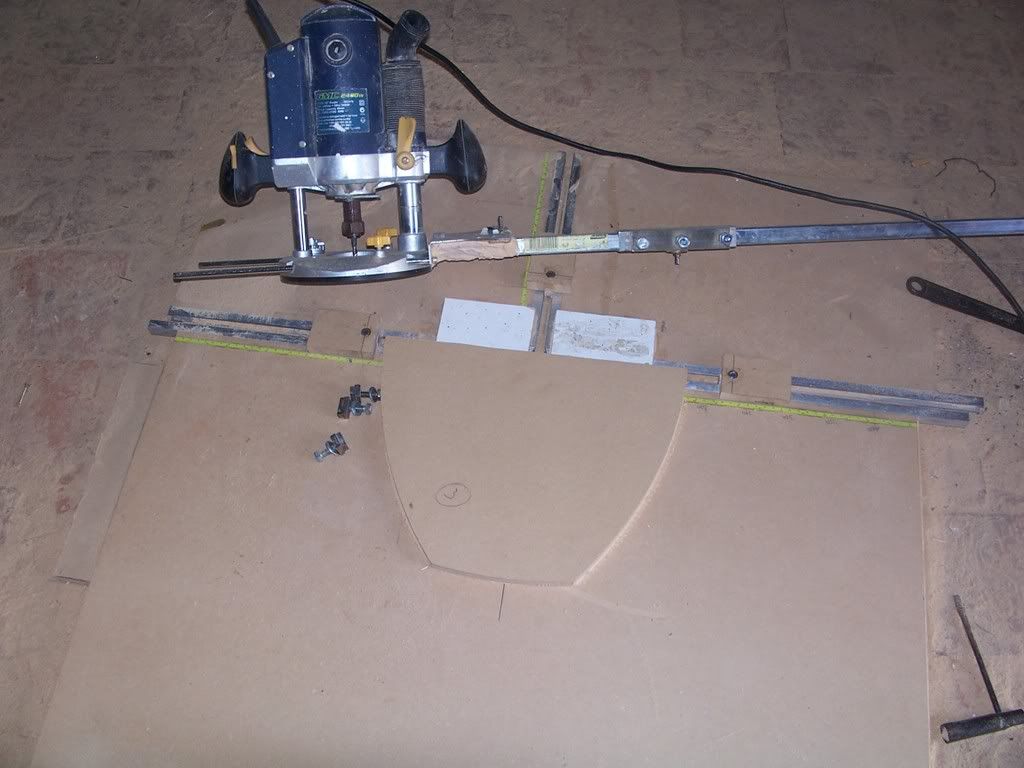 There is a cut piece of MDF in that pic.
I won't go into too much detail of the intervening stages, but will show a pic of the early days construction, as it will explain the 'brainwave' I had that sped things up.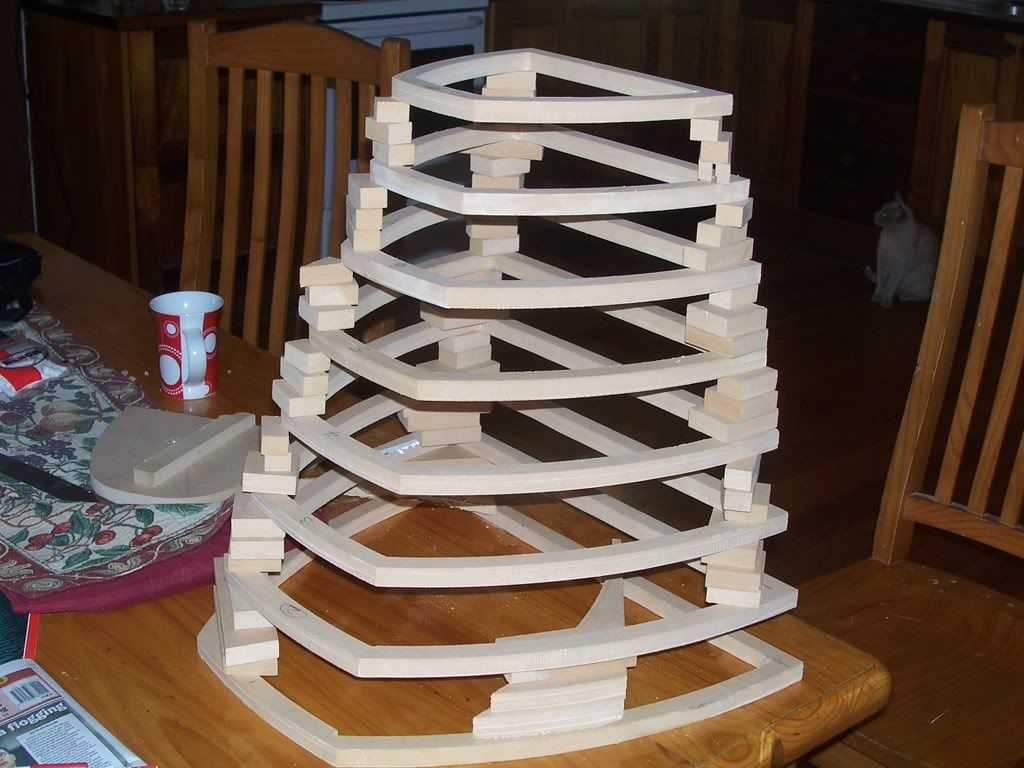 That was mucking about with the top section (turned out fine BTW), every third or so slice had it's own skeleton rib (progressively changing per the swing formula), which was then bogged to form the surface.
Lot of work ha!
Brainwave!! Forget how it came up, but concrete was mentioned, and I realised that if I made it out of concrete (yes it is!) then all I needed was the top and bottom of each section, and could form the concrete with a straight edge, using the mdf formers as a guide.

You can see in the background a finished box, and in front of it the seperate sections of the one still to be done. The number of skeleton ribs required is vastly less than the earlier method, and hopefully you can visualise using a straight edge against the top and bottom of those sections to form the concrete...?? (of course I had to nail a few backing pieces in to pack the concrete against)
Here is a middle section concreted
All I had to do was to make the slices at each change in profile of the front elevation, so with a few dowels they could stack on each other, yet track the changing front profile (boy, I hope I'm not confusing youse all!!)
A shot from the back of a finished box. well not glued together but the three sections stacked on each other
I need to backtrack a little now, to give something that others might find useful in any curved builds they do. And it might be a bit more digestable if I start a new post.
PS, sorry about the slight miscalculations with the image sizes, means you have to scroll slightly to get it all.