Discussion Starter
·
#1
·
My Zaph ZD3C Center Channel Project (Working slowly on my 5.1 system.)
I upgraded my house a few months ago and the family room was wired for 5.1 sound with speaker wires provided through the walls in the right places. I have been planning on replacing the existing JBLs that the last owner left in place and update the system a little at a time. I bought the Onkyo 605 this Summer first before anything else and it was a great upgrade from my 30 year old amp. Now I am working on the speaker system.
I have been building speakers using PE enclosures because I do not have wood working tools right now. When it comes time for the front baffle treatment, I need to locate a local wood working shop for the speaker holes and routing to countersink the speaker baffle so that the speaker will mount flush.
I am not a speaker expert but with great DIY speaker plans available including cabinet and cross over designs and knowing enough about electronics to read schematics and put the components of a cross over together, I have been successful in building a few speakers for my personal needs.
In my first speaker project, what I built was based on Dillon Acoustics 'THE EGO' (
http://www.zalytron.com./HiqKits.htm
) using a pair of PE TWC-0.38BK 0.38 ft3 2-way, Curved Cabinet, Gloss Piano Black book shelf speakers, a matched pair of high end HIQUPHON OWII tweeters and a pair of Focal 5 1/4 inch 5W 33211B W-cone Woofer-Mid-bass drivers with a crossover frequency of 2200Hz providing an excellent SPL vs Frequency from 150 HZ to 15K Hz. I chose the cabinet (¾ MDF side and back with a ¾ MDF brace running vertically up the sides and across the top and bottom and a 1 inch front baffle with curved sides to provide a curved interior which provided for better strength and better acoustics by reducing standing waves/resonance. These are now my right and left front speakers in my 5.1 system in my family room.
Tweeters:
http://www.ellisaudio.com/hiquphon.htm
Woofer/Midrange:
http://www.zalytron.com/Specs/5W3211B.pdf
PE TWC-0.38k:
http://www.partsexpress.com/pe/showdetl.cfm?&Partnumber=302-711
Crossover was optimized by Dillon for these components.
I desperately needed a good center speaker for my family room 5.1 system so after a lot of research; my current project is the Zaph ZD3C Center Channel Option for his ZDT3.5 system (
http://www.zaphaudio.com/ZDT3.5.html
). I have bought all the materials and I am coming to that point where I once again have to span the gap of finding a woodworking shop to prepare the front baffle for me. I can't take it to my last shop because the owner enlisted in the army and was shipped off to Iraq last week. In reading Roman J. Bednarek's audio innovations web site (
www.rjbaudio.com
) he presented an idea he used to bypass the need for a router. He uses thin wood or Masonite as a front mounted 'thick' veneer covering the front baffle through which he cuts the appropriate holes to fit around his surface mounted speakers. This allows the speakers to become flush to the front of the baffle and after painted would look fine.
I thought ah-ha! This could be my saving grace for my projects since I would like to be able to do everything myself – alright – I don't make the cabinets but the ones I have bought from PE have been very nice and worth the price and I can cut holes with my jig saw.
Reading a lot of information from this forum and following lots of links, I know that diffraction can occur at the boundary of the speaker frame and the baffle it is mounted on. Roman indicates that the effect of diffraction on the frequency response is a constructive and destructive combination of waveforms that produce dips and peaks in the audible response. The frequency at which these dips and peaks occur is based upon the distance between the edge of the driver diaphragm and the edge of the driver frame so counter sinking the drivers is necessary if you want optimal performance, which I do.
Using Roman's idea, all I need is a jig saw to cut holes and I am home free. But his solution made me think of an alternative that might be even be easier to reduce the diffraction caused by the driver frame and the speaker baffle.
Here is where I need the experts in this forum to provide some assistance and feedback on my idea. I don't know if this has been done before but what if I simply surface mounted the drivers on the front baffle and then used thin black felt cut to the same size as the front speaker baffle. With this, I would then cut out each speaker frame hole with scissors and lay the felt over the speakers onto the baffle. The felt could then be glued flat to the surface of the baffle. I might be able to find felt to the thickness I needed or if not, just layer several sheets until the thickness is matched.
The advantages would be that I could precisely cut the felt holes with scissors to exactly mate with the edge of the speaker frame and also match the exact thickness I need to make the entire surface flat. The disadvantage is that it might not look as nice as precisely cut and finished wood baffles but then, while it might look different, it might not look objectionable and from a distance might not be that noticeable.
Conceptually, this appears to meet the standard of eliminating the differences in height between the speaker frame and the baffle.
My questions are these:
1. Does anyone see a reason why this would not work?
2. As the surface of the front baffle would now be felt and not hard wood, what effect might this have on the overall speaker performance, if any?
3. Might the absence of visible hard wood on the front side of the baffle, which might also contribute to diffraction, resonance and other negative sound properties, be reduced or eliminated by using the felt?
Right now, I have bought the center channel cabinet from PE (Dayton 1.0 cubic feet gloss black) and speakers but PE is backordered on the RS52 2" Dome Midrange until the end of November so I sit and wait. I have applied tape to the front baffle and drawn the locations of the baffle holes. I used tape to protect the baffles during cutting and routing of my first speakers and have done the same on this one. At least this helps to position and draw for hole cutting. I will go look for felt next weekend and see what thicknesses and stiffness is available.
I also have completed the crossover. I like to hot-glue parts on a piece of Lexan for fitting inside the box.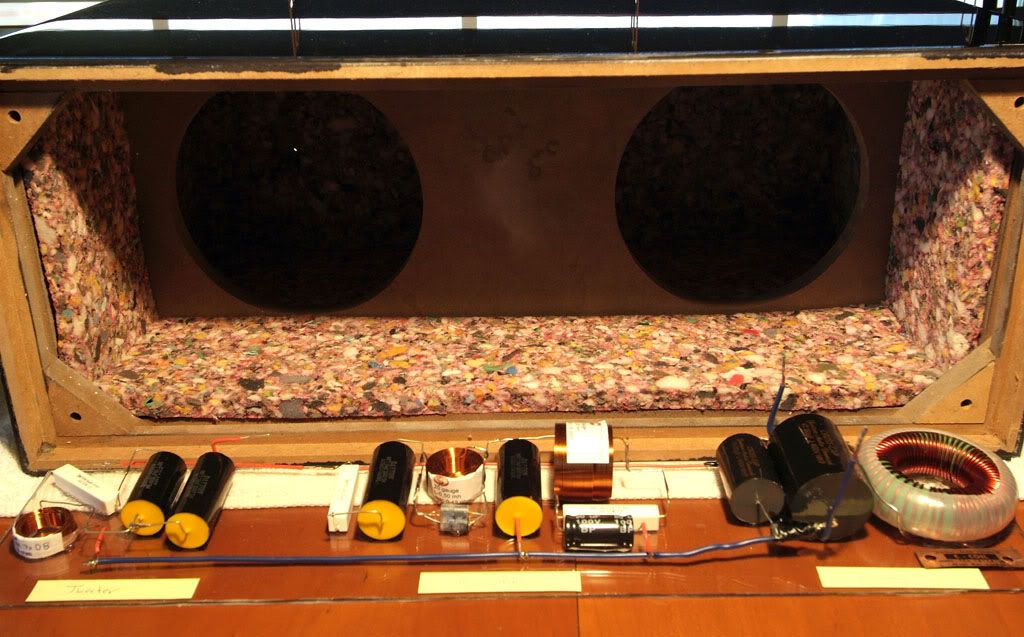 I tried it out wiring it to my speakers on the table and after listening to a lot of music and test sounds, felt that the balance between the midrange and woofers was not quite right. The woofers were underperforming compared to the mid-range. So I re-read Zaph's right-up and saw that the woofers are sensitive to the inductor DCR and that the woofer circuit L16 inductor provides variability to the woofers based on its DCR. I had originally used the default 1.5 mh inductor (PE – part 255-426) with a DCR of 0.38 so I looked to see what other inductors were available with a lower DCR. I choose the Jantzen 1.5mh toroidal inductor (PE – 255-804) with a DCR of 0.049. The results were immediately noticeable and very dramatic to my ear and this brought the woofers perfectly into balance with the mid-range. I will have to confirm this again when my RS52 midrange is delivered but I am very happy with this adjustment using the temporary mid-range.
For frequency testing of the speaker setup I used an audiometer testing page (
http://www.phys.unsw.edu.au/jw/hearing.html
) on my computer to provide input audio at selected frequencies thought the crossover to the speakers. The resulting frequency response range I heard for each speaker (woofer, mid-range & tweeter) were very close to those specified in the crossover response curves in the Zaph speaker plans.
The ND20 sounded smooth and blended nicely but it's frequency response from PE looked a little ragged so I tried a Tang Band 25-302SH 1" dome tweeter just to see how it sounded. As I went back and forth between listening to the ND-20 and the Tang Band, in the end I decided it was a little too harsh and stuck with the smoother ND-20.
I don't have sophisticated tools to do this theoretically so I rely on the original developer's schematics and my ear since the designers have put a lot of time and energy into developing the speaker plans and the person I need to please is me. In this case, however, I felt compelled to experiment to get the balance right (to my ear) between the mid-range and the woofers. In the end, the change I made seemed to be the right way to go. Also, the little ND-20 is perfect for this center channel and combination of speakers.
I like DIY projects but I don't think I qualify in the same league as you guys but I sure appreciate reading about your projects and skills in 'creating' some great speakers.
I don't know what to do about my sub-woofer needs. I currently have a 10" Athena AS-P4100 which I picked up mail order for about $100.00 6 months ago. It looked like they were going out of business or this was discontinued. I know that I could have done a lot better for twice the price but I needed to fill a hole in my system and this fit my price range. I knew also that I would eventually upgrade this to something better than the $250.00 price range so this filled the bill without over spending. Eventually, I will move this to my office. It seems to work well but I know the stuff that I see being built here is far superior. I think that this would be my next project when my funds accumulate enough. I would like to have an enclosure that is not too big and massive and yet use a 12 inch driver in the $500.00 price range.
Update: PE's delivery date for their Midrange speaker is pushed out to end of December. Rats! I want to finish this. Anyone got a Dayton RS52AN-8 2" Dome Midrange they could part with?
Usil