Discussion Starter
·
#1
·
I found this forum after searching for a good source of information on an unusual DIY subwoofer I want to build. I have read many of the threads on the subject here and ended up with more questions than answers it seems.
The last time I built a sub it was 2 x 18" and sat above the ceiling in my home theater, in 1992. Looking back and comparing information available then and now, there certainly are more variables to deal with now.
I have some photos of the environment, measurements and other specs below.
This sub will go in my multi-purpose shop, that's mostly used to build things out of wood, but is also used pretty frequently for large gatherings of people that share in the Star Wars fan community, in which I'm very involved.
I want the sub to reinforce the five-channel audio system that with rummaged speakers consisting of two ancient Klipsch Cornwalls as main speakers, and three other Triad speakers. The Klipsch actually have a lot of bass but it's a big room as well, and I don't generally drive them too hard for fear of self destruction.
I only want it for movie sound reinforcement. Explosions and such, need to be felt, and they really aren't now.
Here is an overall photo of the shop.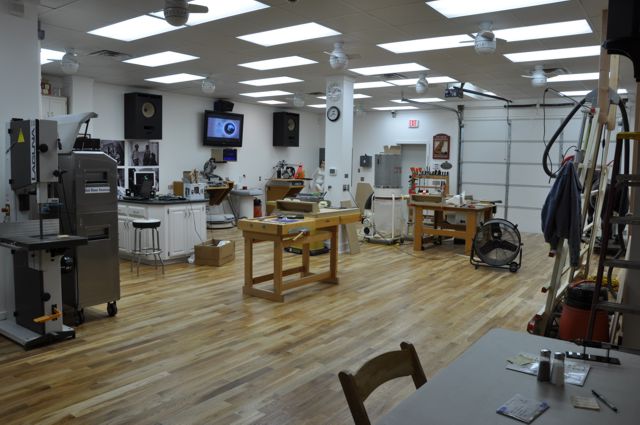 The main shop is a rectangle 29' x 33'-9" with a 10' drywall lay-in drop ceiling, above which it's another 3' to the bottom of the 2nd story floor. There is another section of the shop that joins it that's 20' x 30'. (think of it as two overlapping rectangles). It's not important to provide sound in the adjoining room.
Ideally, I want to install the sub in an unusual place. Inside the support for the saw in this photo below. This has the benefit of already being built out of 2 layers of 3/4" MDO plywood on the sides and top and not occupying floor space with another thing to keep clean. It would have is 27.375" on the sides of the triangle and internal volume of 4.27 cubic ft to work with. It could be smaller of course, but bigger would be a problem.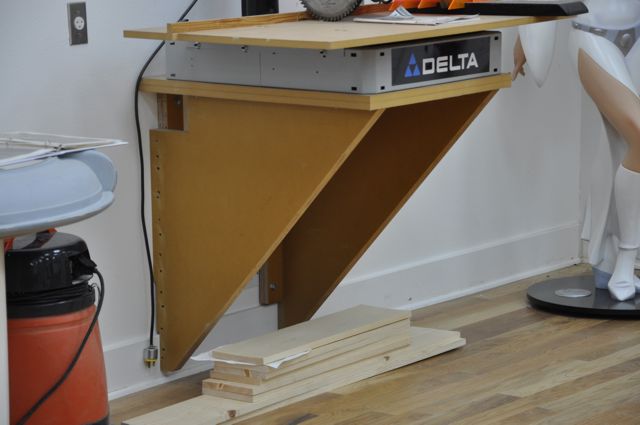 I have an extra NAD 2400 THX Amp I want to use to drive it. I believe it's 200 watts bridged and requires an 8 ohm load.
I don't have a preference for the design type, though I do want the most bang for the buck. I'd like to keep the driver cost in the $200-300 range.
I can pretty much build any kind of enclosure in the shop and if this doesn't make any sense to do it in the saw support, I can build a traditional free-standing cabinet.
Just as a point of reference, the last time I built subs it was in my first home theater in 1992. I put two 18s in a large cabinet above the room and fired down into it, and two 12s in the platform under the two main seats.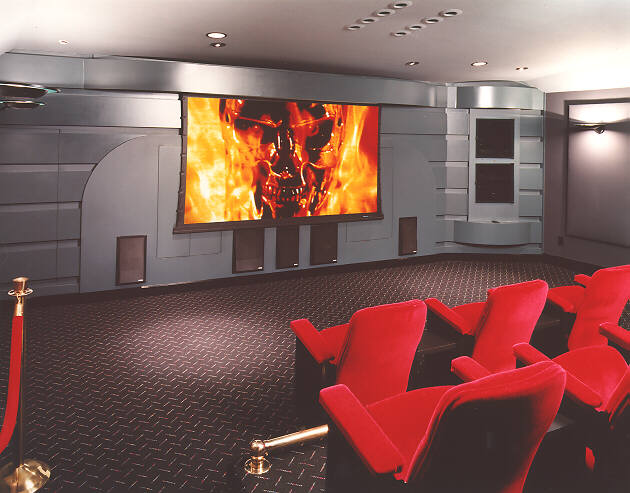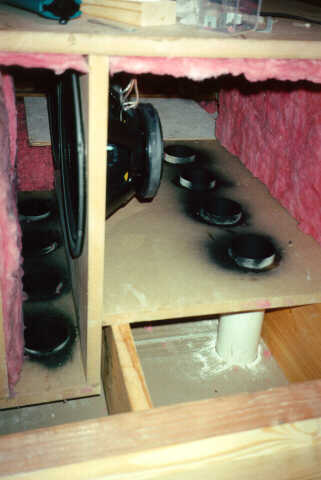 Any help would be terrific. Compared to 1992, there are many more choices and I would really like to do it right the first time.