Discussion Starter
•
#21
•
A Request, and a new Munsell N9 Neutral that really looks neutral!
Next, Kenyee is it possible for you to take a small sample to True Value, Sherwin Williams, and even Home Depot (Lowes would be great to get a Valspar match too since it rolls so nicely) and have them do a color match? That would be a very good addition of N8 gray players. Walmart also sells Dutch Boys which is the same as Sherwin William (even the containers look the same) so they would be a very good paint match since everyone has a Wally World near by.
So everyone knows, my goal is very similar to Tiddler's and one I have advocated and tried to live by for years as far as anything I do. It is
KISS
personified if you like. The KISS principle for screens is to identify colors that are tested and proven to be matches for the Munsell gray scale (as referenced to D65 I would like to add) that are available to anyone virtually anywhere. I consider these base coats. For many they may never go on to any additional top coating applications and that is perfectly fine, they perform exceptionally well on their own. Some people may like to tweak and at some point want to see if they can up the ante even more, so an optical coating would be right up their alley. And with these grays they already have an outstanding foundation that performs very well on its own.
One of the things about paints over commercial screens and even the laminates (which someone once said isn't true DIY and they are virtually a commercial screen-- Thank you very much! That had to be the nicest insult anyone has ever given me out of anger!
) anyway, people do sometimes switch projectors and what works for one projector may be completely wrong for another one. Darker grays need Lumens, even the neutrals, although neutrals do produce a brighter image do to the efficiency of reflecting the source lighting. It is very inexpensive for a person to change screens when they swap projectors, although in the big scheme of things Laminates really aren't that expensive either when compared to their performance vs. their commercial counter parts. Still... $7-9 for a Winter Mountain Screen, and later if a lower lumen projector is purchased Winter Mist for an N9 shade for the same $7-9 (or vice versa) is hard to over look. Think about it like this- If a person sets up a Home Theater system, and then a couple years down the road gets a new projector... it is much less expensive to change a DIY screen than a commercial screen.
Winter Mist comes in at a very nice 220 220 220 shade which is well within the Munsell N9 range.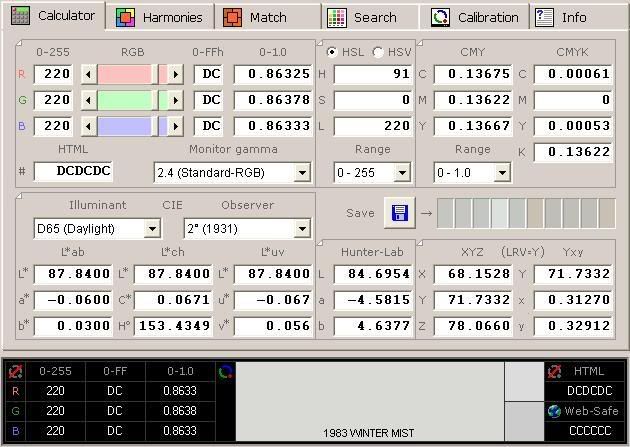 This is an all around great color and shade that will perform nicely for virtually any projector regardless of the lumen rating. I will have to state a disclaimer, nothing is an absolute and there are some older projectors still out there with lumen ratings of 400. That's not to be confused with video optimized lumen output, that's raw total output, so yes there are always exceptions to everything. Plus we have to take into consideration our friends that build their own projectors (and do not laugh, some of them produce very high quality images, but they lack Lumens- one person I know compared some of the best home built projectors to the same look a CRT projector makes... albiet the black aren't quite as black as a CRT projector).
So for those of you out there that are not sure about a darker gray, this is a color to definitely look at. It is very neutral, in fact the most neutral I have seen so far (pre-testing) and this shade should be no problem with whites even with lower Lumen projectors. Keep in mind, it will take a hit with ambient viewing though... everything has its trade offs.