Winter Mist is a measured neutral gray paint. It is lighter at an N9 shade. It will not perform like wbassett's "Gray Screen" does in ambient light but it will be better than a white screen. You can apply a matte polyurethane top coat to any base latex, so you could top coat the Winter Mist. It will provide a very durable protective coating and add a little gain boost.
Here are a couple of photos to consider: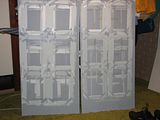 When I was investigating the Behr sheens I used these rough surface panels to demonstrate how a flat paint can tolerate surface blemishes. Roller texture is no exception. Due to the very wide viewing angle of a flat latex, texture is also invisible.
Take a look at these same two panels in the photo bellow.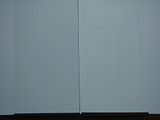 These are the same two panels as shown above. The left one has a couple of coats of flat gray latex on it. The right one has had the same latex paint applied but a poly top coat was added. The poly top coat introduces a gain that is angle sensitive. It is not a sharp a sensitivity as a pearl clear coat or a metallic paint like SF though. It is however sensitive enough to make the very rough substrate much more visible than a flat paint alone.
The bottom line is that a flat or matte finish wall paint will not make the roller texture or wall blemishes visible in the image. Adding a polyurethane top coat will make significant wall blemishes more visible but in my experience it does not make the roller texture visible.
I think the choice of True Value Winter Mist is a good start over point for you. You may want to do a bit of sanding and priming first. I would suggest you paint a couple of sample panels 2'x4' while you are painting your screen. If you are inclined to try a polyurethane top coat then try it on the sample panel first. If you are starting to feel more adventurous down the road and want to try a Pearl Clear Coat then try it on the other sample panel first.