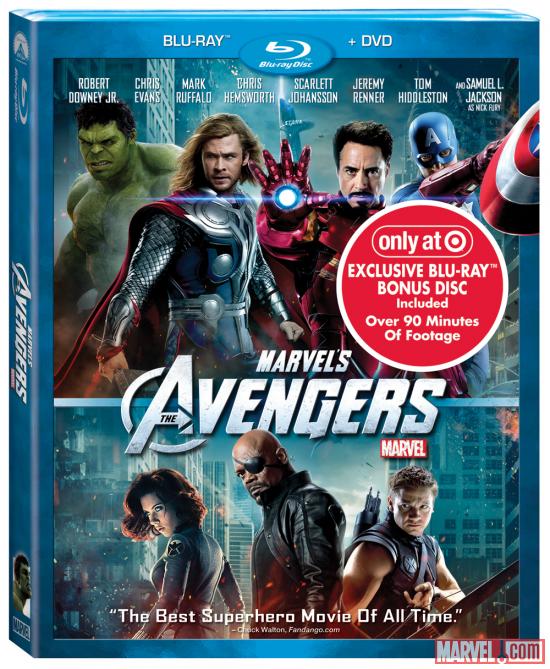 Studio:

Paramount/Disney/Marvel


MPAA Rating:

PG-13


Disc/Transfer Information:

High Definition 1080p; Aspect Ratio: 1.78:1 Widescreen; Region A (U.S.) Release Tested


Tested Audio Track:

English DTS-HD Master Audio 7.1 (tested in 5.1 configuration)


Director:

Joss Whedon


Starring Cast:

Robert Downey Jr., Chris Evans, Mark Ruffalo, Chris Hemsworth, Scarlett Johansson, Jeremy Renner, Samuel L. Jackson



PLOT ANALYSIS:

This is going to be a preview kind of post for now, as I just picked up the "Target Exclusive" version of the most anticipated Blu-ray of the year (maybe longer…this is destined to out-sell

The Dark Knight

in high def numbers) and will be running it through its paces later tonight. For now, I will comment on the packaging and provide my "theatrical overview" which I posted when I first returned from the film in theaters on opening night…

I was going to get this at Best Buy, but then later found out about Target's "special" packaging with an exclusive bonus disc…since Target was much closer to me than BB, I picked up their version of

Avengers

. Packaging is nice, with a raised-relief slipcover and "exclusive bonus" stickers slapped on it; artwork depicts all the main characters doing their things, with Downey Jr. holding his "powered" Iron Man hand up without helmet on. The Target package includes the Blu-ray, DVD and the exclusive Blu-ray bonus disc with "over 90 minutes of footage." I am uncertain if Best Buy – or another outlet – was offering this with a metal packaging/case (steelbook style), but this variant seems nice enough for me. Further, I wish I didn't already own all the Paramount-sanctioned Marvel films leading up to

Avengers

– that is,

Iron Man, Iron Man 2, The Incredible Hulk, Thor

and

Captain America

– because I would have really loved to get the

Avengers Assemble

box set which would have looked way cool on the shelf…

I'm very much looking forward to analyzing the audio and video on this disc, and like the fact that Whedon shot the film in a 1.78:1 ratio as these films play back on my rear projection display without any distracting letterboxing…and from my (too far) seating distance as it relates to my screen size, this is beneficial. While the audio track is in a 7.1 arrangement, I will be playing the soundtrack back in a 5.1 setup. I will return with my thoughts on the Blu-ray when I watch it this evening; in the meantime, here was my analysis after getting back from the theater:

Okay. Went to see this on opening night, as most of the U.S. did (last night), and have some thoughts about what was headlined as "one of the most influential and anticipated motion pictures perhaps since

Titanic."

First of all, the entire beginning was way too rushed – there was no explanation tying up the loose ends regarding Loki and Thor from the end of Thor, making Loki's "arrival" on Earth a head-scratcher save for coming through the blue source of power from their home world; the notion of how Loki got there, what happened after Anthony Hopkins' character saved Thor from falling into the vacuum of space like Loki did in the

Thor

film and other elements were hinted at in a brief conversation between Thor and Loki in

The Avengers,

but the entire opening sequence felt way too rushed and exploitation-heavy, making it feel as though Mr. Joss was simply in a big hurry to get all these characters to the screen without any detailed backstory time.

The next big problem was Mark Ruffalo as Bruce Banner – BIG, major mistake here. Not only can this guy not act, his performance here as Banner was as atrocious as Mr. Joss' take on the legendary Marvel scientist searching for a way out of his gamma radiation problems. Ruffalo basically sleepwalks through his role as Banner, and the transformation scenes before he becomes Hulk did not include any glowing eyes a la the famous Bixby performances in the TV show, or even the semi-better motion picture version which featured Edward Norton. The CGI Hulk, once complete and in action, looked fine enough (much better than the joke that was Ang Lee's variant) but Ruffalo's transformation sequences were ridiculous, with him looking toward the rest of the Avengers at one point and saying "That's my secret…I'm always angry…" while he suddenly transforms into the Hulk without really ripping out of any clothing. The entire "discovery of Banner" and hunting him down to get him into the Avengers fold was ridiculous and rushed too, really not touching on anything about Louis Leterrier's

Incredible Hulk

or the ending he set up with Norton's Banner in a rain forest somewhere. It was like Mr. Joss simply took new direction with most of these characters, ignoring some ties that came before that were ultimately hinting at an Avengers project. We are lead to believe Banner has been monitored the entire time by SHIELD, knowing his whereabouts – something "General Ross" and the government could never seem to do effectively – and is simply "called on" through a setup, where Black Widow (Johansson) is sent to "persuade" him to meet with Nick Fury (Samuel L. Jackson) because of the global threat posed by Loki. The whole thing didn't enthrall me, and is not the way I would have done it – if you are going to do a sweeping character study like

The Avengers,

you need to do it right, even if the film takes four hours to do it (not taking into account studio budgetary constraints).

Then, there were the "issues" with Thor – as Loki is being transported as a prisoner of SHIELD in a plane, the god of thunder suddenly lands on one of the wings from the sky above, there to take Loki in himself. But this is ridiculous – what happened to the end of Thor when Chris Hemsworth's character was talking to the gatekeeper about Earth being lost to them? Thor seemed more interested in knowing what became of Natalie Portman's character at the end of that film, and yet

The Avengers

sets up the arrival of Thor as merely flying out of the sky and landing on the wing of this SHIELD plane – but what happened in all the time before that on their home world? How did he find Loki so fast, after his brother was presumed killed or lost when he fell into the space vacuum at the end of the

Thor

film? Again, the whole thing felt rushed and not thorough – further, I had issues with Thor's "strength" in

The Avengers,

or, seemingly, the lack thereof. The god of thunder basically has his rear end handed to him in not only the fight with Iron Man, but by Hulk (okay, that was acceptable) and some others throughout the film – not to say Thor doesn't get his licks in, because he does (smashing Hulk with his hammer multiple times, kicking Stark's tail a bit in their fight), but something seemed "different" about this Thor in

The Avengers

that made him seem less of a complete bad-butt like in his own film.

As for Captain America? I thought he was one of the coolest in this film – his new costume devised by SHIELD looked great, Chris Evans was awesome in the role once again, and he kicked some rear ends on his own, first in his hand to hand combat with Loki in Germany, and then as one of the Avengers against Loki's assembled alien army. Also, the sequence when Thor tries to come down on his shield with his hammer and learns the painful way how powerful Cap's shield really is, was really cool. I didn't have any issues with Cap in this.

That leaves Iron Man, Hawkeye, Black Widow, Nick Fury and Stellan Skarsgard's character – what was ultimately wrong with Robert Downey Jr.'s Tony Stark/Iron Man performance in this? It seemed something was just "off" about his performance too, perhaps stemming from the lack of direction by Jon Favreau; I don't know what it was, but Downey's performance didn't scream "Iron Man" like in his own films, and the whole Stark Tower in New York City thing again felt rushed and not explained enough. Suddenly, Stark has his own building in Manhattan (not that he couldn't afford to build one fast) complete with a robotic suit up/suit off mechanism like in his California digs, and this just felt like a convenient setup by the filmmakers to tie in the culminating alien battle at the end which takes place in New York. There was a great deal of comedic banter between all the characters, of course again led by Downey's sarcastic approach as the playboy billionaire, and that was refreshing, but there was something I just didn't find awe-inspiring about the film as a whole, especially the beginning sequences.

Agent Barton (Hawkeye) played by Jeremy Renner and Agent Romanoff (Black Widow/Scarlett Johansson) get a lot of screen time here, and that was refreshing – Hawkeye in particular gets to kick some tail as he confidently shoots our alien visitors with laser guided arrows, plucking them off one at a time. There's a subplot regarding Loki and his "enslaving" of Hawkeye and Dr. Selvig (Skarsgard) early on, but their spell is later broken and Hawkeye joins up as an Avenger to take on Loki's evil army towards the end.

Then, there was the whole problem regarding the science of the film's plot – most of the screen time is spent exploring the ways in which Banner, Stark and Fury can get together and close the portal Loki has opened, allowing his alien race he has hired to destroy Earth to come through, but at times the science they're dabbling in gets so thick and convoluted, it's difficult to follow what they're talking about or what's going on. We understand Banner is a scientist that has experimented with gamma radiation – supposedly what Loki's blue-hued weapon is emitting in areas – but it's suggested here that he is also some expert in the technology Stark has been dabbling in; the whole thing got confusing and off-putting after awhile.

We do get to see, finally, Nick Fury (Sam Jackson) in some gun-toiling action, which was cool, and the final sequence that finds our heroes in a duel in downtown New York with the race Loki has brought to Earth was definitely worth waiting for. CGI Hulk, in particular, was entertaining and sometimes awe-inspiring as he jumps around New York City, destroying it but smashing every single alien being in his way – including that huge snake-like thing we see in the trailers. Very cool. Then there was also the moment Stark puts Captain America in charge of telling them what they should all do as the aliens attack in NYC, and Cap gives them their positions and says to Hulk, "And Hulk – SMASH!" while the big green beastie smiles. That was definitely cool. But that also lends the question about Banner's ability to control his alter ego, as hinted at in the comics and previous films – Ruffalo's first transformation in

The Avengers

indicates he has no control over the Hulk, as he becomes the green monster and goes after Johansson's Black Widow, trying to kill her. Later on, when he transforms to join the team in fighting Loki and his army, it's clear he can control the monster as he quickly transforms into him, reacting to Cap's instructions of "SMASH!" and being able to tell exactly who the enemy is. This was a bit confusing to me.

Tom Hiddleston was fantastic again as Loki, and the humorous exchange between him and some characters brought added relief to the dialogue, such as when Stark calls him "Reindeer Games" in an early fight scene between him, Loki and Cap (in reference to Loki's horns of his costume) plus the line every fan was waiting for when Loki confronts Stark and proclaims "I have an army…" and Stark spits out "We have a Hulk…" Fantastic and goose bump-inducing.

If you haven't seen

The Avengers

yet, don't leave before ALL the credits are done rolling – we have teasers for what appears to be yet another attempt at bringing these characters back together again (it seems another alien race has been called upon to destroy and enslave Earth, even after the defeated alien leader of the ones that came on Loki's behalf warns of human strength) as well as what I feel was a pointless gathering of the heroes in a final comedic scene. You'll see what I'm talking about.

There was also the issue of all the team members going their separate ways at the very end, which was again not tied up very well, and ends up feeling rushed to make the running time; Stark is seen driving off with Banner in one of Banner's exotic cars, while Thor is charged with taking Loki back to their home world for punishment (which again begs the problem…if Loki is the mischievous god of magic and can do anything to disguise himself, how is it he is allowing Thor to just "arrest" him? And where exactly do they go?) and Cap zooms off on a motorcycle (fitting)…but has Banner suddenly fallen off General Ross' radar now, no longer a fugitive of the U.S. army? Where is the connection between all of the Marvel films up to this point and their conclusions that have teased the Avengers initiative? The whole timeline doesn't make sense; remember at the end of Louis Leterrier's

Incredible Hulk,

Stark (Downey) finds Ross (William Hurt) sitting in a bar and tells him they're "putting a team together"? Well, where does that fit in within the Avengers story? At the end of some of the Marvel films, it's as if characters like Stark don't know about Nick Fury's Avengers initiative, while some films hint at the fact that he does – like in the aforementioned

Hulk

picture. Why this inconsistency?

It was also nice to see the latest uncut international trailers of

Amazing Spider-Man

and

Dark Knight Rises

before

Avengers,

promising to be one exciting summer at the theater, especially for comic fans. The fight sequences between Peter Parker and Lizard and Bruce Wayne and Bane look especially awesome. Of course, I'll be buying

Avengers

on Blu, but I wasn't really knocked out by it as I thought I would be. Of all the issues, though, Mark Ruffalo's Banner was simply the worst decision made in the history of comic adaptation casting next to using Topher Grace as "Venom" in

Spider-Man 3.

VIDEO QUALITY ANALYSIS:

Okay -- before we get to the raw video quality on this disc, let me say that my brand-new copy of

Avengers

made my Oppo BD player lock up from the very beginning, and this was concerning...I put the disc in, sat in my usual spot, closed the tray and waited as it loaded...the language selector screen came up, which was an unusual touch, and from there, the player locked, forcing me to press STOP on the Oppo's remote, and then PLAY again. Normally, when a disc locks up on me with this player, I need to actually power down the deck and then power up again, but this required me to merely press STOP and then PLAY...very weird. I will try it again tonight and see if the results were repeatable.

The 1.85:1 transfer's image quality on display here was rock-solid from beginning to end -- at no point did I detect any visual imperfections such as noise or (in my view) film grain. Fleshtones were spot-on without a hint of oversaturation, colors of the characters' costumes and uniforms were perfectly rendered and represented (i.e. the blue of Cap's suit, the red and gold of Iron Man's) and closeup detail elements such as facial hair were close to eye-popping in nature. An excellent effort here by Disney in conjunction with Paramount and Marvel in bringing the most anticipated motion picture event of the last couple of years to home video in high definition.

One thing that did concern me, though: I asked my wife what she thought of the video quality as we watched it, and she normally still raves about our Sony SXRD's smooth, filmlike characteristics that render images in a more realistic fashion compared, to say, LCD displays -- she admitted that she could only imagine what

Avengers

would look like on a new LED set, like the 70" Sharp we've been eyeing, as she didn't think the colors on this Blu-ray, and other elements, really "jumped out" at her nor did the whole image in general wow her...she said it sure looked clean and good, but something could have definitely been "amped up"...of course, this lead to my explanation of how our display is adjusted in a more accurate picture mode to represent the filmmakers' intent, as usual, and that Captain America's blue uniform isn't supposed to be glowing a "neon" blue, but I must admit...perhaps this is an excuse to finally upgrade to a more modern display technology. If I only had the cash...

AUDIO QUALITY ANALYSIS:

From the very beginning, what I noticed about

The Avengers

' 7.1 DTS-HD Master Audio track (in English, running in a 5.1 configuration in my room) was its walloping, crushing waves of deep bass -- I know Mike from our site here in his official review said the lack of really, really deep LFE was something worth noting in this mix, but to be honest, I didn't sense it. My sub was shaking our walls and rattling things like mad during the heavy action setpieces -- and that is

with

the new Auralex SubDude platform I recently installed which has been squelching just about all resonance -- and there was a heft and weight to this track that truly has to be experienced as it's difficult to put into words. What I did note, though, was the lean use of surround activity -- now, this could be due to the "dumbing down" effect my system inevitably does to the 7.1 soundscape because it's forced into a 5.1 arrangement, so some information may be getting lost back there, but I did note a distinct "easy-on-the-rear-effects" characteristic that included some missed opportunities in the sonic landscape. Let me explain: During the final New York City battle between Loki's army and Nick Fury's special team, the audio is wildly frantic and explosive from all channels, with the sounds of lasers from the invading aliens, Iron Man's weapons, Captain America's shield, Hawkeye's laser-guided arrows and more bombarding from every angle...however, I noted that during some passages, the movement of alien craft or other elements that could/should have been placed into the rears to complete a realistic front-to-back effect just didn't happen, leaving the resulting action up front with no surround channel follow-through. This happened more than a few times on my system.

Dialogue also appeared quite low until I brought the master volume of my system up beyond a certain point; it was nowhere near as "hushed" or "subdued" as on Paramount's Blu-ray release of

Captain America

(also in DTD-HD MA 7.1), but it wasn't overtly forceful. Otherwise, though, this was a kick-tail track, with, as I mentioned, a heft and presence that was quite formidable, ample bone-crushing bass (especially during sequences such as when Thor is throwing his hammer around or fighting with Banner/Hulk and/or Iron Man) and a final setpiece sequence in New York City that was nail-biting and breathtaking in sonic scale. That last scene really makes you feel like you're there with our Avengers if you have your rig cranked up; the only issue, as I mentioned, was a strange lack of surround follow-through in certain areas.

SUMMARY:

Without question, a must-own for the collection, regardless if it was not as "perfect" as some us fanatics had hoped. Watching it again at home, the first time since the theater experience of course, I "got" a lot more of what was going on in the story, and enjoyed the film a little more. I still hold to the fact that I wouldn't have cast Ruffalo as Banner, and there were still some issues, in my opinion, with Downey Jr.'s Stark character in this in terms of the "convenient" arrival of his Stark Tower in downtown New York, but I did like the experience a tad more than theatrically, and that usually never happens in my home theater.

Thanks all, for reading, and please discuss

The Avengers

on Blu-ray...I would love to hear your feedback!