Discussion Starter
•
#1
•
My dedicated theater room is coming together. Admittedly I hastily started buying equipment when my wife green lighted the project. I feared she would change her mind and find another project around the house that "needed" the funds more. LOL!
For some reason I was under the impression that the Elite Screens (ELECTRIC125) I bought had an adjustable/programmable drop length without having to manually stop it at the desired drop.
This makes placement of my center channel a bit low for my taste and a bit of an obstruction at that level if wall mounted with four young kids running around.
The Elite Screens FAQ list says electrics are not designed to be adjustable but it can be done but if done voids the warranty and may result in damage. They will provide "instructions upon request."
Anyone have experience in making this type drop adjustment or have any creative placement ideas for the center? It has a mount that can be moved to the back for wall or bottom for base mounting.
Here's a photo of the set up. The projector won't be up until later this week and all my set up functions for the receiver are "on screen" so I'm not sure how the center will be effected mounted so low. By the way, this is not an acoustically transparent screen.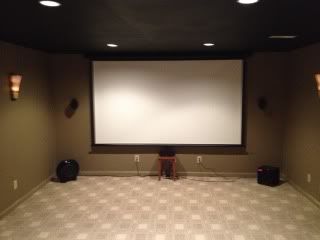 Thanks,
Brian