Discussion Starter
·
#1
·
This thread has been closed. The thread op choses to not participate on this site any longer and the thread has been abandoned. Since the developer of this app is no longer supporting his threads here and the tints and information tends to change regularly we can not keep track of the changes and verify the validity of this thread.
Recent testing of this application using a spectrophotometer has shown serious color shifting! This is not a recommended solution for adding gain or 'pop'.
- mech
Preface
This thread is meant to be a replacement for the "Clear Coat Experiments" thread. I have decided to scale the experiments back to some very basic trials utilizing some of the more readily available pearl and metallic products. I no longer have access to gain measurements so the meticulous preparation of sample cards for color and gain analysis is no longer a worth while exercise.
The plan now is to prepare 2'x4' sample panels to answer some basic questions. The goal being to identify the best choices for base coat and pearl clear coats.
Here are the basic questions I have in mind:
Does the base layer sheen affect the overall performance?
Do the Pearlizing Mediums provide an adequate amount of mica?
Do the pearlizing mediums add the gain without any color shifting?
Is there any significant difference between the Folkart and Decoart, pearlizing mediums?
The Winsor & Newton Iridescent Medium contains silver metallic flakes; therefore what difference do they make over the typical pearl flakes?
If the silver metallic flakes primarily add on axis gain, can we tailor that by adding some pearl flakes to the silver metallic flakes?
Would a multi-layer approach with a layer of high gain silver flakes between the base gray and Pearl Clear Coat provide a more efficient screen with a reasonable viewing cone?
We know we can lighten the overall shade of gray by using a white pearl; can we darken the overall shade by using Delta Silver Metallic?
Can we apply a Delta Silver Metallic over a white substrate and get a uniform surface and also deepen the black levels?
Assuming the Delta SM Clear Coat over white base is practical; can it be applied to a stretched BOC screen easily?
History
I do not claim to have made any great discovery with respect to the use of pearl and/or metallic flakes in DIY screen paints. This was introduced several years ago by other people. In many mixes Silver Metallic is the primary source of metallic flakes. It is also the colorant that produces a shade of gray. Having learned this by performing experiments with an established metallic mixes, I was impressed with the balancing act the developer had to perform in order to achieve a suitable concentration of flakes while achieving a reasonable shade of gray.
Further consideration of this balancing lead me to wonder if there was a way to separate the flake concentration from the colorant concentration. That led to me investigating the concentration and nature of the flakes in the common pearl paints. Some basic investigation resulted in identifying that both Folkart Metallic White Pearl and Decoart Dazzling White Pearl had similar concentrations of pearl/metallic flakes to the Delta Silver Metallic.
Wanting to keep any mixing instructions simple and easy I tried mixing one and two bottles of the Folkart Metallic White Pearl with a quart of Behr Matte Polyurethane. I successfully produced sample panels of each and had sample cards analyzed. Each bottle of pearl is 2oz. The ratio is then 2:32 == 1 part Pearl + 16 parts Matte Poly, and 4:32 == 1 part Pearl + 8 parts Matte Poly. I then designated these 1xPearl and 2xPearl. I prepared sample using a near neutral gray base and sent them for gain analysis:
Bellow are successive sample panel comparisons to demonstrate visually how the on axis gain varies with the different concentrations of pearl flakes.
Click images to enlarge.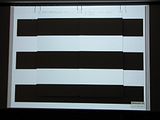 Matte Poly < > 1xPearl
Matte Poly < > 2xPearl
1xPearl < > 2xPearl
I also wondered what effect it would have to apply a
pearl clear coat over an existing Easy-Flex screen:
Matte Poly < > 2xPearl applied over Easy-Flex
The addition of one coat of 2xPearl over an existing matte poly clear coat
does not produce the same gain boost but it does provide a visible improvement.
2xPearl applied over Easy-Flex < > 2xPearl
In the last image you can see that the single coat of 2xPearl over the Easy-Flex does not produce the same gain as the double coat of 2xPearl over a flat gray. That is due to the fact that each coat adds more flakes so the concentration of flakes is lower over the Easy-Flex. It would be possible to apply a second coat but that would mean a total of 4 coats of poly over the flat gray. The concern becomes color shifting due to the ever so slight amber color to the poly. With the pearl flakes in the poly this is not as much of a concern but I would not apply any more coats than that. The recommended upgrade to an existing Easy-Flex would be a fresh coat or two of the base gray and then 2 coats of a pearl clear coat.
As I indicated before, the use of clear coats and adding pearl and/or metallic flakes is not my discovery. I only set out to perform an orderly set of investigative trials and document the results.
Introduction
The Easy-Flex DIY Screen Solution is comprised of a base coat and a clear coat. I have tried adding pearl paint to the clear coat. This resulted in some reasonable gain boosting without any severe narrowing of the viewing cone.
One of the self imposed limits I have when selecting ingredients for a DIY screen paint is that they must be readily available from typical retailers such as Home Depot and Michaels Arts & Crafts stores.
I have done some preliminary experimenting with the available products and narrowed the list to be worked with down to the following:
Folkart Metallic White Pearl
Folkart Pearlizing Medium
Decoart White Pearl
Decoart Pearlizing Medium
Delta Silver Metallic
Delta Pearlizing Medium?
[Winsor & Newton Iridescent Medium
The Plan
The first thing I want to do is determine what difference if any the base coat has on the overall performance. Not so much the lightness of gray but rather the gain and viewing cone. I have prepared a preliminary pair of sample panels to give this a try but I am not happy with the preparation. One panel received 2 coats of 2xPearl (I think it was) that I had left over from painting DR.Doom's screen. This was on a base coat of the Behr Primer #436. It resulted in a very bright but vertically uniform gain boost. I then prepared a sample panel with the flat UPW #1050 base and 2 coats of the remaining pearl clear coat from the same can. Being the end of the can and the possibility of there being a higher concentration of pearl I'm not sure the comparison will be valid. Therefore I feel it will be necessary to prepare two new panels and a fresh batch of a pearl clear coat to apply to each at the same time.
The next part of the trials will be simple comparisons between similar products from Folkart, Decoart, and possibly Delta. I will also do some comparisons between a 1xPearl and a 2xPearl. For easy of application and therefore a better chance of success it might be advisable to apply 3 or 4 coats with a lower concentration of pearl flakes. The Behr matte Polyurethane could be supplemented with initial clear coats using the Faux Glaze. It is less expensive and seems to be slightly clearer than the polyurethane.
I found myself drawn to the Winsor & Newton Iridescent Medium due to its silvery flakes. I did prepare a couple of cards with this in a clear coat. It appears to add a lot of on axis gain. I think on it's own in a clear coat this would severely limit the viewing angle and more than likely would cause hot or warm spotting. I have been wondering what would result if I were to have a layer of these silver metallic flake sandwiched between the gray base layer and the pearl clear coat. I will try that on the sample cards I have already been playing with and if it looks promising I will try it on a larger sample panel.
In addition to clear pearlizing mediums and white pearls I have gone back to the Delta Silver Metallic as a possible top coat ingredient. I did try applying a 1xSM on a white base and it does seem to have some promise. The real question is more about application. Can this be applied over a large area and produce a uniform color to the screen. If it is possible then this could be a neat upgrade to a white screen or possibly a stretched BOC screen.
So that's the new plan. It is going to be fluid and we will go in any direction that shows some promise. I have no doubt that the pearlizing mediums will provide the best source of pearl flakes without changing the color. The white pearls and possible the Delta Silver Metallic could be used to deliberately lighten or darken the color of the screen.
I need to scrape a few buck together and pickup some more supplies but thing should get started this weekend.