[img]http://i96.photobucket.com/albums/l190/wbassett/HardwareReviews/PlayOnHD/A-C-Ryan-PlayOn-HD-0.jpg[/img]
The first thing I noticed when the box arrived was the weight. It was a relatively small package but weighed significantly more than what one would expect from the size. This was a very good first impression because it told me what was inside wasn't flimsy and cheap!
When I opened the box I was even more pleasantly surprised. AC Ryan not only sent me one unit to review… but two! They included the PlayOn!HD with an internal 500GB hard drive, and the smaller PlayOn!HD Mini.
Both units will surely please and accommodate a wide variety of users. Not everyone wants or needs an internal HD, while there will be some that desire a single stand alone unit for smaller libraries, but still maintain the capability of expanding to network streaming if needed.
I opted to test drive the PlayOn!HD with the internal drive first since this seems like the unit most might be interested in.
[img]http://i96.photobucket.com/albums/l190/wbassett/HardwareReviews/PlayOnHD/playon4.jpg[/img]
Again I was very pleased when I opened the box. Everything was packed snug and secure. I was surprised to see an HDMI cable included! This is a detail that shows some class and attention to detail. Sony missed the boat here with the PS3. They should have included an HDMI cable like AC Ryan did. Hat's off… this was a nice touch. So far I am pleased.
The official list of what comes with the PlayOn!HD
Playon!HD package content:
Player Size: 227 x165 x60 mm
Player Weight: 1.0kg
(1.6kg incl. 500Gb harddrive)
1x AC Ryan Playon!HD
2x AA Battery
1x Remote Control
1x FREE AC Ryan HDMI 1.3 quality cable (2m)
1x composite A/V Cable
1x Y/Pb/Pr Cable
1x USB A to B Cable
1x AC Adaptor
1x Power Cord
1x User Manual
The unit itself has a nice weight, partly due to the internal drive but the build is solid and feels good. Nothing flexes or feels cheap to the touch. It's obvious they put some effort into building a solid unit. It's not huge, but not tiny either. It's approximately the same height as a component player but half the width. It has a utilitarian but unique look to it. The mini is approximately half the size of the HD, but don't let that fool you. It does everything the HD does except for the internal hard drive. If you have a media server an internal drive isn't necessary.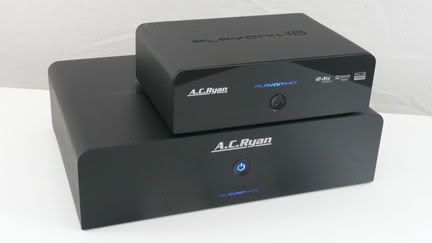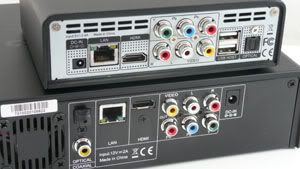 The USB connections are on the side and all the Audio/Video, and LAN connections are on the back. Setup is a breeze. Plug it in, connect it to your network, and turn it on. It found my network and was assigned an IP in a snap. The first thing I would recommend doing at this point is to make sure you have the latest firmware update.
Once my unit was up and running I selected Browse and then Network. Everything is extremely intuitive and easy to navigate. I setup my network share and entered my user ID and password for my WHS server and boom… all the shared drives were there! Back to the firmware update for a second… All my DVDs played fine. Most of my HD DVDs and Blurays played fine, but most isn't good enough. I found the ones with TrueHD soundtracks weren't playing at all. Once I downloaded and updated the firmware though everything played just fine! So definitely make sure you have the latest firmware.
Once I updated everything, this little gem played EVERYTHING I threw at it! DVDs, HD DVDs (which are particularly finicky to put on a media server) and all my Blurays! It even plays ISOs of DVDs, which means for episodic DVDs like TV shows you can make and ISO of the DVD and the PlayOn!HD will play it JUST LIKE YOU PUT THE DISC IN A DVD PLAYER! This is very cool! It not only works for DVDs of TV shows, but also DVDs that have a ton of special features, like Terminator 2 for example. It will also play Bluray ISOs but… it only plays the biggest file, which is usually the main feature. Some Blurays though use playlists and have the movie broken up into smaller files. I didn't test any of these but will when I get a chance.
So how well does it work? Let's just say my family loves it! Once connected to my Windows Home Server and access to my 20TB of movies, it's kind of like surfing your cable On Demand channels. I am very familiar with the WDTV and I like the interface on the PlayOn!HD better. Right off the bat you don't have to create and name a bunch of image files for each movie. With the PlayOn! You get a text menu but also each movie has a video preview! And this is right out of the box, nothing special to configure.
However… if you want something fancier and a slick interface like YAMJ (Yet Another Movie Jukebox) these units support that as well. All you need to do is download the YAMJ software and scan your movies. From there PlayOn!HD has a menu for YAMJ.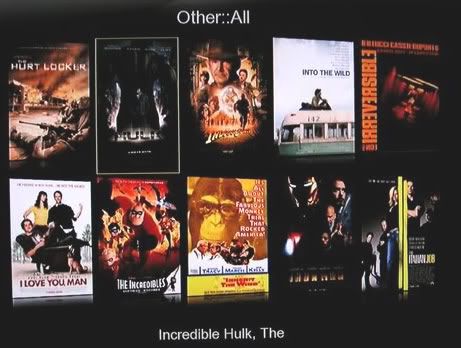 YAMJ adds a very slick interface with details and more cover art when you select a movie.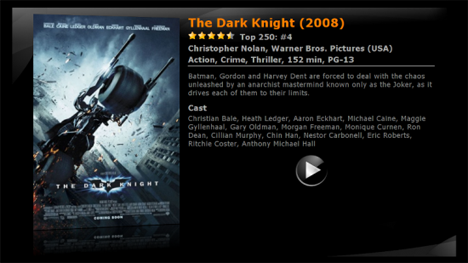 In addition to all of this… As the late great Billy Mays or Anthony Sullivan would say… "But wait… There's more!" The PlayOn!HD also has Internet Radio, Picasa, Internet News, Flickr, and Weather. I haven't had much time to play around with all of these but I did check out the Internet Radio. There are tons and tons of broadcast feeds and you can select them based on genres or stations.
You can also use the PlayOn!HD to play all your CDs too. It's not just a movie player, it will play all your music and do slide shows of all your home pictures as well. It's a very versatile player and won't break the bank either.
This next statement is going to be huge to anyone that knows me… but the PlayOn!HD is most likely going to replace my PS3 as my main media center device. Now that I have everything on a video server, I don't need to use discs anymore. The PS3 is a great media unit but in the end the lack of DVD ISO menu support is killing it. Plus I can put a PlayOn!HD in every room at a fraction of the price of a PS3.
The PlayOn isn't perfect, but nothing is. For the price and ease of use though it comes pretty close. The one thing that I see that is a bit lacking is that it doesn't have native Netflix support, but it will play Netflix Watch It Instantly with third party software. Plus it may add this capability with a future firmware update.
With a price of $175 for the PlayOn!HD and $144 for the mini, PlayOn! offers a lot of bang for the buck.
Overall I rate the PlayOn!HD and PlayOn! Mini :4.5stars: