Discussion Starter
•
#1
•
[img]http://i96.photobucket.com/albums/l190/wbassett/HardwareReviews/PlayOnHD/package.gif[/img]
Over the past year there has been an explosion in the amount of media streamers on the market, proof they are no longer a fad, and are fast becoming the next new media playback device.
One entry that earns a mention is the PlayOn!HD from ACRyan.
What sets the PlayOn!HD apart? First let's look at the spec sheet and official description.
Store thousands of photo, music and video files on the internal Hard Drive. The Playon!HD brings your music, video and photo library to life with unsurpassed audio and visual quality.
The World's first Full HD Realtek chipset based Media Player.
Operates as a NAS (Network Attached Storage) when connected to user's local network.
Bittorent client for downloading directly to the internal HDD.
Unique movie jukebox feature based on YAMJ (Yet Another Movie Jukebox) application.
Full support of Composite/Component/HDMI 1.3 video output, as well as Composite/SPDIF Coaxial/Toslink/HDMI audio output.
Frequent firmware update advantage.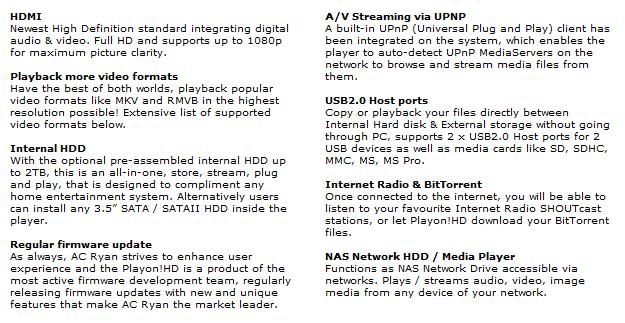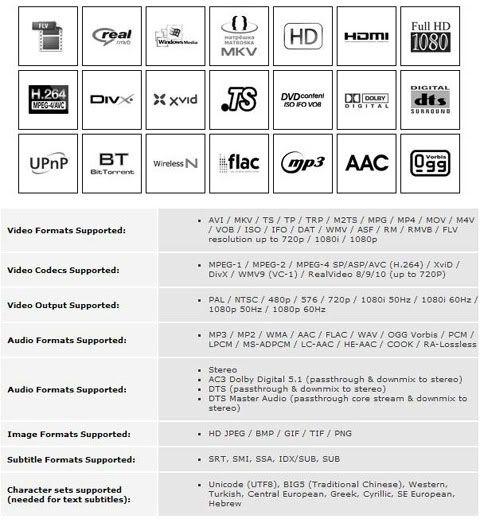 Impressive specs, but most of the media players out there also list the same or similar specs. One difference is how well the device carries out the listed features. Some players are even a bit misleading on some things- Like stating they support ISO playback. While it can play an ISO file, therefore the statement is true... some players don't support full DVD menu playback. In other words they play the biggest file within the ISO but you cannot access the menu system. The PlayOn!HD and Mini can play a DVD ISO with full menu playback- It looks just like you have the disc in! More on that in a bit though.
Let's move on to opening the box, initial setup, and first impressions...