Discussion Starter
•
#1
•
This thread is about opening the closet and pulling out the deep, dark secret of DIY screen primers and exposing it to the light of day; or should I say the light of projectors. :nerd:
The reason we use Kilz2 primer seems to be lost in the hoary sands of time; and while other primers have been mentioned and used by a daring few, the community at large seems to be stuck on Kilz2. Is this simply because we are adverse to change, or does Kilz2 have some near mystical advantage over other primers?
I don't have an answer to that - thus this thread. :bigsmile:
I'll start with a comparison between Kilz2 and Zinsser Bulls Eye 1-2-3 primers.
The contenders:
Kilz2
http://www.kilz.com/pages/default.aspx?NavID=28
Zinsser Bulls Eye 1-2-3
http://www.zinsser.com/product_detail.asp?ProductID=11
Bulls Eye 1-2-3 costs a bit more than Kilz2, but not by a significant amount (about $4 more per gallon in my area). And while I haven't done a close review of their data sheets, BE123 seems to be closer in features to Kilz Premium.
I made up a sample chit to measure BE123 with my spectro. These chits are about 1 inch square and are made of 1/8 inch thick hardboard that has been primed with Kilz2. In the photo below you can see that BE123 (the right 3/4 of the chit) is quite a bit brighter than Kilz2; it is also much glossier. It's very hard to truly capture gloss in a photo; I would estimate the gloss of BE123 to be close to satin. Kilz2 is very flat. I angled the chit to try and capture the gloss; that pretty much failed.
BE123 is very much like regular latex paints in viscosity, while Kilz2 is downright thick. When I made the sample chit the BE123 leveled out nicely.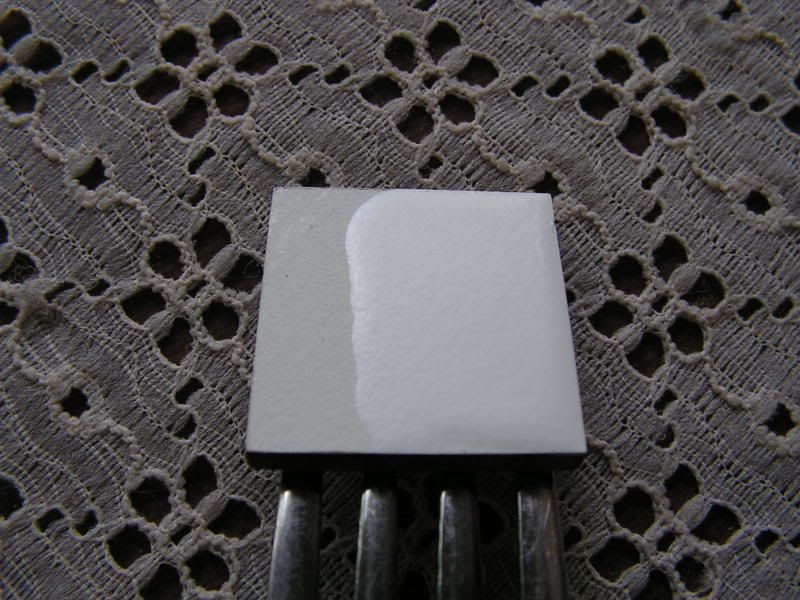 Now for the Spectral Reflectance Charts of the two primers.