Projector Central said:

What constitutes a perfect home theater projection screen? In our view, a perfect screen is one that reflects the projected image back just as it comes from the projector, without adding any hint of visible artifacts or interpretive nuances. It is spectrally neutral and imparts no color shifts to the image. It has no significant gain, such that it has the widest diffusion of light possible with no hotspotting.
That's a quote from Projector Central and the opening for their review of the new Da-Lite Joe Kane screen that's coming out. Probably its main characteristic that is being emphasized is that the screen itself is D65 neutral!
I've been saying this for a long time now. Those that have seen the difference have all agreed, but there has been a bit of a price we all paid... a lot of us became ostracized, and at times even called names. In a way it is like back in the Dark Age and saying the world is not flat, and the earth revolves around the sun- that was heresy!
Well we weren't stoned with rocks or locked up, but we definitely were outcast and even made fun of. One person to this day still says I am 'ruining DIY'. How I really don't know, and for the life of me I can't see how using some specs when designing a screen is 'ruining' anything.
There are actually a few D65 neutral commercial screens out there, but color balance is never mentioned when it comes to screens, at least not commercial screens. Gain is always the number 1 'spec' always mentioned, and quite frankly gain is over rated and way too often misunderstood. Another thing I often hear said is "Well if the commercial guys aren't D65 neutral, then it's not that big of a deal". Maybe, and maybe not. It does take some extra testing and QA to achieve D65. Anything that takes more time and testing costs money, and therefore increases the manufacturing costs, which either means higher prices or reduced profits.
However the screens that are not 'on target' for D65 on the CIE Chromaticity graph are plotting along the Planckian Locus. I don't want to go all technical and get boring on everyone. Planckain Locus is the is the curved line on a chromaticity diagram that represents the colors of blackbody radiators. 6500K isn't exactly on the curve, but it is close. D65 represents average daylight and has a correlated color temperature of approximately 6500 K, 6504 K to be precise. CIE Standard Illuminant D65 is the accepted worldwide industry standard white point reference for video displays including HDTVs. Of course there is much more to it than just that, but I think I may have already put half the people out there to sleep already!
Here is the CIE Chromaticity diagram I always talk about. I promise no more techno babble, at least not too much!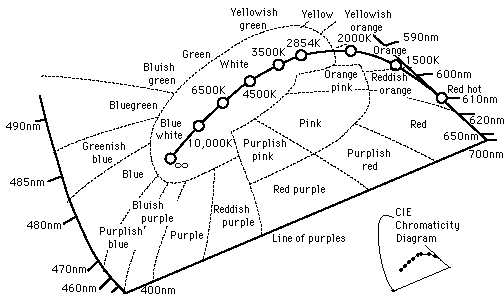 What I have found is the closer to D65 a screen is, the more accurate it is at reproducing the colors produced by a projector, with a D65 neutral screen being the most accurate. This theory has been discussed and confirmed by the department head of RIT, who agrees with it whole heartedly. Even though the industry uses this as their reference point standard, until Joe Kane teamed up with Da-Lite to produce a true D65 neutral screen and explain why it is desired, well... a lot of people thought I was nuts! Or way over zealous to say the least. Now it's not a funny running joke or thing to be condemned over anymore. It's official, we're not as nutty as some say we are!
Finally someone in the screen industry is stepping forward with something more relevant than gain and just touting gain specs as the definitive measurement of a screen. I'm sure though that there will still be a way by some to admonish this, but at least now the commercial guys are acknowledging the importance of a screen being neutral for D65.
As for the commercial screens that aren't D65 neutral? Well another thing I found is most track along the Planckian Locus curve. Based on my discussions with the profs at RPI and Mark Fairchild of RIT, it is possible to not be D65 neutral as long as a screen's color balance tracks along the BlackBody curve. Of course it can't go too far off from the D65 reference, but it is better than being on one side or the other of the curve.
What I have noticed about looking at a wide variety of DIY screens is that they are all over the place. Some are indeed tracking the curve, but most are to the left and right, some are way to the left or right. The worse ones plot down close to 7500K, which is way too blue of a color push. At least the commercial guys are consistant and either track the curve or are even in the target zone. A lot of the DIY ones that track the curve got there mostly by luck, or a very good eye. And some people have a better eye than others- many would be surprised though to hear who does because it's not the ones that shout the loudest that's for sure.
I am not trying to put anyone down. I say 'luck' because without doing spectrophotometer readings, a person really has no idea what the color balance of their screen is. I still firmly advocate a D65 neutral screen as being the best, but acknowledge there are viable options out there as long as they are on target or at least tracking the Planckian Locus curve and still relatively close to D65. When in doubt just ask (especially if someone is making some pretty wild and bold claims, just ask them for the data and where it plots. We can tell everyone exactly where ours plot!
). The bolder the claims, the more things need to be backed up with more than just subjective screenies and lots of talk. Get the specs and if possible compare things side by side.
The way I explained this to someone in the past was to think of the curve as walking along the ridge of a mountain. If you trip and fall, as long as you land on the ridge you're fine, but fall to the right or left and it's a pretty steep drop off. When it comes to color balance, this drop off can quickly impact the overall color balance of the screen, which in turn will ultimately affects the image and calibration. True, most times this can be compensated for, but not always depending on how far off they are. I liken this to using digital lens shifting or keystone correction. Most are proponents that too much of either will adversely affect the screen image, and I maintain that an improperly color balanced screen also will have an adverse impact on the image too.
Here is that mountain 'ridge' I just mentioned-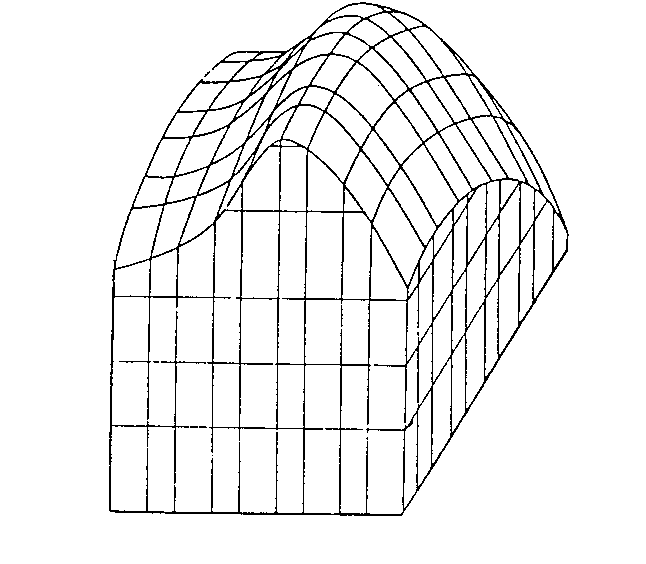 I do apologize if I got to techno geeky on people, and I also apologize to those that are very familiar with all of this because in trying to simplify the explanation it tends to leave a lot of things out that are also important, but also complicated. (That's a nod to you lcaillo and Smokey!
)
So basically I am saying now we are finally vindicated somewhat and not the nutty kooks some say we are.:bigsmile: