PTAaron's Movie Room/Game Room/Bar - comments welcome!!
Latest news as of May 2016:
Major 2016 updates... Biggest changes start here: http://www.hometheatershack.com/forums/home-theater-design-construction/55787-ptaaron-s-movie-room-game-room-bar-28.html
====
Original thread
====
I just thought it would be fun to start a thread here about my basement entertainment area. It isn't just a "home theater" - it is a whole basement project.
I been working on it since we moved in at the beginning of July 2010. My wife and I spent a LONG time trying to find the right house - we love to entertain and have a few other special needs so we had a few requirements: Had to have a bar, had to have a big deck (or space to build one), she wanted a "scrapbooking room" on the main floor since her mother is in a wheelchair and unable to go up/down stairs, I wanted space to build a home theater...
We eventually found this place - the day it was listed we made an offer and we got it! Main floor has a "den" so the wife got her scrapbook room. The basement had a wet bar, pool table, full bath, and another room that oddly had a full wall of mirrors... but I immediately knew it would be my movie room! Only thing keeping it from being the PERFECT entertaining house is the basement is not a walkout - so you have to go down some stairs to get from the grill to the pool table
EDIT: The first 3 pages are kind of a retrospective look at the project... and it is pretty "picture heavy" because I like to document what I'm doing
On to the space!
I am going to keep the first and second posts updated with the newest pictures of the space - so this page will keep changing. The 3rd post and on will outline my journey to get where I am, and beyond
Equipment in the room:
Mitsubishi 73" DLP TV - 73740
Harman Kardon AVR 3600 (as a pre/pro)
Harman Kardon AVR-635 (as the amp)
Speakers: Pioneer SP-FS51-LR front towers, Pioneer SP-C21 Center, Emotiva ERD-1 surrounds, Dayton rears.
Subwoofer2: Elemental Designs A2-300 (x2)
HTPC running OpenELEC and Kodi
Sony BDP-BX58 (S580) Blu-ray Player and SACD Player
Motorola DCX-3200 Cable Box
AppleTV2 (1080p version)
PS4
PS3
PS2
Wii
System controlled with Harmony 1100 and RF extender

Old gear seen in the pictures include:
Toshiba 57h94 CRT RPTV
Harman Kardon AVR 635
Infinity TSS-450 5.1 speaker system
Here is the overall floor plan of my basement - I missed a couple of details like a door on the bathroom and sump room... but everything is to scale and you get the idea.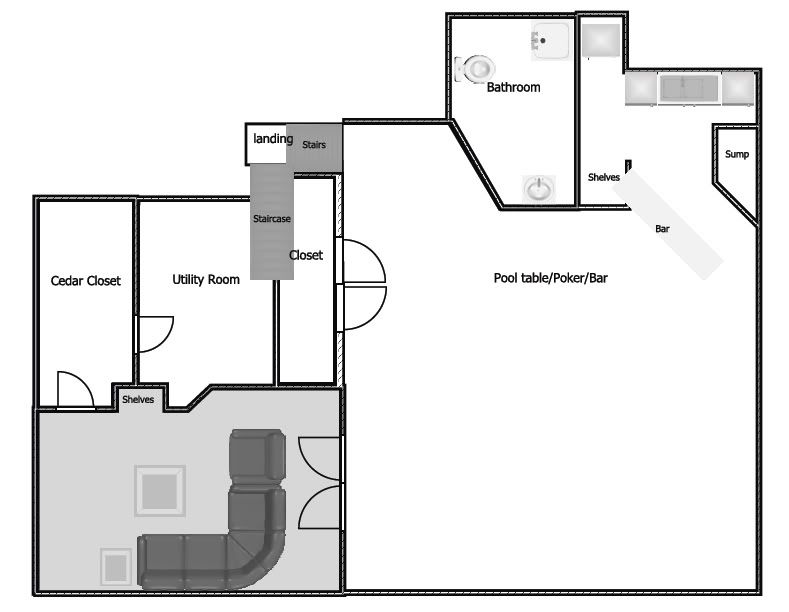 This was my original layout for the movie room when I first set it up: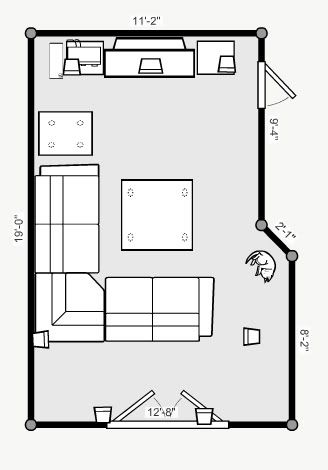 ...
Added second sub 6/11/16:
...
as of April 2016:
...
pic from 9/8/15:
Before painting the ceiling it looked like this (3/30/12):
.... to be continued ...
Funny - can't edit the post I "reserved" for the bar area pictures... so I'll add this here:
April 2015 - we added a Kegerator to the bar area...